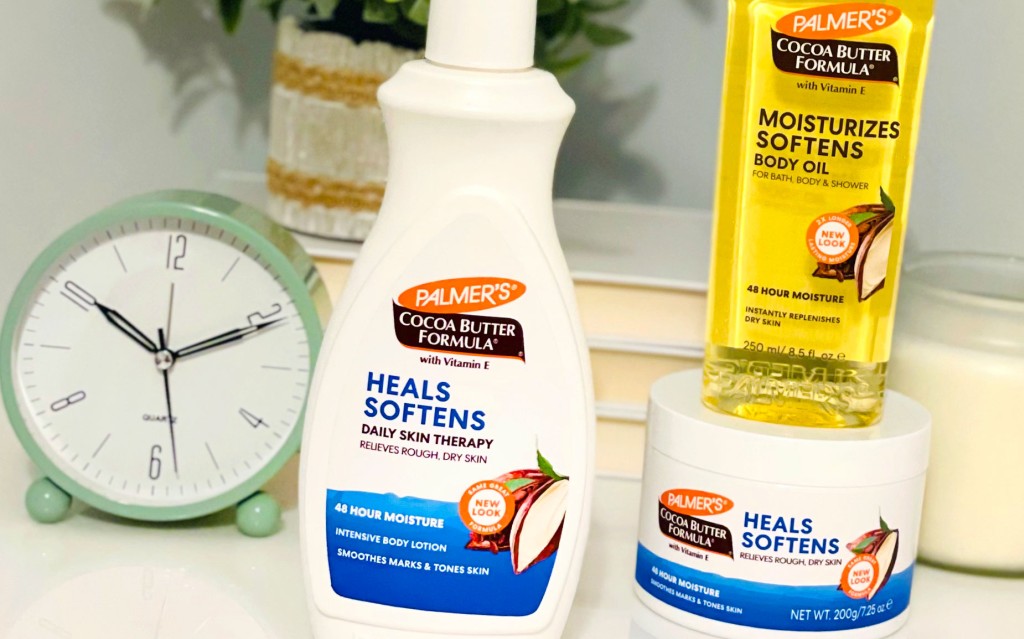 Winter Skin Care 101
Why do you need different skincare in the winter? Colder temperatures, low humidity, and dry, windy air can deplete skin of its protective moisture barrier. This is why it is so important to choose the right winter moisturizer for dry skin as your best defense against the effects that winter weather can have on your skin.
Every season has its problem areas, and with cold weather comes dry skin. Skin that is often exposed, like your face and hands especially, may need some additional help. The questions have already started! How can I care for my skin in the winter? What skin therapy oil is best for the skin in winter? Say "no" to months of winter dry skin and avail yourself of the following winter skin care tips, featuring natural, soothing winter skin care products.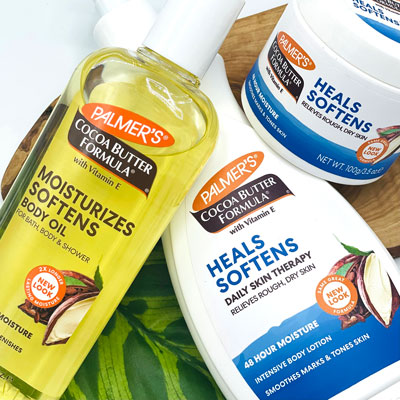 Customize your winter skin care routine for dry skin by opting for rich, nourishing ingredients and formats that will protect your skin from becoming rough, irritated, or itchy. Read on to discover how to pick the best body moisturizer for dry skin in winter that will work for you.
Choosing Cocoa Butter for Winter Skin Care
The changing climate also means changes in your skin. Selecting the right ingredients in winter creams for your dry skin is important. Incorporating rich, skin-friendly moisturizers such as Cocoa Butter into your winter skincare routine can help keep skin smooth and radiant. Cocoa butter is a natural ingredient that locks in moisture and can help care for even some of the most hard-hitting winter skin care problems such as flaking, roughness, and irritation. With long-lasting, heavy duty hydration, a Cocoa Butter Body Lotion can help keep your skin healthy looking and feeling through 48 hours of winter's cold weather. The perfect addition to your winter skincare routine!
When to Use Coconut Oil for Your Winter Skincare Routine
Don't let the tropical scent fool you, coconut oil is one of the best ingredients for dry skin treatment in the winter. Loaded with natural lipids, coconut oil winter skin care can help prevent dehydration and keep skin looking healthy and radiant. Try incorporating coconut oil products into your winter skin care routine to hydrate dry, thirsty skin on the coldest days.
What makes coconut oil a winter skin care routine all-star ingredient? High-quality coconut oil is loaded with antioxidants and lipids to help protect against free radical damage and skin dehydration to keep skin looking healthy, radiant, and youthful. Coconut oil is one of the best moisturizers for the winter to prevent dry skin because it helps create a natural breathable barrier to protect against moisture loss no matter the weather outside.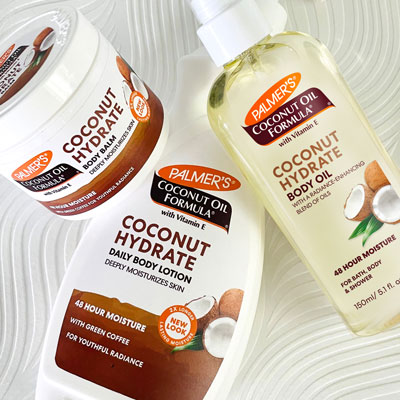 Try a coconut oil formula that uses the finest quality coconut oil and is free from harsh chemicals, parabens, phthalates, or dyes, making it the perfect choice for a clean, effective winter skincare routine.
Shea Butter for Winter Skin Care
When crafting the perfect winter skincare routine for dry, sensitive skin care treatment in winter, shea butter should be at the top of your list. Deeply nourishing, shea butter in winter skin care products like solid shea butter body balm and creamy shea butter lotion drench dry skin with concentrated shea butter that melts into your skin to moisturize dryness or irritation to reveal softer, smoother skin.
Known for being gentle on sensitive skin, shea butter is an integral part of your winter skincare arsenal to ensure your skin stays soothed and soft all season.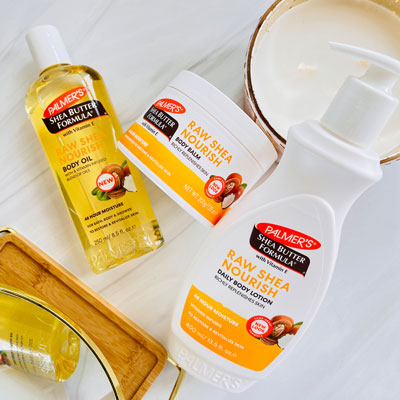 Winter Skin Balms
When skin gets extra dry in the winter, reach for a hydrating treatments like a heavy-duty skin-softening balm. They are perfect for many skin types, from normal skin to the eczema-prone. Add an overnight treatment to your winter skin care routine to wake up to softer skin even when the weather outside is frightful.
Before reaching for those winter mittens, apply cocoa butter hand cream to lock in moisture and keep hands soft and smooth. Dry hands in the winter can become irritating!
One essential for dry skin care in winter is coconut oil formula coconut oil balm, which combines certified organic extra virgin coconut oil with green coffee extract in a super hydrating, skin-loving concentrate to revitalize rough skin such as elbows, heels, and cuticles.
For the ultimate winter skin beauty hack, try layering this hydrating balm with coconut oil formula powerhouse products: coconut body oil and coconut body lotion. First, the body oil, the body lotion, and lastly the balm. This coconut oil winter skincare routine will keep your skin glowing with a youthful radiance right into Spring.
Add a Layer of Oil
Lock in moisture this winter by layering a body oil on top of one of the best body lotions for winter. With options including pure cocoa butter, hemp oil, coconut oil and shea butter, Palmer's has a body oil treatment to tackle your winter skin problems.
Want to improve the appearance of scars, stretch marks, and uneven skin tone? Try layering a Skin Therapy Oil under your body lotion. This lightweight, dry oil helps improve the appearance of imperfections, while providing additional moisture. It also smells amazing!
Winter Facial Ideas
Now that your body is taken care of, are you asking yourself, "What should I apply on my face in the winter?". Soothe your face with some winter facial ideas featuring dermatologist-approved products to help ease the winter effect on skin.
Using the best face cream for winter is key to keeping your face hydrated and happy through the cold winter months. While you try your best to bundle up and protect yourself from the wind and cold, your face is often left exposed to the elements. Applying a rich cocoa butter balm helps protect that exposed skin, keeping skin soft and smooth.
Don't forget to care for your skin overnight! Try a cocoa butter-packed moisture-rich night cream to deeply moisturize and restore skin overnight. Prefer coconut oil? A coconut water facial moisturizer blends coconut water, hyaluronic acid, and papaya enzymes to drench your skin in moisture making it the perfect dry skin treatment in winter for your face.
How to Take Care of Dry Skin in Winter
There are a million environmental changes we don't even think about when winter sets in, making winter skin care so important. Simple changes to your daily routine can reduce itchy skin in the winter.
Hydrate yourself: By drinking extra water, running a humidifier, and moisturizing your skin with products like body oil and body lotion for the winter you'll prevent dry or cracked skin.
High winds: Headed on vacation this winter? Keep loving your skin and maintain your winter skin care regimen. Try 24-hour moisture treatments like cocoa butter concentrated cream are good for applying to elbows, knees and dry hands in winter or after exposing yourself to biting blustery weather.
Shorter, cooler shower: A simple change for dry skin care in winter. While that steamy shower after being out in cold air can feel good, using lukewarm-to-warm water (rather than hot water) when showering or washing your hands and face is gentle on your skin and just as effective at killing germs.
Always wear sunscreen: Yes, even in the winter or on cloudy days! UV rays continue to shine even when it's cold outside, and if snow is on the ground, the sun's rays will reflect. SPF 15, or higher, can go a long way in your winter skin care routine.
Pack balm for travel: Hopping on a plane to travel for the holidays? Don't skimp on your winter skin care, but be prepared. Consider a skin soothing cocoa butter balm, proven effective for 48-hour moisturization treatments, and it won't melt all over your suitcase when you pack it away.
Interested in learning more about products that can help your skin throughout the winter? Check out other products from Palmer's for more winter skincare options.
Products link
---