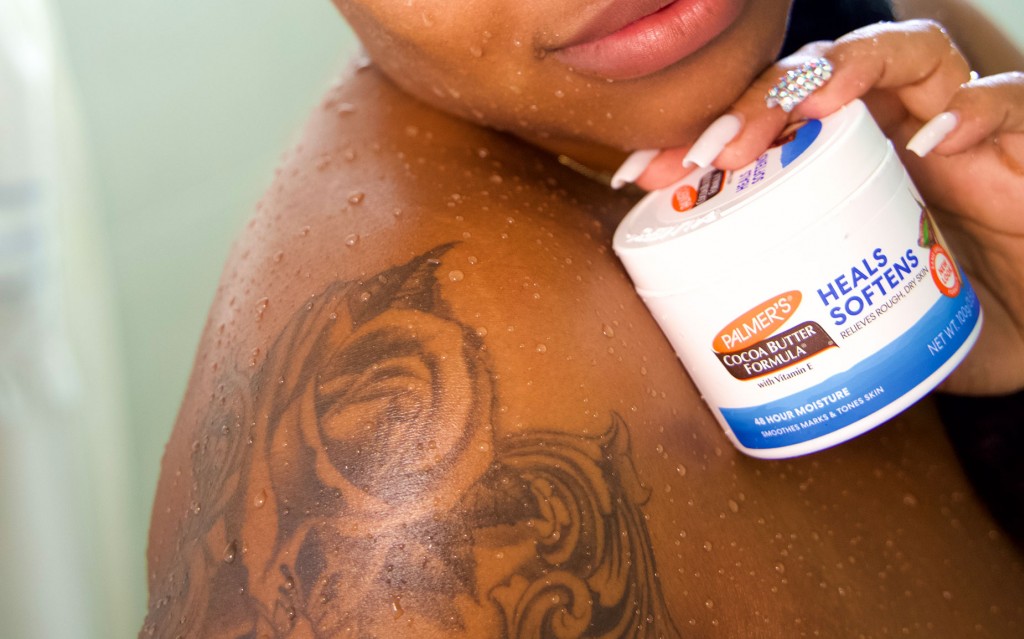 Your Tattoo Aftercare Guide
You've just invested quite a bit of money (and time) in a gorgeous, colorful tattoo. You want to not only heal your skin after the tattooing process but also ensure your tattoo looks amazing for years to come.
Fortunately, when it comes to tattoo maintenance, using Palmer's cocoa butter for tattoo care is a natural, safe way to heal and maintain your new ink. As a result, you don't need to spend lots of cash on special "tattoo skin care" products when you need a simple, affordable solution.
New Tattoo Maintenance
When it comes to tattoo maintenance and care, keeping your skin hydrated and moisturized is key. In addition,tattoos on sensitive skin require extra consideration, as a tattoo aftercare product you grab from a tattoo shop may not be as skin-friendly as using cocoa butter lotion on your tattoo.
One of the upsides of using tattoo aftercare with cocoa butter is that cocoa butter helps heal your skin, and a tattoo is essentially a wound you must gently and delicately care for until it's healed. Cocoa butter can naturally and safely aid in that process, and it's perfect for all skin types with no added chemicals or unsafe ingredients.
However, tattoo aftercare isn't just about healing your skin following a tattoo - it's about keeping your tattoo looking amazing and protecting your skin from damage that could alter your tattoo such as extreme dryness or skin irritation.
Best Tattoo Aftercare Advice
Adding cocoa butter for tattoo aftercare is a great start to seeing your new ink healed and vibrant, but there are other things you can do to ensure your tattoo not only heals up without issue but remains just as detailed and beautiful as the day you got it. Here are some other components to new tattoo maintenance:
Keep your design clean - Use a gentle soap to clean your new tattoo, such as a 

cocoa butter cream soap

, which works well for tattoos on sensitive skin, dry skin, or oily skin. This keeps the area clean, so there's no risk of infection, and cleaning your ink before applying moisture keeps the hydration locked in.
Avoid sunlight - Nothing fades a tattoo faster than the sun, so especially in the healing phase, it's wise to stay out of direct sunlight or wear clothing over the tattooed area.
Drink plenty of water - Staying hydrated can help reduce the risk of dehydration, which can result in dry, cracking skin and an irritated, dry, peeling tattoo.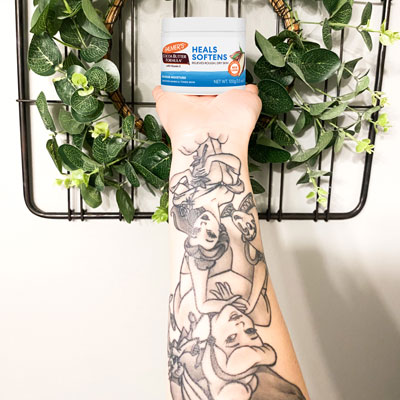 Of course, an essential component is moisture, so after your new ink has scabbed over (typically within about 3 days), apply your Original Solid Jar to your skin to provide long lasting moisture and keep your ink looking fresh. Prior to scabbing, to ensure healing, use a medicated cream and wrap your new tattoo in plastic wrap to protect it as it heals.
Cocoa Butter for Tattoo Aftercare
Why choose cocoa butter for tattoo maintenance and care? The answer is easy. Using Palmer's cocoa butter for tattoo care means you don't have to worry about tattoo aftercare affecting your skin. Palmer's Cocoa Butter is natural, made without harmful ingredients like parabens or phthalates, and provides 48-hour, long-lasting moisture, so you don't have to reapply as often.
Palmer's Cocoa Butter Formula products are made to heal extremely dry skin, so soothing tattooed skin is simple with this skin problem-solver. Once your ink is healed, switch your medicated cream to a deeply moisturizing formula like a solid cocoa butter balm to keep your new ink hydrated.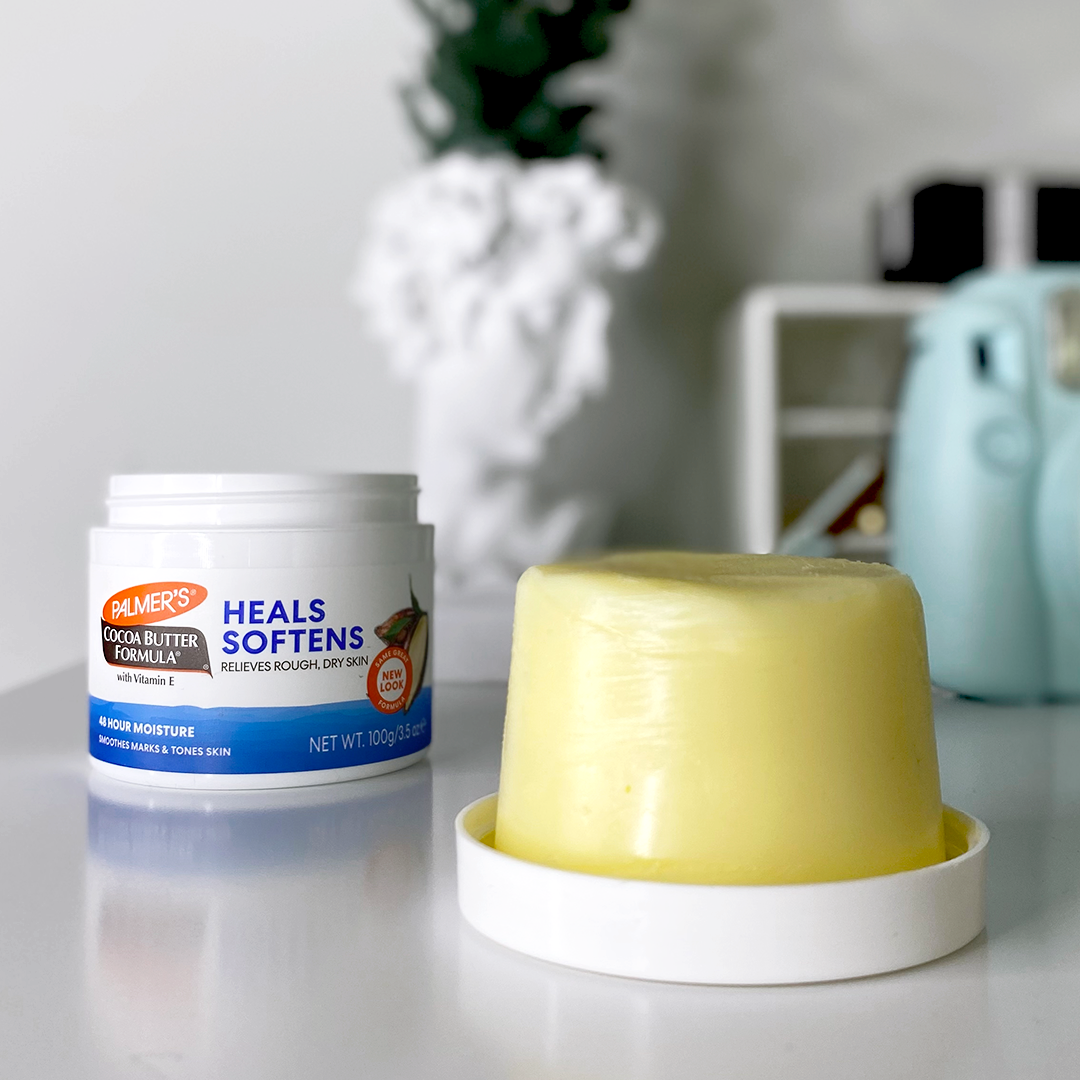 Made with Vitamin E to soothe skin, this hydrating solid balm helps your tattoo stay brilliant and retain its color and design perfectly for years to come.
It's paramount that you add SPF as the final step of your morning skin care routine so the sun doesn't fade your beautiful body art!
Check our Palmer's Cocoa Butter Formula collection to enjoy the benefits of cocoa butter for tattoo aftercare and the other perks it provides like keeping skin hydrated and healthy-looking!
Products link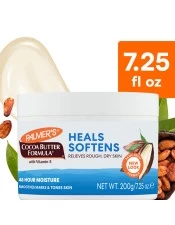 Original Solid Jar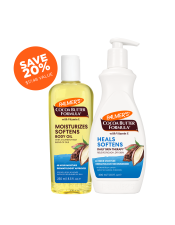 Cocoa Butter Body Care Bundle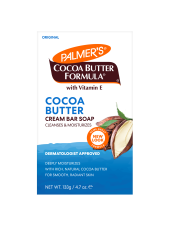 Cream Bar Soap
---