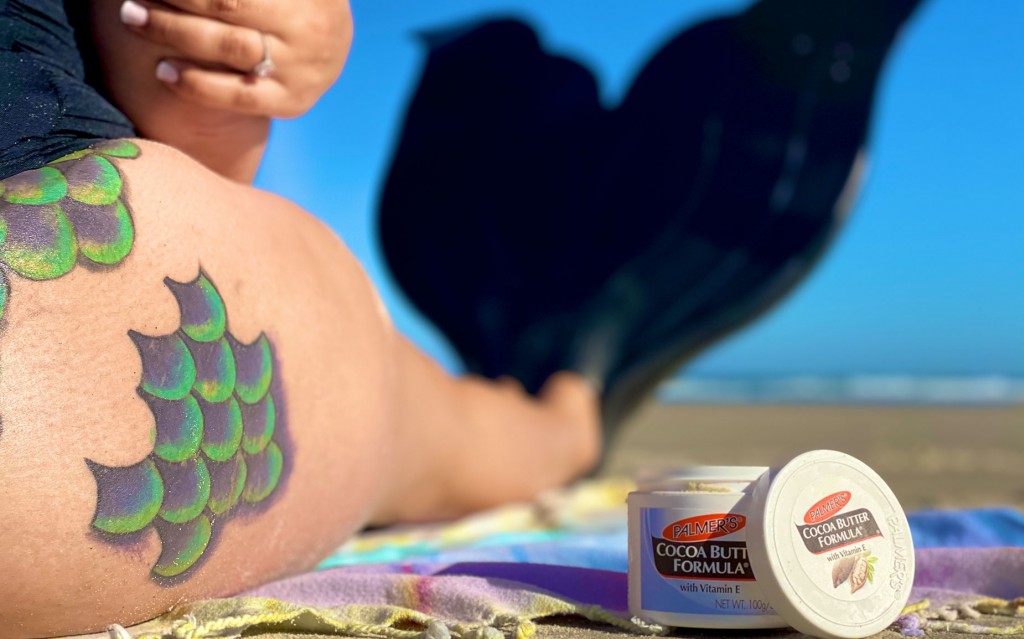 Is Cocoa Butter Good for Tattoos?
Whether you have one tattoo or multiple, it's important to take care of them using the best ingredients so that they are as vibrant and defined on day one as they are for years to come. In your search for what those ingredients are you may have come across posts or forums that ask, "Is cocoa butter good for tattoos?". Perhaps one of the most widely recommended ingredients for tattoo care, yes, cocoa butter is good for tattoos! Many tattoo artists recommend that their clients care for their tattoo with cocoa butter products such as Palmer's Cocoa Butter Formula because of its natural skin healing and nourishing properties. Consistency is key. Applying Palmer's Cocoa Butter on tattoos, starting as soon as they are in their healing phase, can help preserve vibrancy and detail for many years.
Read on for more information on using cocoa butter on tattoos—new and old.
Cocoa Butter and Tattoos
A frequently asked question in the tattoo community, "Is cocoa butter good for tattoos?"  is resoundingly answered with "yes". There are many topic threads and online forums dedicated to sharing tattoo aftercare and cocoa butter tips, questions and usage instructions. Cocoa Butter is perhaps one of the most recommended ingredients to use for tattoo aftercare, and according to many tattoo artists, using it correctly and consistently can not only support healing the tattoo but can also preserve its detail and vibrancy for years to come.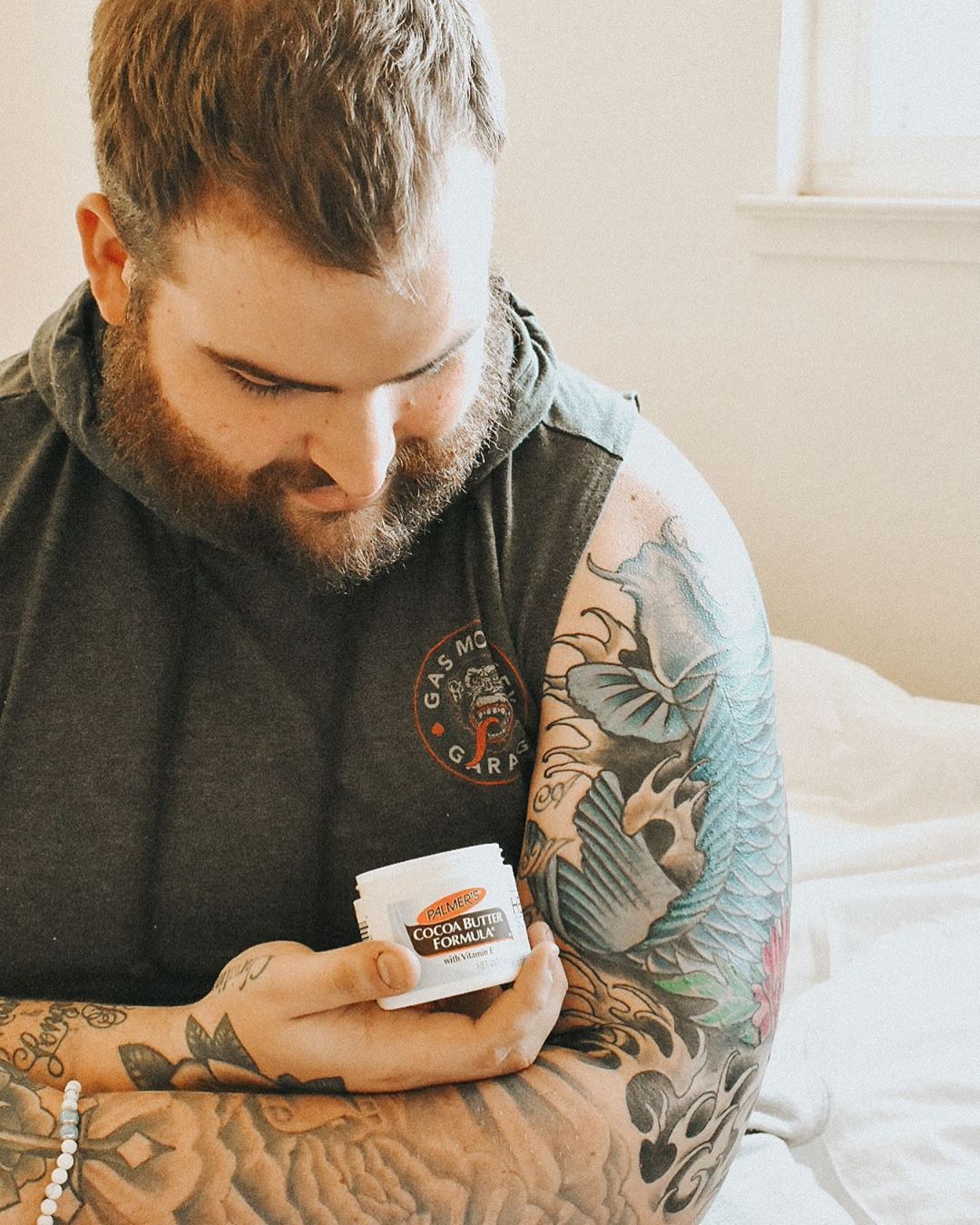 A fresh tattoo is generally treated with medicated cream and sealed in plastic wrap to initiate the first phase of healing. After the initial scabbing phase is complete, typically three days after getting inked (though may vary), your tattoo is in its healing phase. This is where it's super important to keep skin moisturized, smooth and avoid any flaking or cracking. Applying cocoa butter lotion on tattoos in this phase can help prevent skin from becoming dehydrated which can have unfortunate consequences for your tattoo. Try Palmer's Cocoa Butter Formula on tattoos and surrounding skin when your tattoo is in its healing phase. 
If there are open wounds or if there is any bleeding, do not apply anything and see a doctor.
Why
is Cocoa Butter Good for Tattoos
?
As a natural ingredient, cocoa butter tops the list for tattoo care for many reasons. In its raw state, cocoa butter has an extremely high fat content. As your skin is in a constant state of renewal and exfoliation, maintaining proper moisturization of your skin is extremely important for tattoo care. The high fat content in cocoa butter makes it a superior skin emollient that creates a protective barrier, sealing in moisture and helping to prevent skin dehydration. Cocoa Butter is also loaded with polyphenol and flavonoid antioxidants. Antioxidants are particularly important for tattoo care because they act as free radical scavengers, helping to protect your skin as it heals and keep it looking firm, plump and youthful. This in turn keeps tattoos visibly more vibrant, especially over time. Palmer's Cocoa Butter Formula combines a highly effective combination of pure cocoa butter, cocoa extract and vitamin E to nourish skin, help protect peeling tattoos in the healing phase and keep skin looking healthy.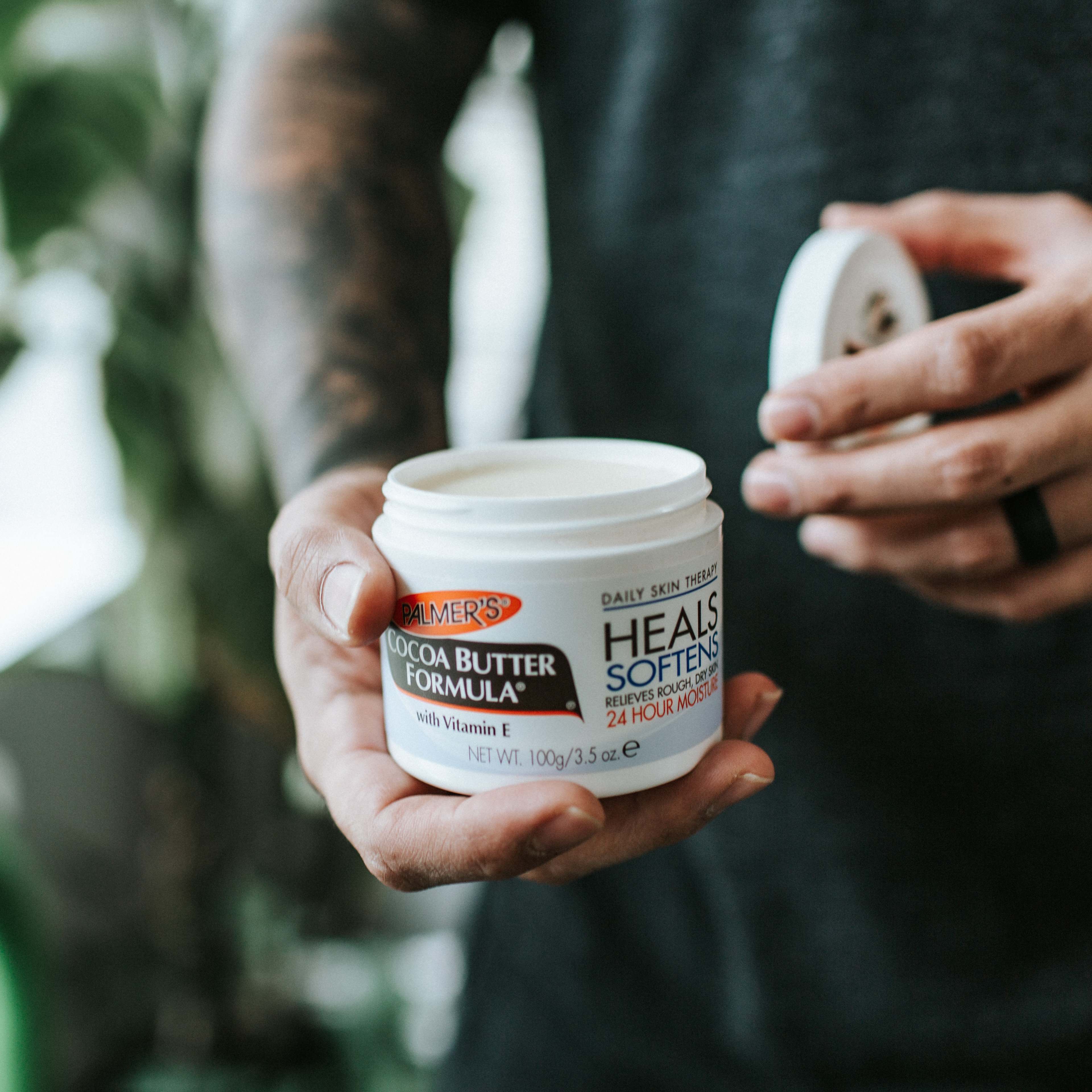 Is Palmer's Cocoa Butter OK for tattoos?
Just as its important to use quality ink, the products you use to take care of your tattoos should also have high quality and purity standards to care for your skin. That is why Palmer's Cocoa Butter is consistently a top recommended choice for tattoo artists and their clients. The #1 cocoa butter brand in the US, Palmer's Cocoa Butter products use natural ingredients that intensively moisturize and can help prevent tattoos from drying out, cracking or losing their vibrancy.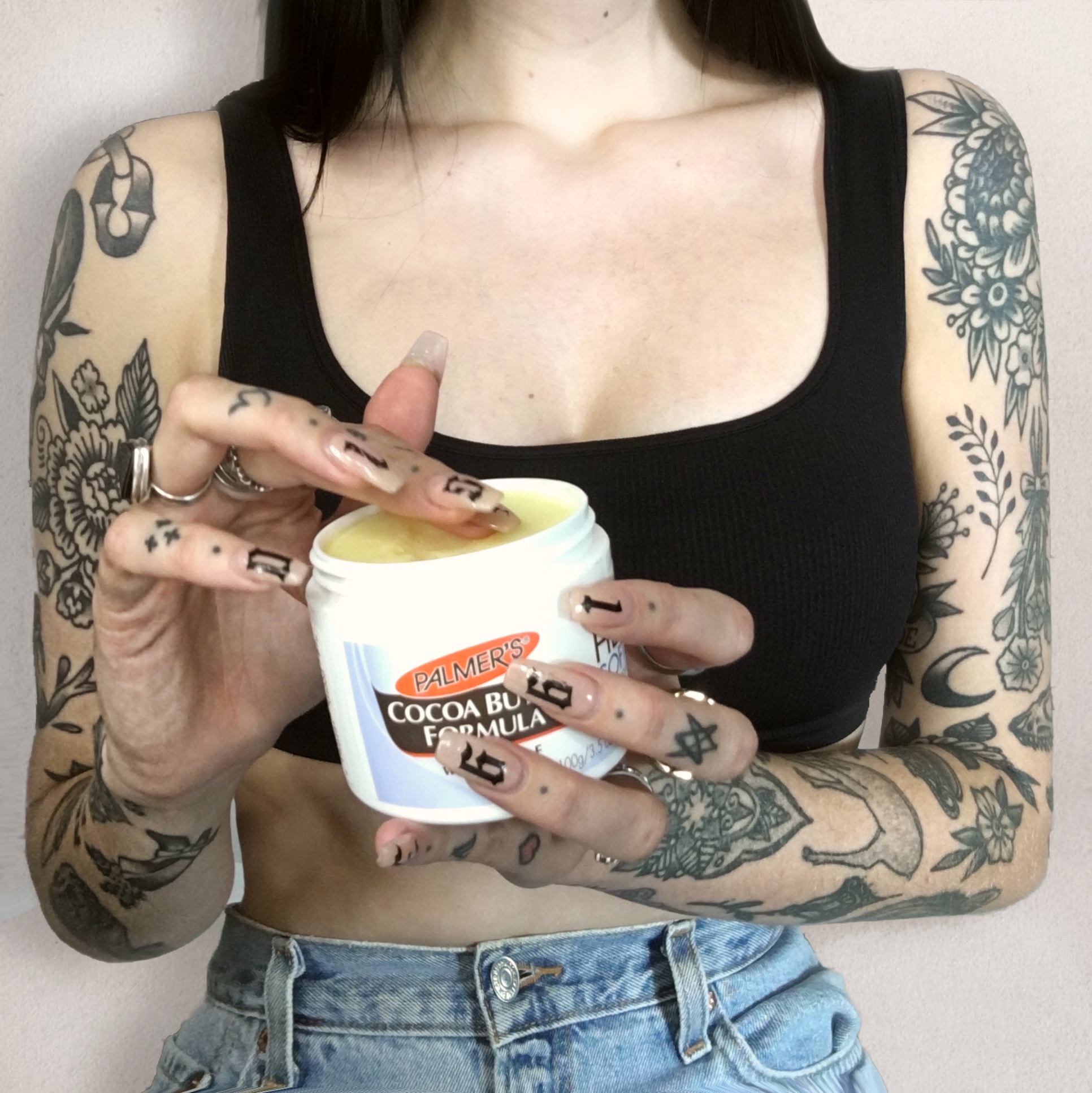 Tattoo artists are often asked, "Can you use cocoa butter lotion on a new tattoo?". The answer is yes. Once a tattoo is in its healing phase, cocoa butter is a terrific ingredient to use as part of your aftercare regimen. Using cocoa butter for tattoo healing is widely recommended because of its naturally high emollient and antioxidant content. It's important when using cocoa butter on tattoos to use high quality, reputable and effective products such as Palmer's Cocoa Butter Formula. Applying cocoa butter, like the Palmer's Original Solid Jar, on a peeling tattoo helps heal it initially, and revitalizes it over the years.
Does Cocoa Butter Fade Tattoos?
You may have heard cocoa butter is good for tattoos or even had someone recommend it but wanted to make sure that it wouldn't fade your body art. The good news is that cocoa butter won't fade  tattoos, and with consistent use, can actually help preserve and enhance color. As part of caring for your tattoo, you will need to take certain precautions and avoid environmental factors that can fade its vibrancy and color. If your goal is to keep your body art in-tact, you need to care for it.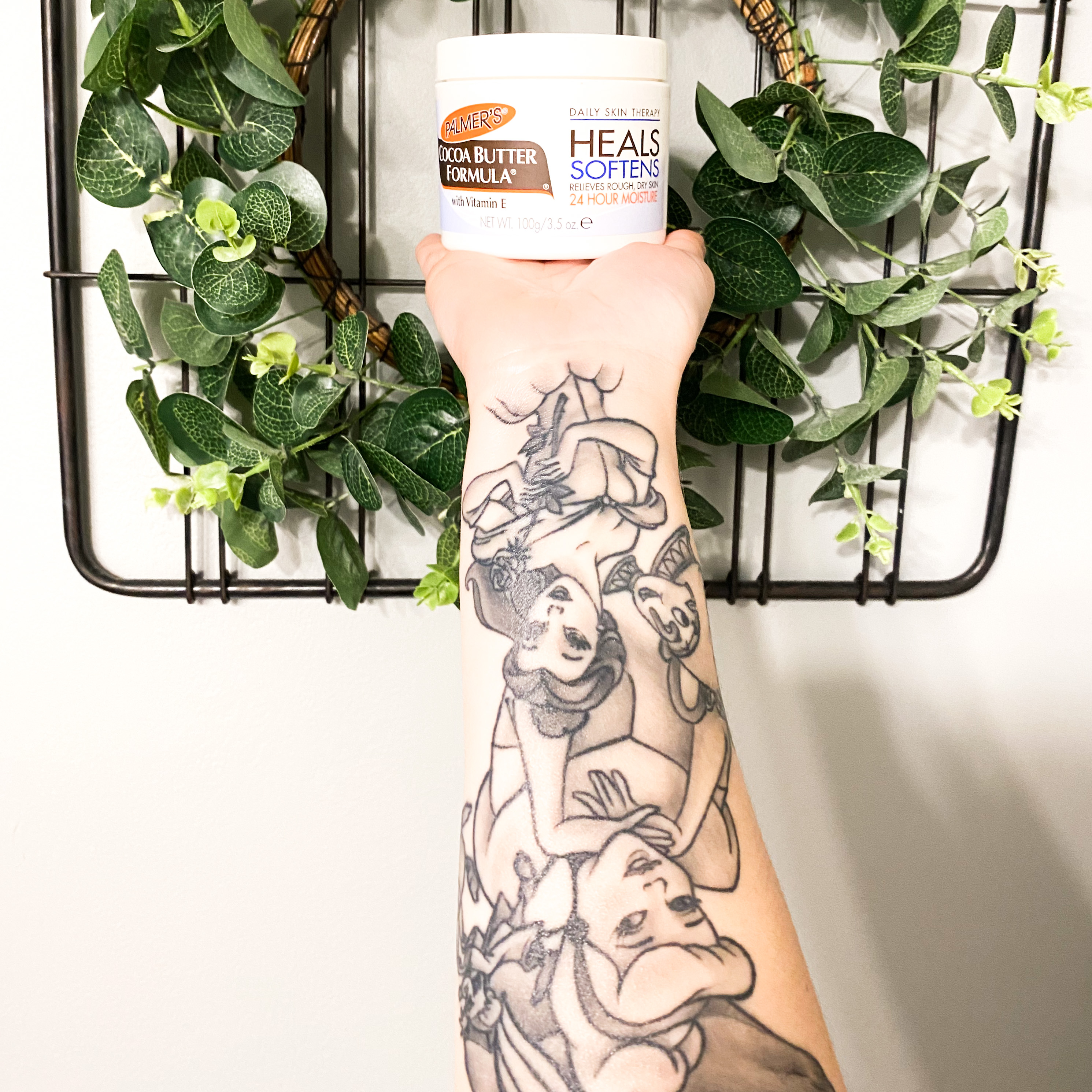 Here are some things that can fade your tattoo that you should avoid:
●      Products with exfoliants
●      Peroxide or bleach
●      Friction
●      Tanning beds
●      Low-quality ink
●      Sweat
●      Sun
●      Over-cleansing
●      Smoking
While applying sunscreen and shielding tattoos from sun exposure should be top of the list for helping to prevent color fading, there are also natural products you can apply to tattoos that help retain vibrancy. Cocoa Butter is a terrific natural ingredient that creates a protective barrier, locking in moisture, that not only preserves color intensity on new tattoos, but can help visibly restore vibrancy on older tattoos. Apply a product like Palmer's® Cocoa Butter Formula® Original Solid Jar or Cocoa Butter Formula Daily Skin Therapy Lotion to enhance and maintain tattoo color and detail.

Products link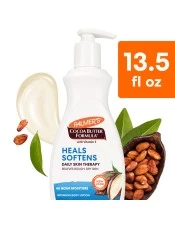 Daily Skin Therapy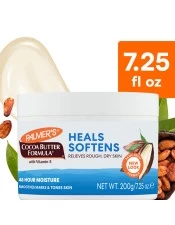 Original Solid Jar
---