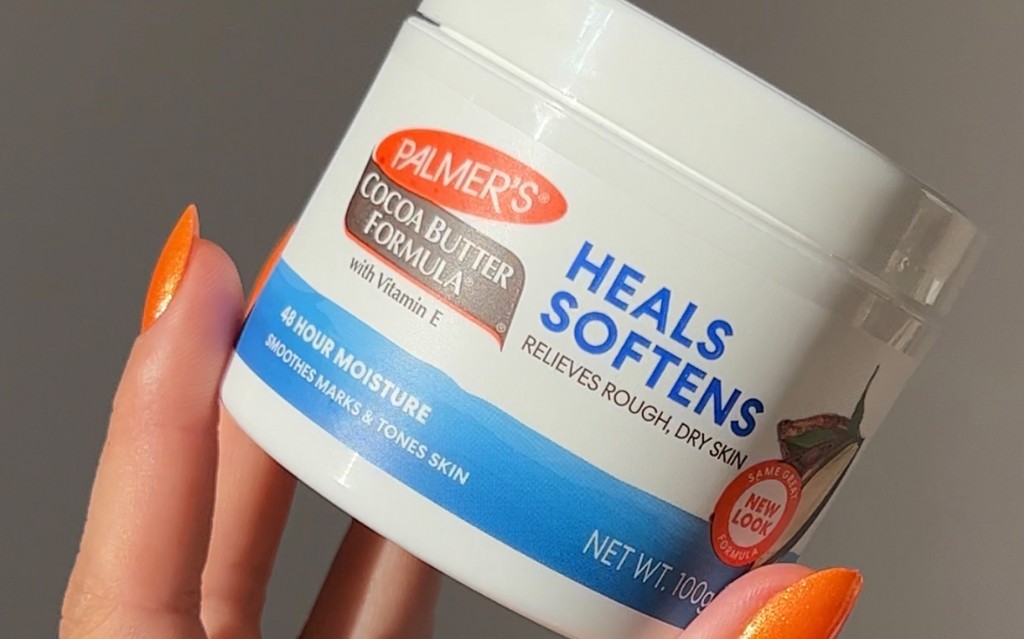 10 Ways to Heal Dry Skin with Palmer's Cocoa Butter
Cocoa butter is one of the most versatile skin care ingredients available. Not only can you heal cracked skin, flaky skin, and use Palmer's cocoa butter for ashy skin, but this powerhouse product is also useful in ways you likely didn't imagine!
To make cocoa butter even more appealing, it's safe, and perfect for women with sensitive skin or skin concerns such as eczema and psoriasis. Read on to discover some different methods that answer, "how to heal dry skin with Palmer's cocoa butter."
Overnight Hydration
Wake up with soft, supple, and smooth skin when you apply Palmer's cocoa butter for dry skin before you go to bed. Treat your feet or make hands happy by using solid formula cocoa butter as a heavy-duty moisturizer.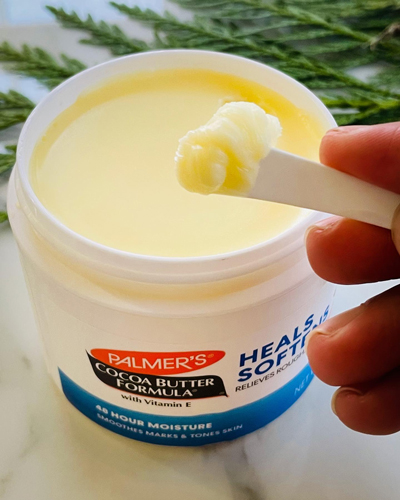 The best way to heal dry skin while you sleep is by slathering your skin (particularly hands and feet) with cocoa butter. Slip on spa gloves to allow the moisture to soak into your skin and use cotton socks to penetrate your feet with the soothing, silky butter. In the morning, dry, cracked, rough skin will be soft.
Soothe Eczema-Prone Skin
Eczema-prone skin can be uncomfortably dry and damaged. Soften and heal dry skin with Palmer's Cocoa Butter Original Solid Jar. Natural, deeply moisturizing cocoa butter and antioxidant-rich Vitamin E blend to hydrate and nourish irritated skin.
Highlight Healthy-Looking Skin
Not only does cocoa butter work well as a healing cream for dry skin, it also can help give you that Insta-glam glow, while keeping skin soft and smooth. If you're headed out for dinner, dab a bit of concentrated cocoa butter on cheekbones, your T-zone, or your forehead for instant highlighting and a natural glow, plus soft, hydrated skin. Win-win!
Chapped Areas
Say goodbye to chapped skin from air conditioning, whipping winds or too much nose-blowing with the soothing Cocoa Butter and Vitamin E blend of Palmer's Cocoa Butter for dry skin. This soothing solid balm smoothes rough elbows, flaky lips or a chapped nose.
Shaving
You're in a hurry to get to work, and you ran out of shaving cream. Avoid panicking and grab your cocoa butter lotion or solid balm! Not only does cocoa butter work as a great substitute for shaving cream, but it also does double duty to moisturize your skin while shaving. Bonus: you can also use it post-shave to soothe and heal dry skin!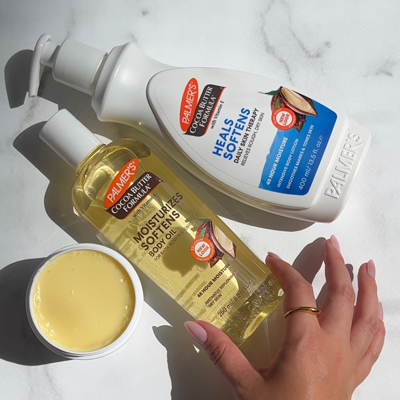 Wax instead of shave? We've got you covered! Try a cocoa butter body oil to help remove excess wax and relieve skin post-wax.
Chafing
When you get hot, your shorts or pants can turn into the enemy by causing friction between your thighs. This can cause raw, itchy, and uncomfortable chafing. Calm angry rashes caused by chafing with Palmer's cocoa butter lotion for itchy skin that's red and irritated, and use it as a protectant, too.
Tattoo Protectant
Tattoos are an investment, and sadly if not properly cared for, over time, they can fade. Keep your ink vibrant and beautiful by applying cocoa butter cream to protect your body art from the elements. You already know that it is one of the best ways to heal dry skin, but did you also know that you can use it to help keep newly healed tattoos hydrated? Need more tips on caring for your tattoos using cocoa butter? Check out our tattoo aftercare guide.
Shower Power
Who doesn't love a multi-use product?! While you already know that you can heal flaky skin with cocoa butter, did you know that can also bring it into the tub, too? A few ways to use cocoa butter in the shower include hair conditioning or pre-shower shine treatment or pour capful of oil into your bath to lock in moisture while you relax!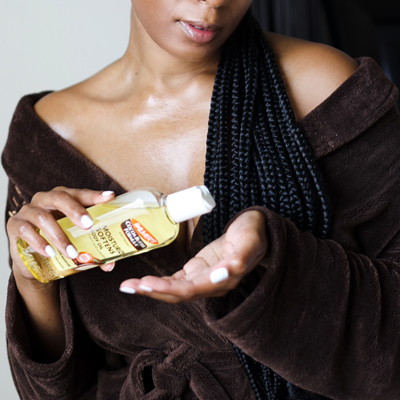 After you hop out, apply delectable and nourishing, moisturizing cocoa butter body oil to reap the benefits of cocoa all day long.
Hydrating Sugar Scrub
Rough, bumpy skin a bummer? Dry flakes frustrating you? Heal flaky skin, and smooth bumps with the power of cocoa butter.
Try a new way to use your favorite Palmer's Cocoa Butter for dry skin product. Combine the Original Solid Jar with sugar to create a scrub to smooth and heal flaky dry, skin. Use this moisturizing scrub from head to toe for healthier-looking and feeling skin.
Heal Dry Skin on Your Feet
Cracked, dry heels can leave you feeling self-conscious and not wanting to wear those cute new sandals! Heal dry skin on your feet with a deeply moisturizing foot soak using a cocoa butter body oil. Remember that DIY cocoa butter sugar scrub from before? Use it to slough off dead skin and reveal softer, smoother feet.
Make sure to apply a cocoa butter balm to feet at night before bed to keep them hydrated and smooth.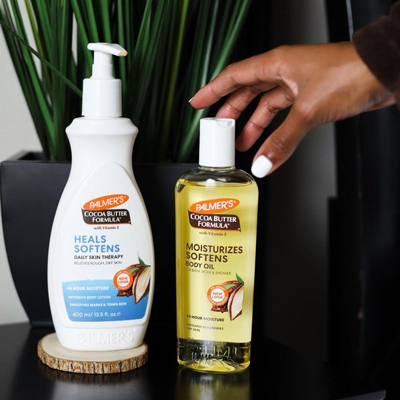 The best way to heal dry skin may be cocoa butter, but it's also a beauty bombshell serving many purposes. Check out Palmer's entire collection of Cocoa Butter Formula skin care products to heal dry skin and reveal healthier-looking and feeling skin in no time.
Products link
---