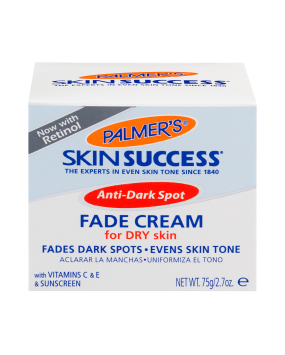 Maximize
Skin Success Body & Face Care
Anti-Dark Spot Fade Cream, for Dry Skin
2.7 oz.
Benefits:
Fades dark spots, age spots, sun damage and discoloration
Balances tone
Formulated for dry skin
Visible improvement in as little as 2 weeks*
Not tested on animals
Palmer's Skin Success Fade Cream gives you a flawlessly radiant complexion by effectively correcting discoloration such as dark spots, age spots and uneven skin tone. Formulated with enhanced moisturizers to care for dry skin.

My Skin Success™: Share your Skin Success story with us on Instagram using #MySkinSuccess
*May take up to 6 weeks
Hydroquinone: fades dark spots and discoloration
Retinol: helps improve fine lines
Vitamin E: a powerful antioxidant
Alpha Hydroxy Fruit Acids: exfoliates skin
Vitamin C: naturally brightens and evens skin tone