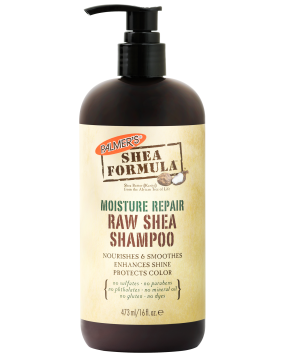 Maximize
Shea Formula
Moisture Repair Raw Shea Shampoo
16 fl. oz.
Our raw natural Shea Butter is sustainably sourced in Africa.
This rich super moisturizing ingredient is the building block for healthy, protected hair. Palmer's Shea Formula Moisture Repair Raw Shea Shampoo is a nourishing, sulfate-free shampoo that helps moisturizing and repair hair.
Specially formulated for Curly, Natural or Transitioning Hair.
Shea Butter: deeply nourishes and moisturizes dry, damaged hair while creating a protective barrier to keep hair smooth and frizz-free
Vitamin E: aides in hair's natural ability to repair damage, an essential step in the process of strengthening the follicle that allows hair to grow long and healthy
Grape Seed Oil: strengthens hair follicles to reduce breakage and allow hair to grow faster