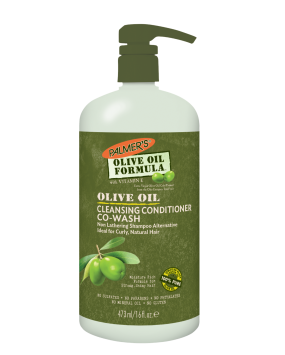 Maximize
Olive Oil Formula
Co-Wash Cleansing Conditioner
16 oz
The No Lather Shampoo Alternative
Formulated without sulfates, detergents, lather, phthalates, petrolatum, mineral oil or harsh chemicals.
Palmer's Olive Oil Formula Cleansing Conditioner Co-Wash is a unique, all-in-onecleansing cream that replaces shampoo, conditioner, deep conditioner and detangler. This gentle, no-lather cleanser contains an exclusive blend of natural Extra Virgin Olive Oil, Vitamin E, Keratin Protein and natural herbal extracts to moisturize, soften and detangle hair for the gentlest daily cleansing possible. The salon quality formula is a safe way to pamper dry, frizzy and over-worked hair and scalp.
No Sulfates • No Parabens • No Phthalates • No Mineral Oil • No Gluten • No Dyes
Item received may differ from item shown.
Extra Virgin Olive Oil: contains naturally occurring vitamins and minerals which act as antioxidants protecting hair and skin from damaging free radicals
Vitamin E: aides in hair's natural ability to repair damage, an essential step in the process of strengthening the follicle that allows hair to grow long and healthy
Jamaican Black Castor Oil: has a strong lipid content which helps relieve dry, itchy scalp while protecting hair from styling damage
Keratin: replenishes lost keratin in damaged hair, helping to strengthen and repair hair