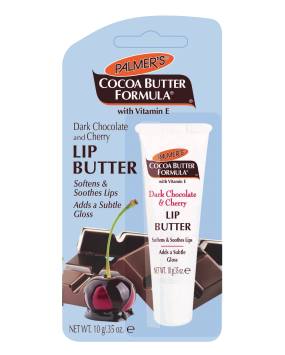 Maximize
Cocoa Butter Formula Products
Dark Chocolate & Cherry Lip Butter
.35 oz.
Benefits:
Soften and soothe dry, chapped lips
Dark chocolate and cherry flavor
Soften and soothe your dry, chapped lips with Palmer's Cocoa Butter Formula Dark Chocolate and Cherry Lip Butter. Made with a special formulation of Palmer's pure Cocoa Butter, Vitamin E and Petrolatum, it provides your lips ultra-moisturization and a hint of gloss with the delectable aroma of dark chocolate and cherry. This one-of-a-kind lip butter works to combat even the driest of lips.
Cocoa Butter: a rich, natural moisturizer that leaves skin soft and silky, tranforming even the roughest, driest areas into buttery soft skin.
Vitamin E: a powerful antioxidant that helps improve the appearance of scars, stretch marks and imperfections on the skin, giving a more even and toned appearance