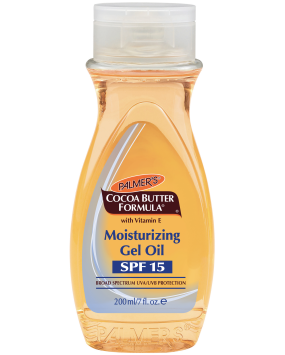 Maximize
Cocoa Butter Formula Products
Moisturizing Gel Oil SPF 15
7.0 oz
Benefits:
Hydrate and protect skin with this advanced gel oil moisturizer
Cocoa Butter, Vitamin E, Shea Butter and Jojoba Oil blend together to moisturize and soothe skin
Broad spectrum UVA/UVB SPF 15 protects against the sun's harmful rays
Palmer's Cocoa Butter Formula Moisturizing Gel Oil with SPF 15 is an advanced gel oil moisturizer that can be used all-over-body. This unique formula absorbs quickly and contains an exclusive blend of pure Cocoa Butter, Vitamin E, Shea Butter, and Jojoba Oil with the added benefit of broad spectrum UVA/UVB SPF 15 protection to moisturize, soothe and protect skin.
Cocoa Butter: a rich natural moisturizer that leaves skin soft and silky, tranforming even the roughest, driest areas into buttery soft skin.
Vitamin E: a powerful antioxidant that helps improve the appearance of scars, stretch marks and imperfections on the skin, giving a more even and toned appearance.
Shea Butter: deeply moisturizes and soothes dry skin while acting as a moisture barrier to keep skin hydrated
Jojoba Oil: similar to the oils that the body naturally produces, it is absorbed easily, leaving the skin feeling soft and supple