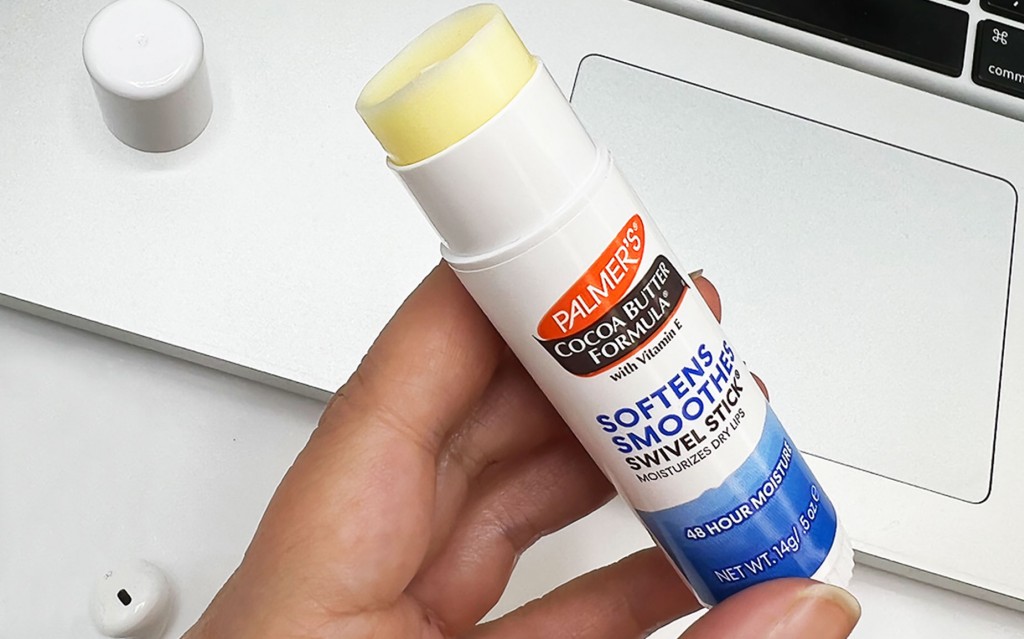 Winter Lip Care: How to Care for Dry Lips
As fall turns into winter, temperatures begin to drop, and you may notice a change in your skin. Cold temperatures and harsh winds can cause skin to lose moisture, causing dryness, cracks, and even bleeding. It's not just your hands and body that suffers, though: your lips can become chapped, dry, and painful. Read on to discover how to heal your dry lips with the best lip balm for winter and how to get into a winter lip care routine to repair a parched pout.
What Causes Dry Lips in the Winter?
First, let's talk about why dryness occurs when it's cold outside. You may be wondering, 'Why do my lips get so chapped in the winter?' especially if you don't suffer from chapped, cracked lips any other time of the year.
Your skin is at its thinnest when it's cold outside, and since your lips are so sensitive to external factors, it makes sense that when humidity drops and the air becomes dry, your skin is unprotected against the harsh weather. Some parts of your body contain oil-producing glands that keep them hydrated, but your lips don't.
This is why winter lip care is so important. Other contributing factors to an unmoisturized mouth include continually licking your lips as well as dehydration—so drink plenty of water in winter and avoid licking your lips!
How Do You Get Rid of Chapped Lips in the Winter?
By taking steps such as covering your mouth with a scarf when you go out into the cold as well as staying hydrated, you're on the right road to keeping your lips healthy. But winter lip care using the best lip moisturizer for winter  can not only heal your already dry lips but protect your pout from dryness, flaking, and cracking. So, what are some of your options for the best lip balm for cold weather?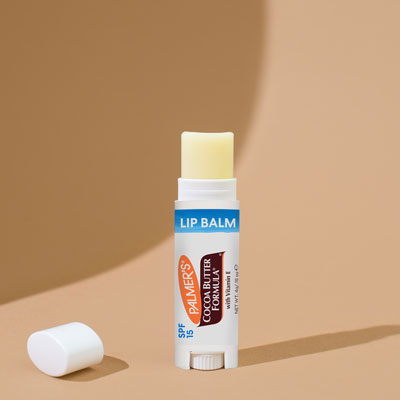 Created with soothing and hydrating cocoa butter and Vitamin E, Palmer's Cocoa Butter Formula Original Ultra Moisturizing Lip Balm is your best defense against chapped lips in the winter. This is the best lip balm for cold weather due to its decadent and rich formula packed with hydrating, softening, and moisturizing ingredients. This winter lip care product also has a bonus perk: SPF 15 to protect your delicate lips from sun exposure which can also lead to dryness.
One of the best lip balms for winter dry lips is Palmer's Cocoa Butter Formula Swivel Stick. Cocoa butter comes together with creamy Vitamin E to produce an all-purpose stick that not only moisturizes your mouth but can also be used on dry spots all over your body.
The swivel stick design is purse-sized and will quickly become your go-to winter lip care weapon as well as on-the-spot under eye treatment, scar soother, and dry patch protector.
How Do You Get Rid of Cracked Lips in Winter?
If your lips are beyond simply being chapped to the point where the skin is cracking and even bleeding, you need winter lip care ASAP. In this case, you'll need to turn to the best lip treatment for winter to not only heal your cracked lips but protect them from further dryness and damage.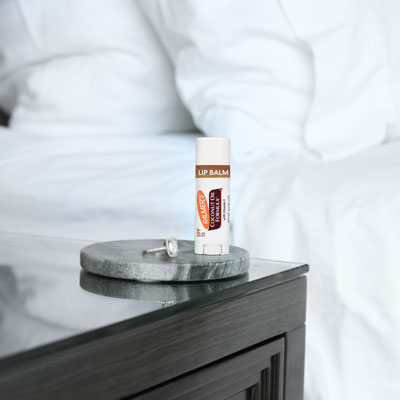 Simply the best moisturizing lip balm for winter is Palmer's Coconut Oil Formula Coconut Hydrate Lip Balm. This luscious lip balm is made of pure extra virgin coconut oil and monoi oil and sweet almond oil. These oils come together to produce a deluxe lip treatment that leaves your lips velvety soft, and supple. SPF 15 protects your lips while the emollient formula provides lasting moisture for your mouth.
Winter Lip Care Routines
 When you're looking for the best lip moisturizer for winter to add to your winter lip care routine, look no further than Palmer's Coconut Oil Formula Coconut Hydrate Swivel Stick. This satisfying Swivel Stick has a bevy of benefits—including the ultimate hydration components of lavish coconut oil, comforting sweet almond oil, and moisturizing monoi oil.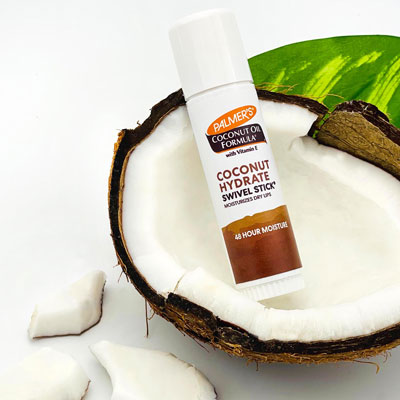 This winter lip care formula delivers when it comes to keeping chapped lips comfortable. You'll love the way this stick pampers your pout and practically feels like a spa treatment for your smile. It's not just for your lips, either. Roll it over dry cuticles, elbow patches, around your eyes, or over scars or marks to soften, smooth and moisturize. Rehydrate your dry lips and skin with one of our most beloved products when you select the best lip balm for dry winter lips.
Love your lips? Then take care of them and spoil yourself with Palmer's line of winter lip care this season. Enjoy kissable, soft, and smooth lips for a guaranteed great smile and healthy, happy, and hydrated winter lips.
Products link
---