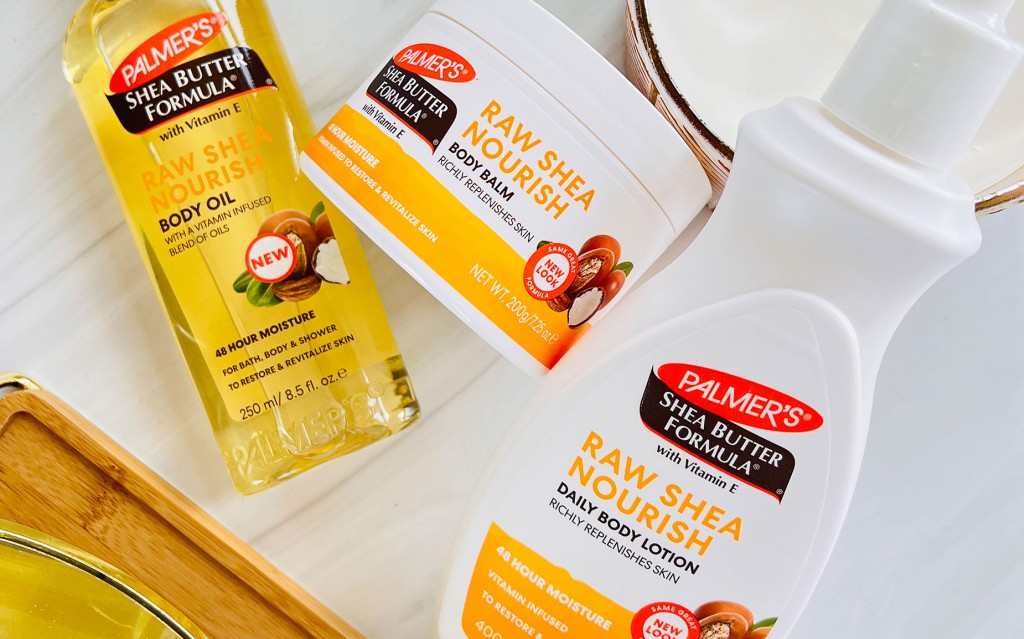 What are the raw shea butter benefits for the skin?
People have used raw shea butter for skin for centuries. Used within creams, lotions, and other emulsions for skin, it adds moisture and softness. Even better, it is shown to have anti-inflammatory and antioxidant properties, making it ideal for sensitive skin. With repeated handwashing, it's important to moisturize your skin, so make sure to carry your raw shea butter hand cream with you to apply it anytime your hands feel dry.
When using as part of your skin care routine, raw shea butter will provide noticeable results when used consistently. Read on for more information and tips on how to use moisturizing products.
What is Raw Shea Butter?
Extracted from the nuts of the shea tree, raw shea butter is a fat that is solid when stored at room temperature but easily melts when warmed.
Natural raw shea butter acts as a "refattening" agent and restores lipids to the skin, thus moisturizing it immediately when applied topically.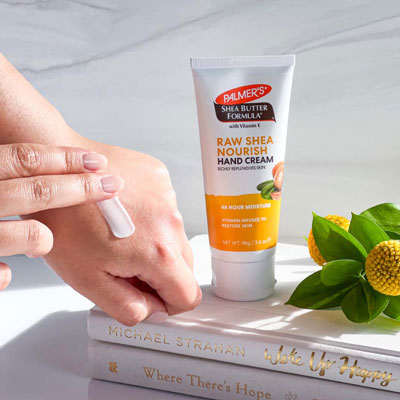 What Are Raw Shea Butter Benefits?
If you're wondering, "What is raw shea butter good for?" Raw african shea butter is known to help nourish and hydrate skin, while also protecting it from the elements like wind and cold air, both of which can zap skin of its moisture.
Shea butter lotions, creams and balms are a great addition to any skincare routines to help keep your skin healthy looking and feeling. Even better, a small amount goes a long way in hydrating your skin.
How to Use Raw Shea Butter on Your Skin
Raw shea butter lotion and creams for your skin are packed with antioxidants that help keep free radicals from penetrating the skin and prematurely aging it.
Not sure how to add natural raw shea butter products to your skin care routine? Since raw shea butter for skin products are well tolerated by most people, it is easy to add them to your existing product mix so you can enjoy all the benefits of this natural super ingredient. Here are some can't miss products to add to your routine:
Raw Shea Nourish Body Lotion: Ideal for use all over the body, this daily lotion helps to soothe and replenish dry sensitive skin from head to toe with long lasting moisture
Raw Shea Nourish Body Oil: leave skin glowing and hydrated with this nourishing oil that blends vitamin-enriched Shea Butter with Vitamin E to effectively rehydrate dry skin. Pro Tip: Try layering it on top of your Raw Shea Nourish Body Lotion to boost hydration!
Raw Shea Nourish Body Balm: our most concentrated form of shea butter for skin, this rich balm deeply nourishes and moisturizes extra dry, sensitive skin with a blend of raw shea butter, cocoa butter and Vitamin E that melts into skin to boost radiance.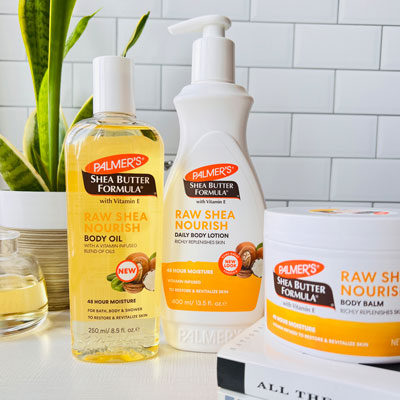 Maybe you are asking yourself, "Is it OK to use shea butter on your face?" Raw Shea Butter is great to use from head to toe on dry, sensitive skin. If your skin is on the oily or acne-prone end of the spectrum, try applying sparingly and building to your desired moisture level.
Make your raw shea butter balm do double duty in a pinch by using it to smooth flyaway edges and keep your hair looking its best all day.
Regularly using raw shea butter in your skin care routine can improve the way your skin looks and feels. Check out Palmer's Shea Butter Formula collection for everything you need to nourish, soothe and moisturize and get all the raw shea butter benefits!
Products link
---