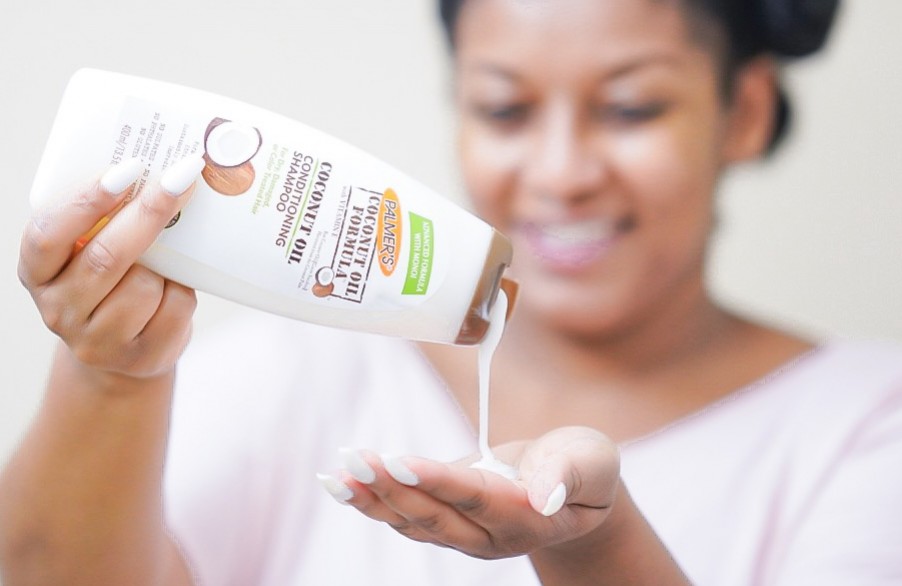 The Best Natural Ingredients for Your Hair
For the health and beauty-conscious, haircare can drive the same search for products featuring natural, nourishing ingredients just like skincare and makeup can. Whether you aim to cut certain chemicals out of your beauty routine, to curb allergens, or treat hair or scalp conditions, when it comes to what you put in your hair and how you treat your scalp, the best natural ingredients for hair tend to extend to what kind of care you uniquely require. You might have a dry scalp because you have trouble retaining moisture, or you could have the opposite problem: too much retention, or a scalp overproducing natural oils. When you use natural ingredients for your hair, you give it the natural nutrients it lacks.
Most companies that use the best natural ingredients for hair understand that one single element is often not enough and multiple gentle components for the most effective outcome. It may look impressive to flip a bottle over and see cocoa butter or avocado oil on the list, but that doesn't tell you what they do. The following are among the best natural ingredients in shampoo, and you can decide for yourself what natural ingredients for your hair you need more or less of:
1. Coconut Oil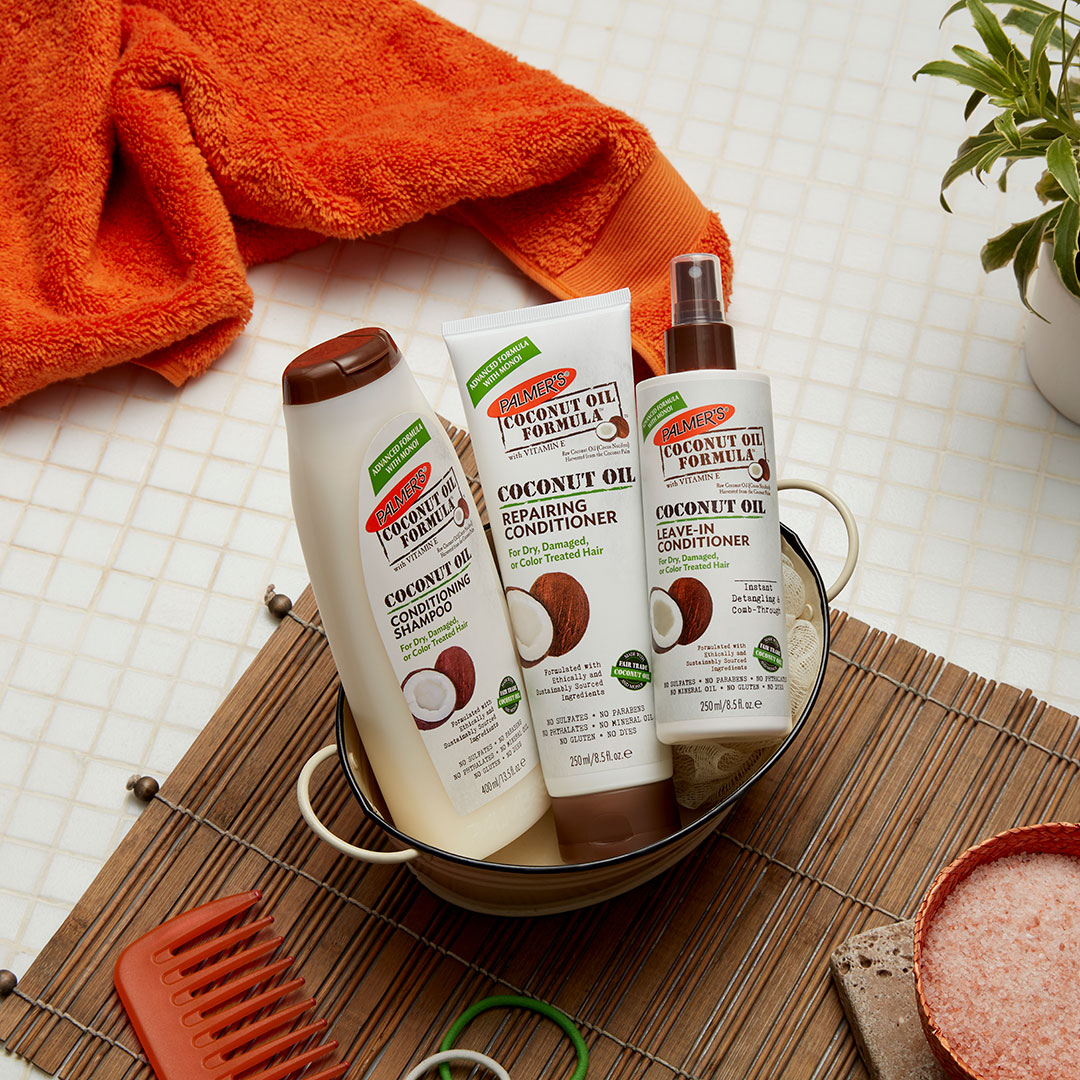 Coconut oil is a healthy natural hair care ingredient and is known to strengthen hair. It's an emollient, which means it creates a seal of oil around the hair, adding extra protection and shine while locking in moisture. Many oils (especially emollient oils) sit on top of your hair and scalp, but coconut oil penetrates. A key natural ingredient for natural hair that can help build a thicker hair texture, it can be used as a leave-in conditioner. It works for all hair types, but it primarily works wonders with dry and damaged hair. Experts recommend the use of products that use extracts rather than applying the raw form of the ingredient, which can be very thick and lead people to over-shampooing to get it all out.
Use: Coconut Oil Conditioning Shampoo and Repairing Conditioner, a hair product with natural ingredients, include coconut oil and keratin proteins. You can also check out Palmers' full Coconut Oil hair care collection.
2. Extra Virgin Olive Oil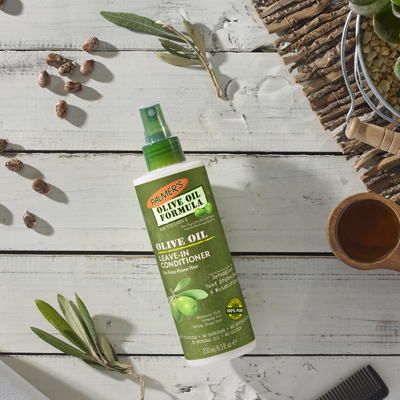 Helpful for frizzy or damaged hair and nourishing to the scalp and skin, olive oil is a popular ingredient in pre-shampoo and conditioning treatments. If you're wondering the difference between regular and extra virgin olive oil, it's simple: "extra virgin" means that the product was cold-pressed, made without chemical additives, heat, or machines. Not only is it another natural ingredients for your hair, it is also an emollient, it seals in moisture and can also help to replace natural oils in your scalp that are often lost in sulfate-heavy shampooing and other treatments.

Use: Palmer's Olive Oil Leave-In Conditioner, with natural ingredients for shiny hair. Tame your frizz, soften your hair, and nourish your scalp.


3. Cocoa Butter
Thicker, and with a higher melting point than coconut oil or olive oil, cocoa butter can go into a number of treatments as a thickening agent, but it also lasts longer on your skin. Conditioning doesn't just give your hair softness and shine; it also prevents breakage, and cocoa butter does this well. Cocoa butter is another natural ingredients for your hair, but it is also a conditioner and emollient, it is especially beneficial to people with dry scalps, fine hair, and hair that damages easily. On your scalp, it helps you to maintain natural oil levels, reducing dandruff, and making hair follicles healthier.

Use: The moisturizing Cocoa Butter Formula has natural ingredients for dry hair. Browse the entire collection for treatment options that suit your routine.
4.
Argan Oil
Containing Vitamin A, C, and E as well as essential Omega-6 fatty acids, argan oil is good for maintaining shine and elasticity in hair as a conditioner. Argan oil is another one of the best natural ingredients for your hair. A natural ingredient for curly hair, it can soften, help to tame frizz, and define curls, and its nutrients help keep your hair nourished and safe when working with heating tools like irons and blow dryers. For the scalp, it also reduces the inflammation that can cause itching and dandruff.
Use: Natural Fusions Chia Seed & Argan Oil Hair Mask, with 95 percent natural ingredients for hair repair. Leave in an argan oil-containing hair mask as directed, or if you're using the raw product, time it for 15 to 30 minutes.
5.   Avocado Oil
For softness and shine, avocado oil works well as a leave-in conditioner that reduces breakage. It contains Vitamins A, D, and E and contains more potassium than its equal weight in bananas. It spreads easily and coats the hair without weighing it down too much. Rich in oleic acid and monosaturated fats, it is one of a few oils, like coconut oil, that can penetrate the hair follicle rather than just coat the shaft, making it one of the best natural ingredients for hair. It absorbs fast, too, making it an easy way to add nutrients to your scalp and hair follicles, a great option for users with dry or sensitive skin.
Use: Natural Fusions Shine and Hydration DIY Cocktail Kit, containing three all-natural essential oils, including avocado oil, you can mix with your own hair care products as your needs demand.
6. Tea Tree Oil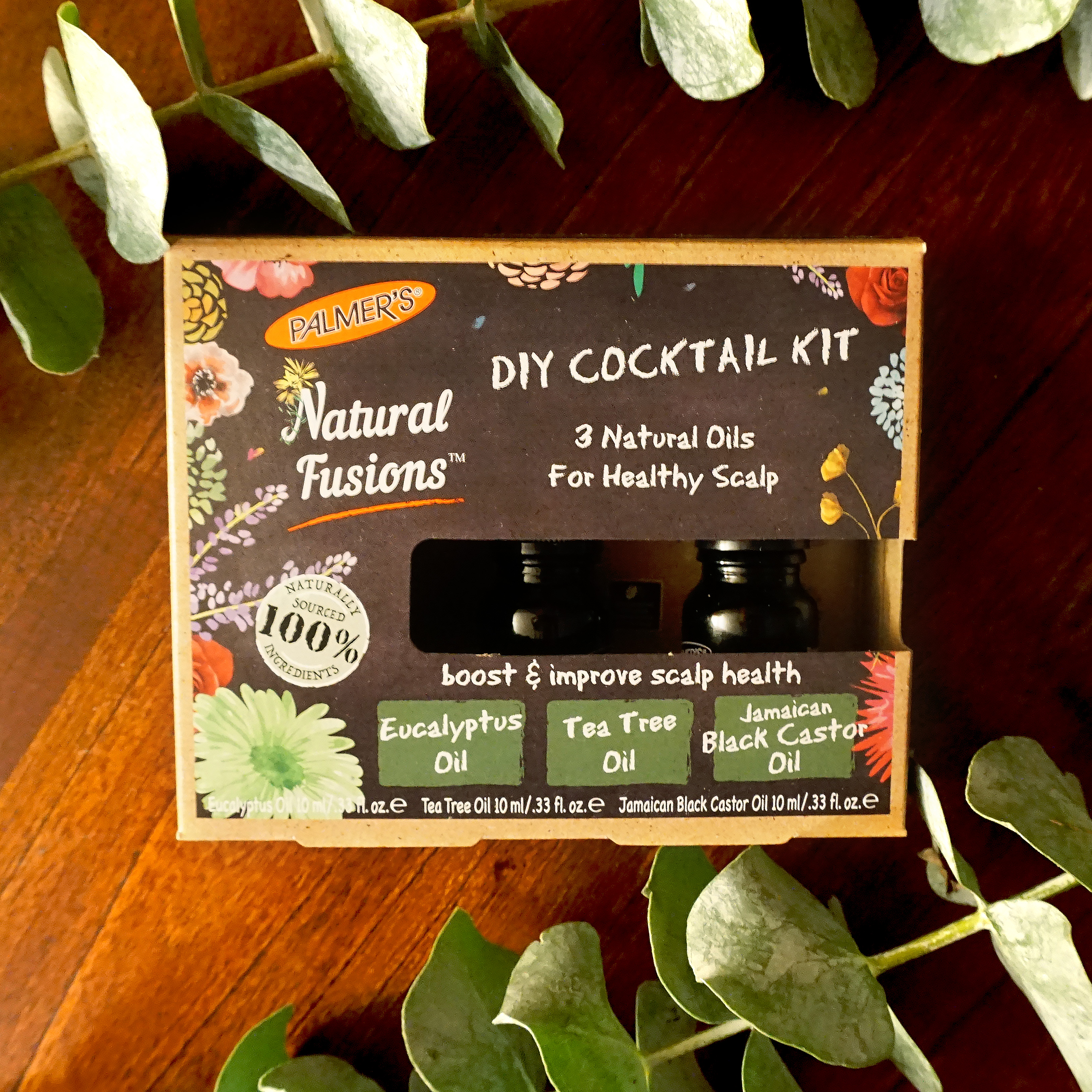 An important natural ingredient for hair loss is tea tree oil. It is used for curbing hair loss and treating conditions that may slow growth, tea tree oil often comes as an essential oil or concentrate. This means that very little goes a long way and is intended to be diluted. Overapplication can lead to scalp irritation, so only use as directed if you are working with the raw material. If you are in search of natural ingredients for hair, it might help. As an antiseptic, antifungal, and antibacterial additive, it helps to clear your scalp of any buildup of chemicals or other issues that are stopping healthy follicles from growing. It can also help to moisturize and condition hair, adding strength and softness.
Use: Natural Fusions Healthy Scalp DIY Cocktail Kit, which includes Tea Tree Oil. These oils can be mixed with your hair care products depending on your needs.
You know your hair better than anyone else, and you may find these six natural ingredients for hair in several products or choose to work with them in their purest forms, so be sure to do your research in how to utilize them. Some, like essential oils, must be used sparingly and in small doses to be useful (and in large doses can even be harmful).
Try Palmer's haircare products today for healthier hair one wash at a time. Browse Palmer's vast line of products, and leave it to the professionals.
---