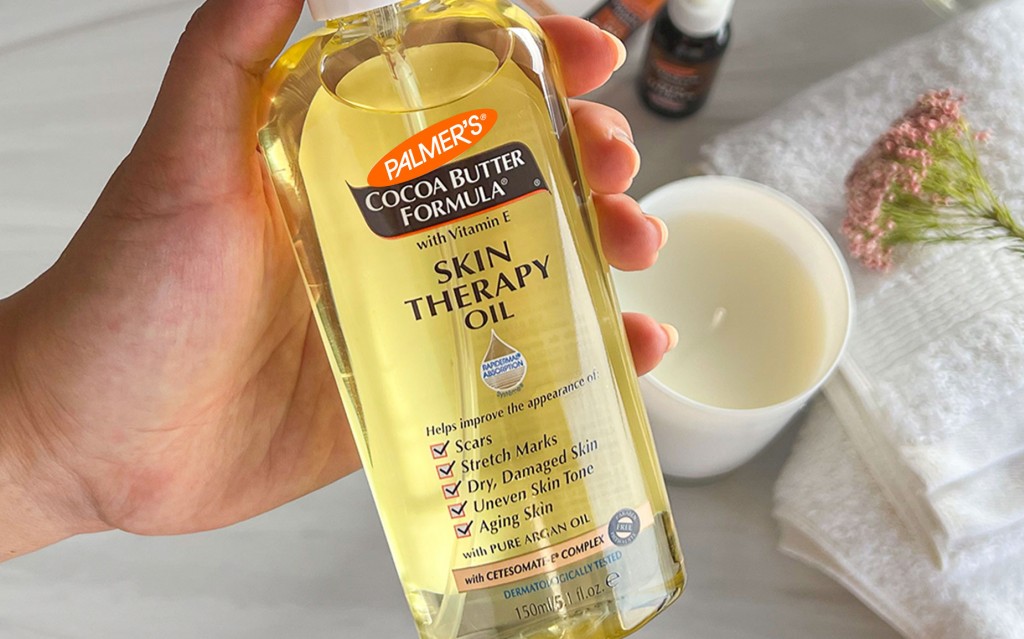 The Best Body Oil for Pregnancy
During pregnancy your body goes through a myriad of exciting changes. It can be a bit overwhelming to decipher the best ways to take care of your skin during this time. Since your skin will stretch to accommodate your growing little one, special care is needed to tackle stretch marks, itchy and sensitive skin, and dry skin.
Opting for a good body oil for pregnant bellies helps to moisturize your stretching skin and keep your belly supple and smooth as you await your precious new delivery. Treat yourself to healthy, soft, hydrated skin when you need it the most as you prepare for your brand-new arrival.
What Happens to Skin During Pregnancy?
There is a lot of happening with your body during pregnancy. Not only is your system working to ensure your baby is nourished and healthy, but you're dealing with external changes, too. Some common skin concerns that occur during pregnancy are:
Hyperpigmentation - Additional melanin created during pregnancy can cause the skin to darken in tone.
Itchiness - Rashy bumps can form on the stomach, arms, and legs. Using a good oil for pregnant bellies can help soothe rashes and bumps.
Stretch marks - As skin stretches and your baby grows, you may notice these marks appearing. 
Varicose veins - Due to hormones, you may notice more visible veins in your legs.
Dermatitis - Sensitive pregnancy skin is prone to itchy, dry spots, acne breakouts, or psoriasis. A tummy oil for pregnancy can keep your skin soft, hydrated and smooth.
Finding the Best Body Oils for Pregnancy
Finding the best body oil for dry skin and stretch marks can cause stress during what should be a happy and exciting time in your life. Using a tummy oil for pregnancy, to help improve the appearance of stretch marks, and dry uneven skin tone, can be a simple way to keep skin soft and supple throughout your pregnancy.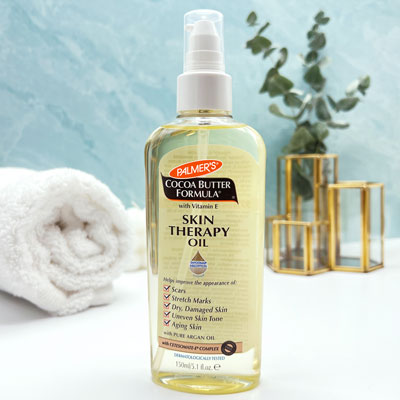 When choosing the right body oil for pregnancy, consider the ingredients. A cocoa butter skin therapy oil with Vitamin E is packed with skin-loving ingredients, making this type of oil one of the best body oils for dry skin and stretch marks.
Hypoallergenic and dermatologist-approved-tested, the Skin Therapy Oil is a good oil for pregnant bellies that includes Vitamin E and all-natural Cocoa Butter to help scars, stretch marks, dryness, and damaged skin. Mineral oil and paraben-free, it is lightweight, non-greasy, and can be used on the body and face during pregnancy.
Using body oil for pregnancy to improve the appearance of stretch marks has a bevy of benefits. A good oil for pregnant bellies, this nourishing tummy oil for pregnancy can help improve uneven skin tone, rejuvenate aging skin, smooth stretch marks, keep skin soft and moisturized, and won't aggravate sensitive skin. 
Skin Care During Pregnancy
Using body oil for pregnancy is a great way to ensure your skin bounces back after baby - and looks radiant and glowing throughout your pregnancy. It's important to only use products that are gentle and suitable for pregnancy.
Layer your body oil for pregnancy with a massage lotion specially crafted to help keep your growing belly soft, smooth and supple. For additional moisture, add a massage cream to target stretch mark-prone areas like hips, thighs, bust and stomach. Bond with baby before bed by applying an intensive tummy butter to your belly for deep moisture while you sleep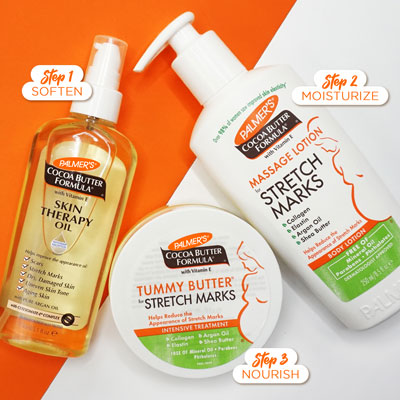 Developing a pregnancy skincare routine full of natural, nourishing products and ingredients, including lotions and body oils for pregnancy, ensures your skin will still be glowing postpartum! Check out Palmer's entire collection of pregnancy and post-partum skin care products to keep your skin hydrated and healthy during and after your pregnancy!
Products link
---