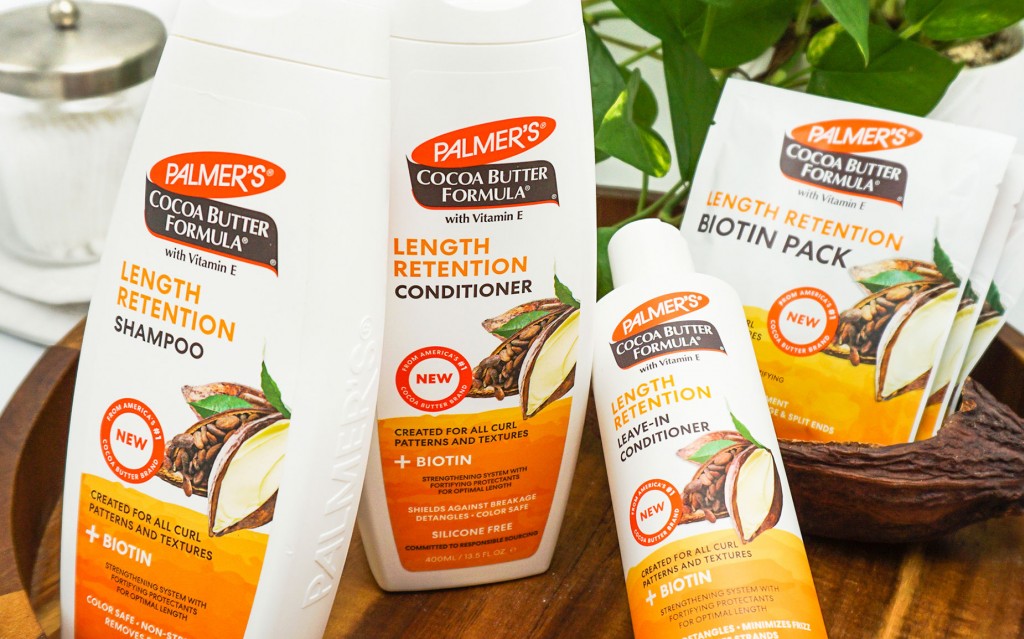 Protect Your Curls: Natural Hair Twist Styles
Low maintenance, easy to style natural hair twist styles are a great way to keep hair protected, minimize the risk of breakage, hair loss, and frizz to achieve longer hair growth. Flat twists, two strand twists and three strand twists are perfect low maintenance styles for protecting natural hair.
Whether you have short length twists or medium length natural hair twist style, these protective styles require daily and weekly maintenance to ensure your hair looks great and stays healthy while you wear your protective style.
Palmer's Cocoa Butter Formula + Biotin hair care system is the ultimate solution to strengthen, lengthen and protect natural hair twists. Read on for more tips about protective styles and cocoa butter hair care.
Cleansing Twist Styles for Natural Hair
Once you decide to wear your hair in a protective style, like flat twists, two strand twists or three strand twists, you'll need the right regimen for taking care of twist hairstyles for natural hair.
Get back to basics with Palmer's Length Retention Shampoo which boosts your braids with the combination of powerful, natural cocoa butter and biotin to cleanse hair gently without harsh chemicals that could dry your natural hair twist styles. Instead, cocoa butter imparts moisture while biotin strengthens, which lessens breakage and aids in hair growth.
Seal your strands' cuticles by following your shampoo up with the Length Retention Conditioner. Biotin and cocoa butter envelop the hair shaft to form a protective, strong seal that offers strength, hydration, and plenty of shine, allowing any low-maintenance natural hair style to shine.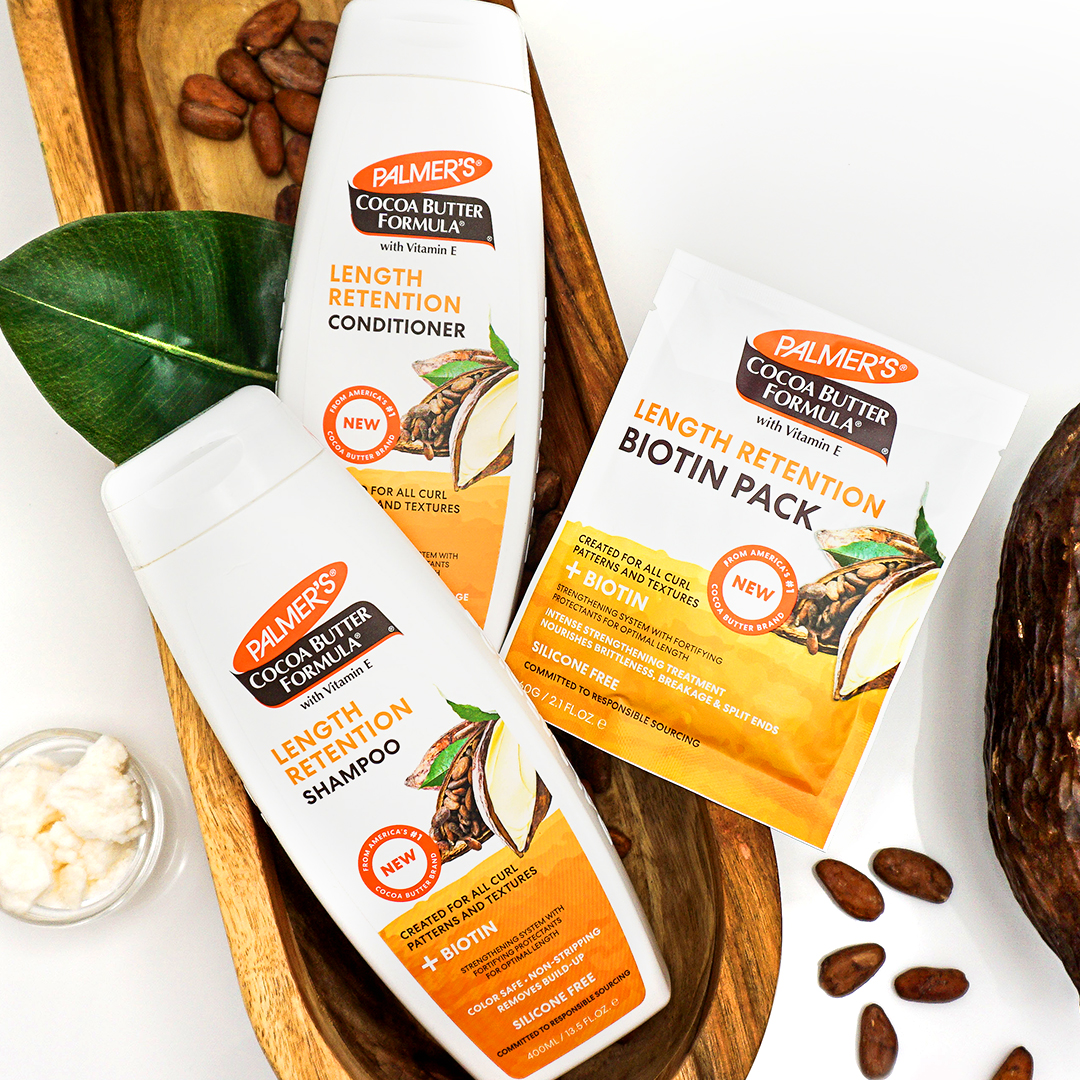 Deep Conditioning Your Natural Hair Twist Styles
Periodically, you'll want to give your twist hairstyles for natural hair some extra love with a more intense conditioning treatment. Biotin infused strengthening Length Retention Biotin Pack  saturates strands with silicone-free moisturizers while adding strength to help you achieve the length you want without compromising the health of your hair.
Enjoy your natural curl pattern  even more when you immerse your natural hair twists or braids in  the Length Retention Deep Conditioner. Regularly deep conditioning your medium-length natural hair twist styles or flat twists perfectly preps your natural hair twist styles leaving twists soft, manageable, moisturized, and easy to style. This treatment seals in the hydration your hair needs to avoid dry and brittle braids.
Scalp Maintenance for Natural Hair Twist Styles
One of the most crucial components of wearing your hair in a hair twist style is maintaining the health of your scalp.  Cocoa butter and biotin products are ideal  for scalp health to nourish hair at the root, ensuring strands are strong from top to tip.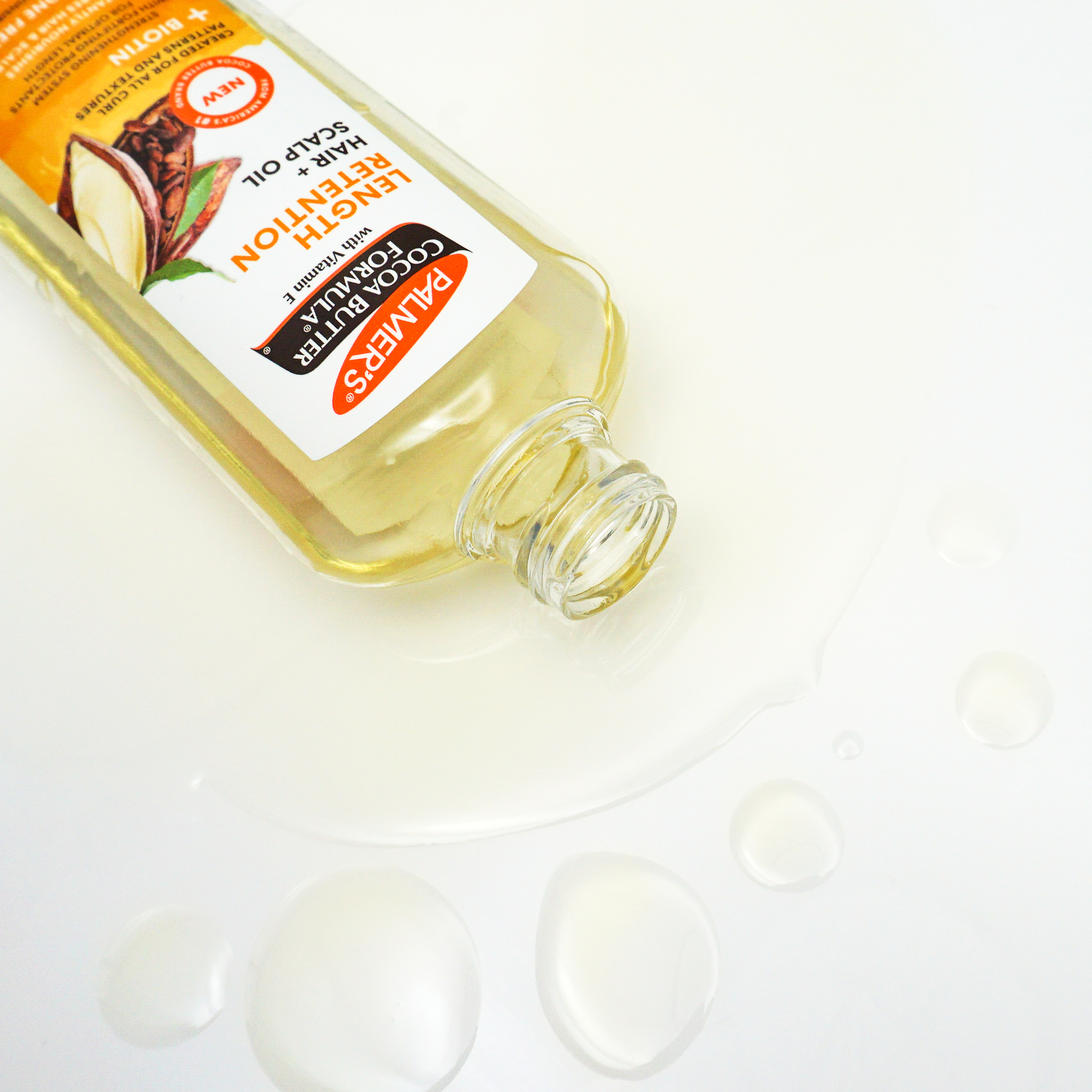 Enrich your two strand twists or other medium-length  hair twist styles by adding Palmer's Length Retention Scalp Oil to your hair care regimen. This oil, naturally infused with the powers of Cocoa Butter and Biotin, surrounds fragile hair with a strong protectant and keeps your scalp healthy so your hair can grow to its optimal length without breakage or split ends.
Natural hair twist styles can also benefit from the Shine Glaze Serum for taming any flyaways. Made with marula oil, this light hair glaze keeps natural hair twists and braids frizz-free, shiny, supple, and soft.
Natural hair twist styles are a perfect way to protect hair, and when you combine them with cocoa butter, you can't miss!
Check out the entire Palmer's Cocoa Butter Formula Length Retention collection to care for your natural hair twists styles and keep your hair healthy, hydrated and strong.
Products link
---