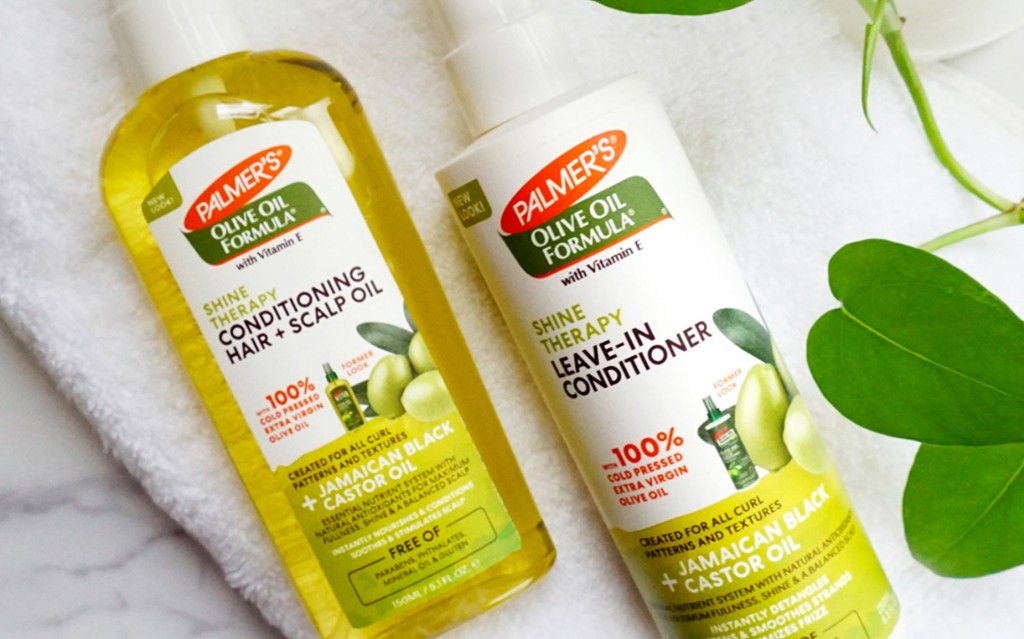 JBCO + EVOO: Olive Oil & Jamaican Black Castor Oils Benefits for Hair
What do Rihanna, Khloe and Kourtney Kardashian, model-publisher Cipriana Quann, Charlize Theron, make-up artist to the stars Hrush Achemyan, celebrity hair stylist Gabrielle Corney, hair restoration doctor Nikki D. Hill MD, and arguably the most famous celebrity of the ages, Cleopatra, have in common? They all swear by Olive Oil and Jamaican Black Castor Oil benefits for hair. Combined, these two nourishing naturals form a dynamic duo of mega moisture and restoration.
Olive Oil and Jamaican Black Castor Oil Benefits for Hair
Both olive oil and Jamaican black castor oil are antioxidant powerhouses, preventing cellular damage, and contain vitamin-rich naturally-moisturizing fatty acids. The history of use topically and internally as powerful healers and health-promoters from ancient times, and now evidence-backed by scientific studies, make Jamaican Black Castor Oil and olive oil hair treatments a safe and effective choice for curly hair care. Together or alone, incorporating these two powerhouse, natural oils into your haircare routine seals the moisture in the hair fiber, resulting in softer, shinier, and frizz-free strands. Start with a shampoo and conditioning product, like Palmer's® Olive Oil Formula® Shine Therapy collection with Jamaican Black Castor Oil, and get acquainted with all the olive oil and Jamaican Black Castor Oil benefits for your hair. Seeing (and feeling) after all, is believing.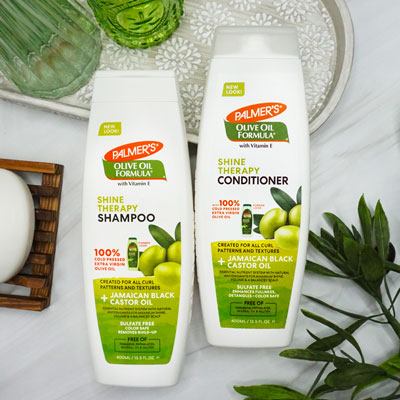 Remember the old adage "oil and water don't mix?" You can apply this to your new JBCO-EVOO haircare regimen. Hair experts explain that the benefits of extra virgin olive oil for hair and Jamaican black castor oil benefits are transformative: when these oils penetrate your hair strands, they reduce the amount of water your hair absorbs, thereby reducing both frizz and shrinkage.
What's in Jamaican Black Castor Oil?
It's common knowledge that the Mediterranean olive tree produces the multitasking wonder known as extra virgin olive oil, but where exactly does the ancient salve castor oil come from and what are the Jamaican Black Castor Oil benefits?
Rich in healing triglycerides, the castor oil plant, Ricinus communis L., is a flowering perennial grown in several continents but native to the Mediterranean basin, East Africa and India. The seeds of the plants, often referred to as "beans," are cold-pressed, (like many olive oils) meaning without chemical interaction, to extract their precious oil. Unlike pale castor oil, Jamaican Black Castor oil is made more concentrated by roasting or boiling the seeds, thus resulting in its dark appearance.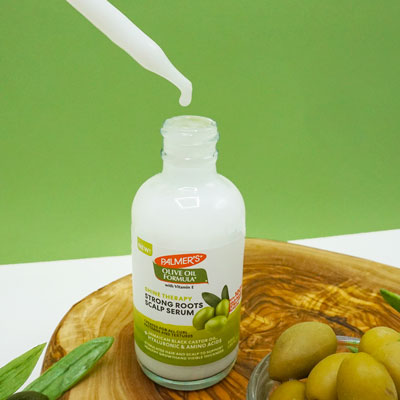 Jamaican black castor oil can be applied as a scalp treatment and is a natural anti-inflammatory and can promote hair growth. While some hair scientists are divided on whether Jamaican Black Castor oil will grow new hair, all agree that it helps prevent hair loss. How often should you use Jamaican black castor oil for hair growth? We suggest testing a modest first treatment and if well-tolerated, use up to 2 to 3 times a week or every wash day.
For our tightly-coiled curlfriends, hair restoration expert Dr. Nikki Hill advises liberal use of JBCO products from pre-shampoo treatments to moisturizers.  Wavy to loose curls will benefit from Jamaican black castor oil conditioners especially in the summer months. Thick, straight-styled hair and wavy hair will benefit from Jamaican black castor oil as a pre-shampoo treatment. For even deeper penetration of the hair cuticle, add steam or heat. Palmer's® Olive Oil Formula® Shine Pack Deep Conditioning Treatment is a great choice for an intensive conditioning treatment when hair needs extra pampering and conditioning
And don't forget the trick that the makeup and hair care stylists to the stars have passed on to their famous and infamous clients: not only can you use Jamaican Black castor oil for hair growth, but it is a miracle maker for dry, falling eyelashes, sparse eyebrows and men's uneven, brittle beards. So after you apply some of the miracle mix on your lashes and brows, grab hold of your man and give his goatee a good oiling. You will "save face' and so will he!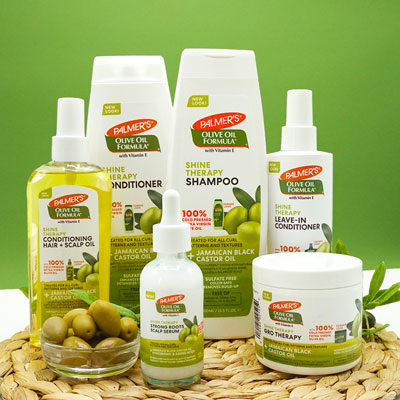 Now that you know all the Olive Oil and Jamaican Black Castor Oil benefits for hair, pick up the Olive Oil Formula Shine Therapy collection and see how shiny, full and healthy-looking your hair can be when you try these two powerhouse ingredients together!
Products link
---