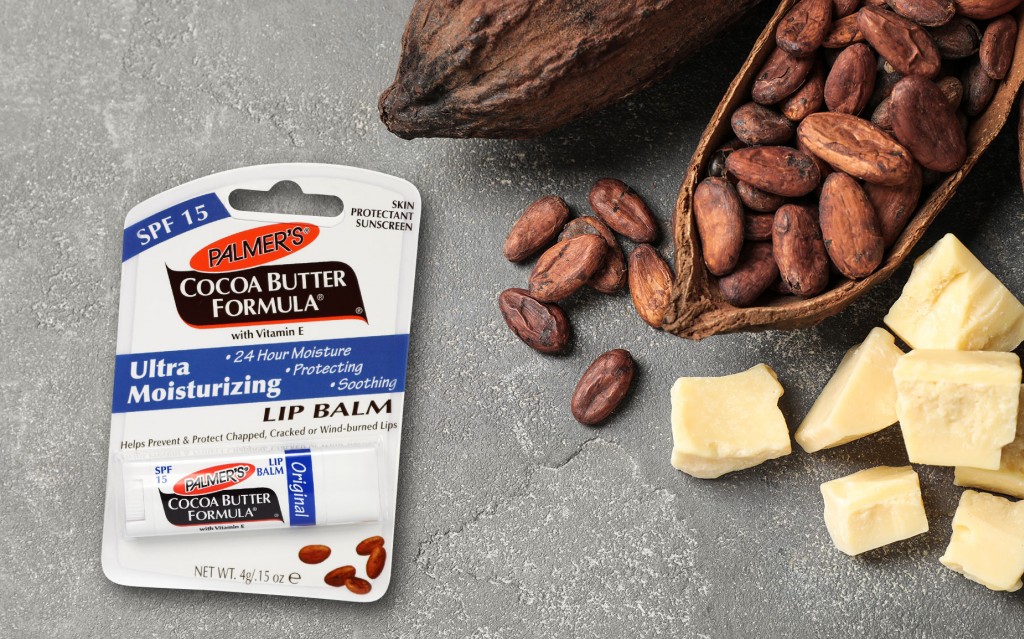 Is Cocoa Butter Good for Lips?
You moisturize your face at night and every morning. But are you remembering your lips in the process? You use them to talk, eat, drink, and without them, your smile would not be the same. While moisturizing with your favorite Palmer's Cocoa Butter Formula Body Care product, you might ask, "Is cocoa butter good for lips?" and the answer is a simple "yes!"
Use cocoa butter on your lips for a smooth and soft smile. With the help of a cocoa butter lip balm or other cocoa butter lip care products, your lips will remain silky and moisturized.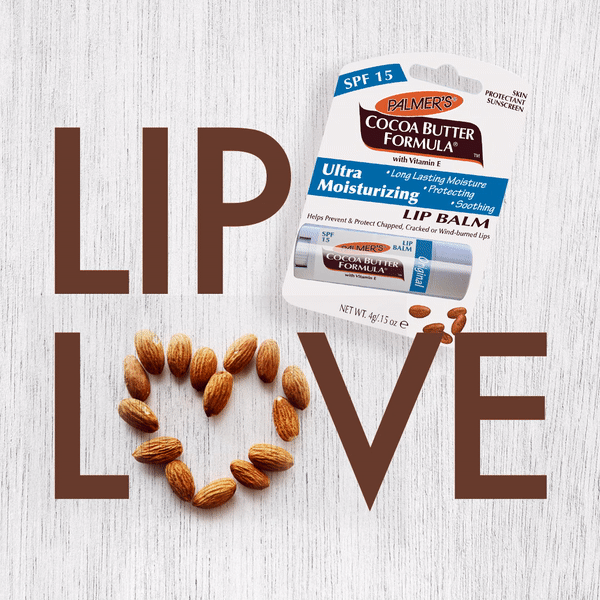 Read on for more information on why cocoa butter is good for your lips.
What Does Cocoa Butter Do For Your Lips?
Cocoa butter is derived from the cocoa bean and includes vitamins A and E. Cocoa butter is an emollient that is a great source of natural antioxidants. It adds a protective hydrating layer to lips, helping protect them from extreme temperatures and indoor heat that can leave your lips dried out. Vitamin E is known for its restorative skin properties and healing abilities. Using cocoa butter on your lips helps lock in moisture that goes beyond the first layer of skin—or epidermis.
Here is what cocoa butter is good for:
Improved elasticity
Improved blood flow
Skin repair
Scar lightening
Using a cocoa butter lip balm or other products on your lips also protects them from environmental elements. Choose a lip care product that adds SPF to protect from UV rays and pathogens in the air. 
Can I Use Palmer's Cocoa Butter on my Lips?
Cocoa butter is naturally derived, full of nutrients and is safe to use on your lips. Products like Palmer's Cocoa Butter Formula Swivel Stick offer 24-hour moisturization. You can even use it on dry spots on your face. However, be aware of your food or drink intake since that can remove the product and lessen its healing properties. Applying it after you eat or drink is a safe bet.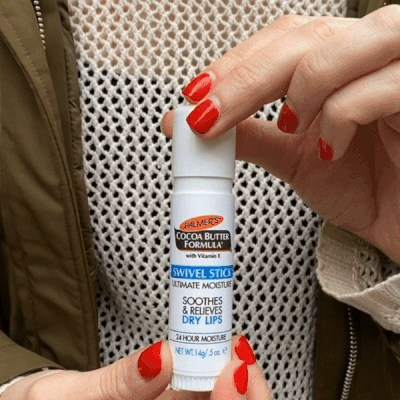 Again, using cocoa butter on your lips and face locks in moisture and nutrients that prevent cracking or dryness throughout the seasons and months of the year.
All-year Cocoa Butter Lip Care
As you take care of your body, hair, nail, and skin, remember your lips. Free radicals outdoors can age your skin, so why not also protect your lips? Using cocoa butter on your lips is a simple way to help protect them.
Products like Palmer's Swivel Stick moisturize and soften your lips and other dry spots. As an added bonus, it helps minimize blemishes and dry patches of skin. Palmer's Original Ultra Moisturizing Lip Balm is enriched with additional vitamin E and SPF, so beyond preventing chapped lips, it also helps sun- and wind-burned lips. A product that is easy to apply and easy to tote around is more likely to be used, too.
Consider all of Palmer's Cocoa Butter Formula products for full-body moisture all day long.
Products link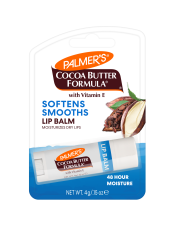 Original Ultra Moisturizing Lip Balm

Swivel Stick
---