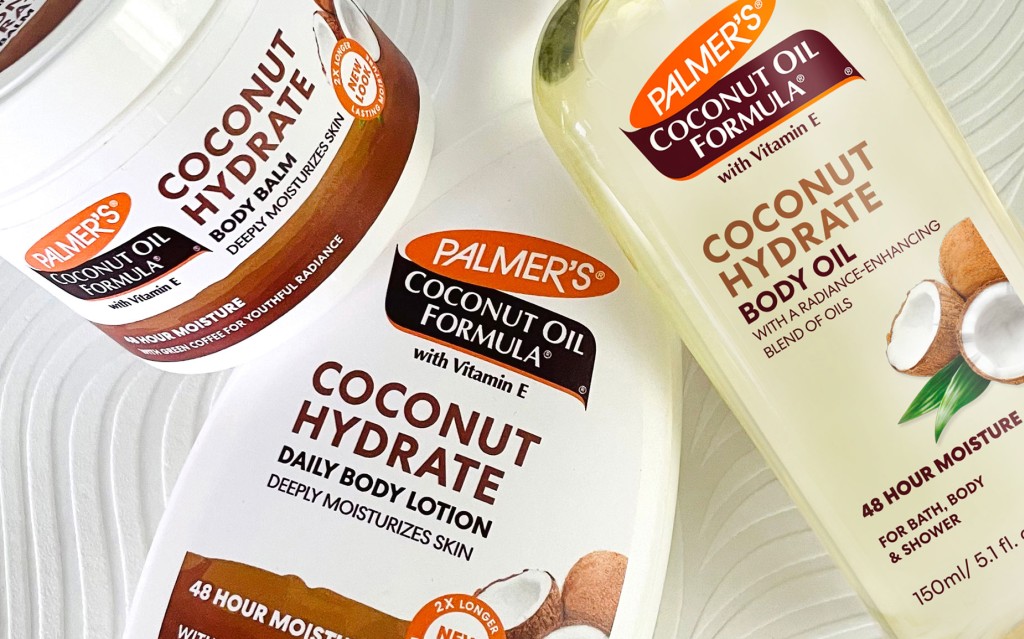 How To Hydrate Dry Skin in the Winter
Winter can be beautiful, but it can also be unkind to your skin, creating rough, dry skin due to low temperatures, lack of moisture and harsh, chilly winds. However, once you discover how to keep skin hydrated in winter, you can enjoy the season without worrying about winter skin hydration.
Read on to zero in on how to hydrate your skin in the winter and skip the aggravation of dry, dull skin this season.
Coconut Oil for Dry Skin
When it comes to ways to keep skin moisturized in winter, you may be wondering, does coconut oil hydrate skin? The answer is a resounding yes! Coconut oil is one of the best ways to protect your skin from freezing temps and can aid you on your search of how to hydrate your skin in the winter.
So, how does using coconut oil for very dry skin work in your favor once the seasons change?
Firstly, coconut oil has natural anti-inflammatory properties. So, for instance, if your hands are prone to redness, patches of eczema, or extreme dryness in the winter, a coconut oil hand cream can impart the necessary moisturizer to dry digits.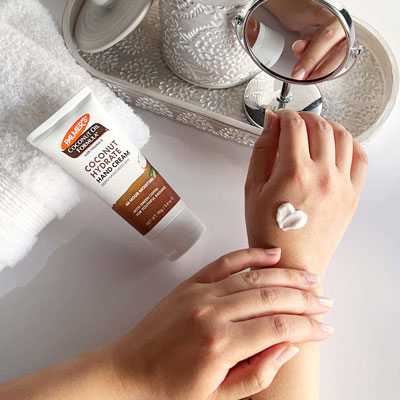 Studies have shown that using organic coconut oil, like in Palmer's Coconut Oil Formula collection, has proven effective in keeping dry skin hydrated and protected from the elements. Thick, creamy, rich coconut oil works as a natural barrier between your skin and irritants, while maintaining your skin's health all season long.
This makes hydrating coconut oil a natural choice for treating dry winter skin. In addition, coconut oil products are safe and effective for all skin types, including sensitive, oily, and combination skin.
How to Hydrate Dry Skin in the Winter with Coconut Oil
Worried about how to hydrate your skin in the winter but not sure where to start? Keep skin moisturized in winter with the best moisturizer lotion for winter. Your skin longs for a luxe lotion created with all-natural, skin-loving ingredients like coconut oil and green coffee to keep skin smooth, supple, and soft.
A coconut oil body lotion, coupled with a gently exfoliating coconut sugar body scrub, helps remove dead skin and unveil the glowing radiance beneath. Palmer's uses only the best Fair Trade Certified Organic Coconut Oil to lock in moisture and ensure your skin glows from head to toe. Make this your daily regimen, and you'll stop dull, dry skin in its tracks!
How to hydrate your skin in the winter starts with adding skin care products like those containing hydrating coconut oil that deeply moisturizes your dry skin, then continuing your hydrating skin care routine to keep your skin moisturized the entire season.To ensure you start the season off right, work to drench your thirsty skin with the moisture it's craving with Palmer's Coconut Oil Formula skin care collection.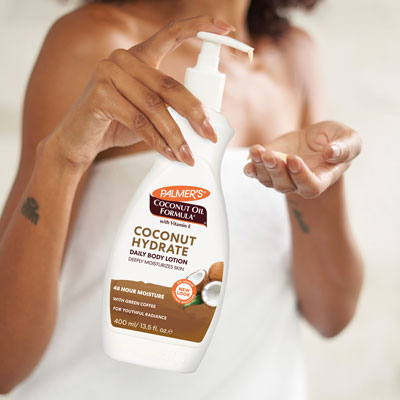 An added layer of coconut oil for very dry skin is the key to unlocking your softest skin ever. Try rich, decadent coconut body oil after you step out of the shower and before you apply coconut oil lotion. This luxurious oil imparts 48 hours of moisture to your skin, and it's not greasy or heavy at all.
Cold, arid winter weather can cause extra dry patches to appear and when you are searching for how to hydrate your skin in the winter, you'll want something to help banish those patches. Look no further than the hydrating Coconut Oil Balm! This concentrated solid balm blends coconut oil and green coffee that melts into skin to deeply moisturize extra dry skin – leaving it softer, smoother and glowing.
Treat Your Feet with Hydrating Coconut Oil
When you're crafting a plan for how to hydrate your skin in the winter, you may forget your feet! However, your feet become cracked, dry, and itchy when the temperatures plunge, so why not give your toes some TLC this winter?
Unwind after a long day with a coconut oil sugar scrub for feet, and slough away those calluses and dry, rough patches to reveal soft, smooth feet. Make your own by mixing granulated sugar with a rich coconut oil balm. Then, massage your achy Achilles with divine coconut oil body oil, giving you spa vibes in your own bathroom.
Finish up your hydrating at home pedi with a hydrating coconut oil lotion meant specifically for feet. You won't neglect your feet again after feeling how soft and moisturized they are once your new regimen for how to hydrate your skin in the winter is complete!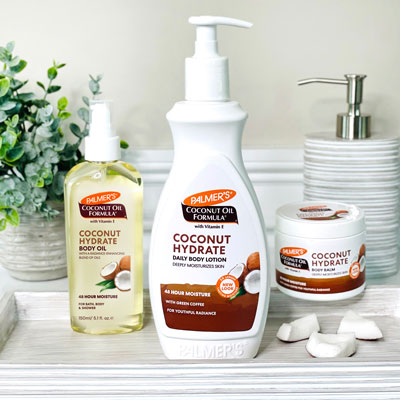 Check out Palmer's full line of Coconut Oil Formula skin care products today. Get head-to-toe ready to take on dry winter skin!
Products link
---