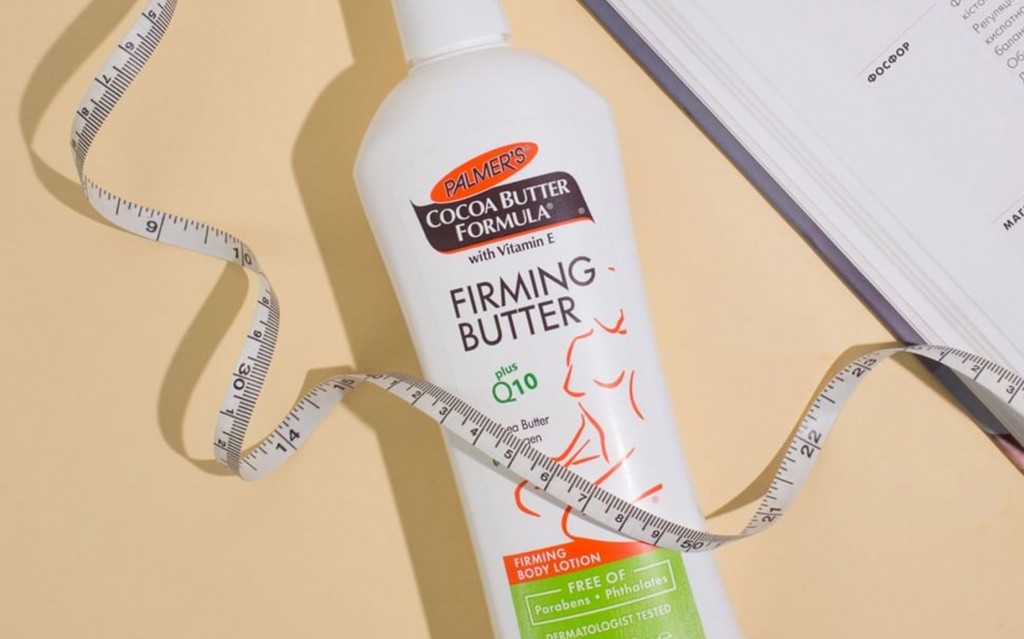 How to Care for Your Skin After Pregnancy
Your body goes through a lot of big changes during pregnancy. Not only do you have strange cravings and stronger nails and hair due to hormones, but your skin stretches to accommodate your growing little one.
Don't despair, though - your post-baby body doesn't have to be a bad thing!
Embrace your body after giving birth and treat your skin to the soothing, healing power of natural cocoa butter to reduce the appearance of stretch marks and help conquer skin problems after pregnancy.
Loose Skin After Pregnancy
Many women are worried about saggy belly skin after pregnancy. While it's known that after any large weight loss, there may be excess skin to deal with as your body after baby starts returning to its pre-pregnancy form. So how do you tighten loose skin after pregnancy? We'll let you in on some secrets of skincare after pregnancy, including what to use for stomach skin tightening after pregnancy.
Palmer's Cocoa Butter Firming Skin Lotion offers a natural and effective solution to an after-pregnancy belly skin tighteningregimen. It contains a powerful combination of ingredients including vitamin E, collagen, elastin, ginseng, and Co Q 10 to help tighten and tone skin and cocoa butter and shea butter to deeply moisturize, creating a rich lotion that hydrates your postpartum body and nourishes your skin after pregnancy.
It's dermatologist-tested, free of harsh chemicals, and helps to restore elasticity while firming and tightening skin after pregnancy. The formula works to smooth your skin while improving your skin's tone and texture; perfect for your post-baby body!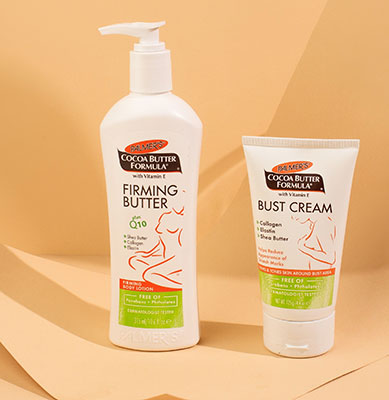 Dry Skin After Pregnancy
One of the most common concerns women have about their body after giving birth is postpartum dry skin. Skincare after pregnancy should include natural ingredients like cocoa butter that can relieve skin problems after pregnancylike itchy, dry, and uneven skin tone.
Cocoa Butter Skin Therapy Oil With Vitamin E - This perfecting, hydrating oil feels amazing when you rub it into your skin after pregnancy. It hydrates postpartum dry skin and repair your post-baby bodywhile you improve the appearance of stretch marks and leave your skin soft, smooth, and moisturized. This lightweight, non-greasy oil is suitable for all skin types and can be used for your face or body.
Cocoa Butter Firming Skin Lotion - Hydrate your skin after pregnancy and tighten loose skin after pregnancy with a lotion designed to firm, tighten, and tone while providing the necessary hydration your postpartum body needs. Improve your skin's texture and appearance with our dermatologist-tested formula made with cocoa butter, vitamins, and antioxidants.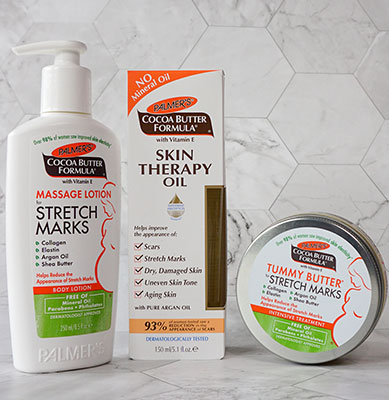 Lighten Stretch Marks On Your Body After Giving Birth
Most, but not all, women experience stretch marks during or after pregnancy. The marks may seem the darkest after giving birth. This is normal, and over time, stretch marks become less noticeable.
Luckily, Palmer's offers a range of products proven to help reduce the appearance of stretch marks, fade lines, tone and firm your skin, and lighten stretch marks to help you feel good about your postpartum body and care of your skin after pregnancy.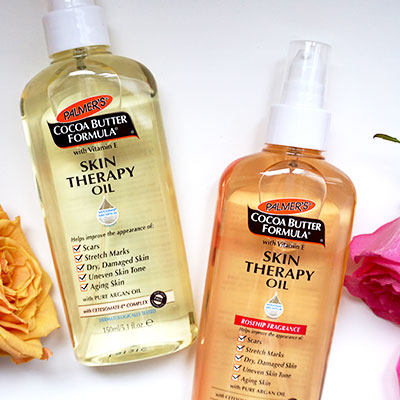 Skin care after pregnancy is a bit different than regular skin care. Your body deserves to be nourished just as you nourish your newborn. Take time to treat your post-baby body with Palmer's line of postpartum body lotions, treatments, and oils to help tighten loose skin after pregnancy and lighten stretch marks.
Products link
---