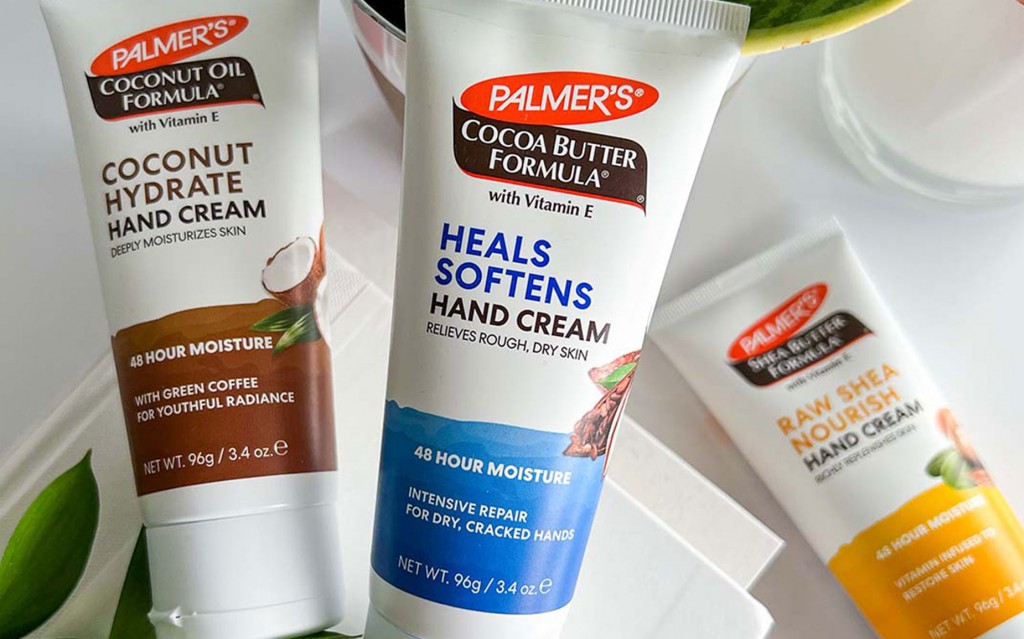 How Do I Heal My Super Dry Hands in the Winter?
There are many upsides to winter: sitting in front of a crackling fireplace, enjoying a day on the slopes, or just snuggling up in sweatpants with a cup of coffee and a good book. However, there are also downsides to colder temps, including dry skin on your face and hands.
But you don't have to let dry skin get in the way of winter fun. For anyone questioning, "how do I heal my super dry hands in winter?", we've got you covered with our guide for successfully dealing with any hand skin problem in winter.
Coconut Oil for Dry Hands
Concerned with how to keep your hands smooth in the winter while relieving dry skin on your face and hands? Coconut oil for dry hands offers a superior hydrating solution for locking in long-term moisture for dry hands, and it's safe for all skin types.
To take advantage of the benefits of using coconut oil as hand moisturizer, try Palmer's Coconut Oil Formula Coconut Hydrate Hand Cream to keep your hands from drying, flaking, cracking, and bleeding as the winter weather becomes frigid. Make sure to keep your hand cream nearby at all times to make it easy to apply coconut oil on hands any time your hands start feeling dry.  Pro tip- packing a hand sanitizer in your bag before you go out? Make sure to include a hand cream so that you can apply right after you sanitize to prevent severe skin-dehydration on hands.
For how to heal your super dry hands in the winter, consider layering coconut oil for dry, cracked hands. To do this, apply Palmer's Coconut Hydrate Balm to cuticles, cracked knuckles or anywhere you need added moisture. This vegan-friendly balm works in tandem with applying coconut oil on hands using a lotion or cream and imparts an added buffer between your skin and the elements, retaining moisture and replenishing your skin.
Cocoa Butter for Hands
For more hard-hitting skin conditions it can be challenging navigating how to heal your super dry hands in the winter.  For extremely dry skin, dermatitis or eczema prone skin, cold weather can lead to exacerbated skin conditions. One of the best solutions to care for this kind of skin in the winter is to use cocoa butter for hands.
Cocoa Butter contains mass polyphenols and rich emollient that create a glove-like protective barrier for skin to safeguard it from the harsh elements. Harness the rich, creamy power of cocoa butter with the Cocoa Butter Hand Cream, which combines cocoa butter with skin-softening Vitamin E to heal dry skin and prevent cracking and flaking. Pro Tip- Keep a hand cream near your sinks in the kitchen and bathroom so you can follow hand washing or doing dishes with rich moisture to prevent raw, itchy hands or dry, hardened cuticles.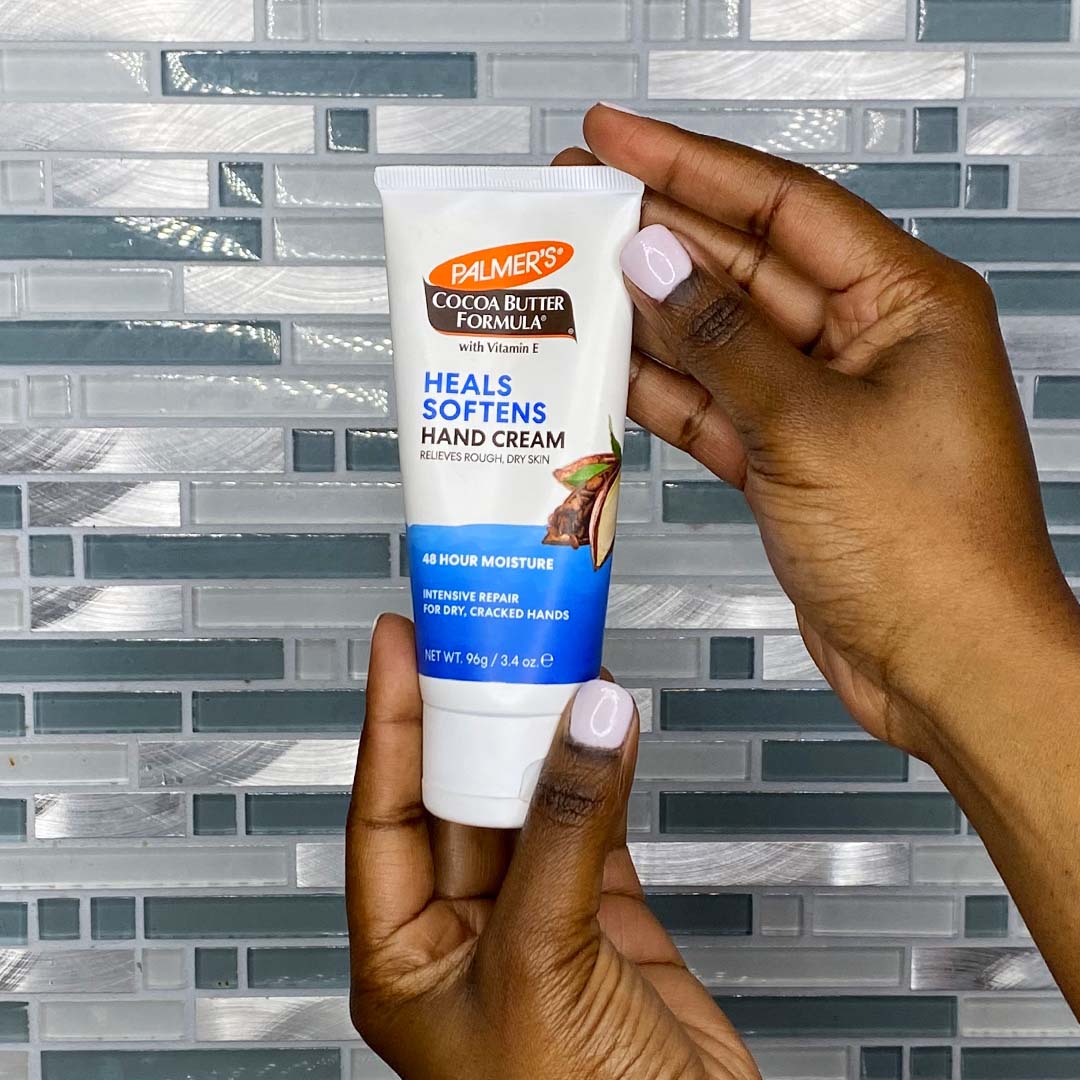 Low moisture in the air and cold temperatures can wreak havoc on other dry areas like elbows, knees, and feet. To give some extra attention and care to those dry skin zones, try layering  the Palmer's Cocoa Butter Concentrated Cream which you can use on dry hands, feet, knees, and elbows to soften and smooth dry skin. Then, zero in on problem areas with Original Solid Jar, an intensive solid balm which is perfect to layer with lotion, cream, and oil for those extra dry areas.  
Shea Butter Cream for Hands
You may be nervous about how to heal your super dry hands in the winter when you have sensitive skin. Not to worry — shea butter for dry hands works particularly well, especially on sensitive skin.
Palmer's Raw Shea Nourish Hand Cream, drenches dry skin in nourishing comfort for 48 hours and is dermatologist approved as well as suitable for sensitive and eczema-prone skin. Enriched with powerful vitamins, shea butter protects and restores dry hands without irritation making this the perfect shea butter for cracked hands.  Pro Tip- doing chores around the house? Certain cleaning products can irritate sensitive skin. Try applying your shea butter cream for hands and then wearing protective cleaning gloves made especially for sensitive skin before jumping into any cleaning day. You keep hands protected while getting the added benefit of a deep nourishing treatment.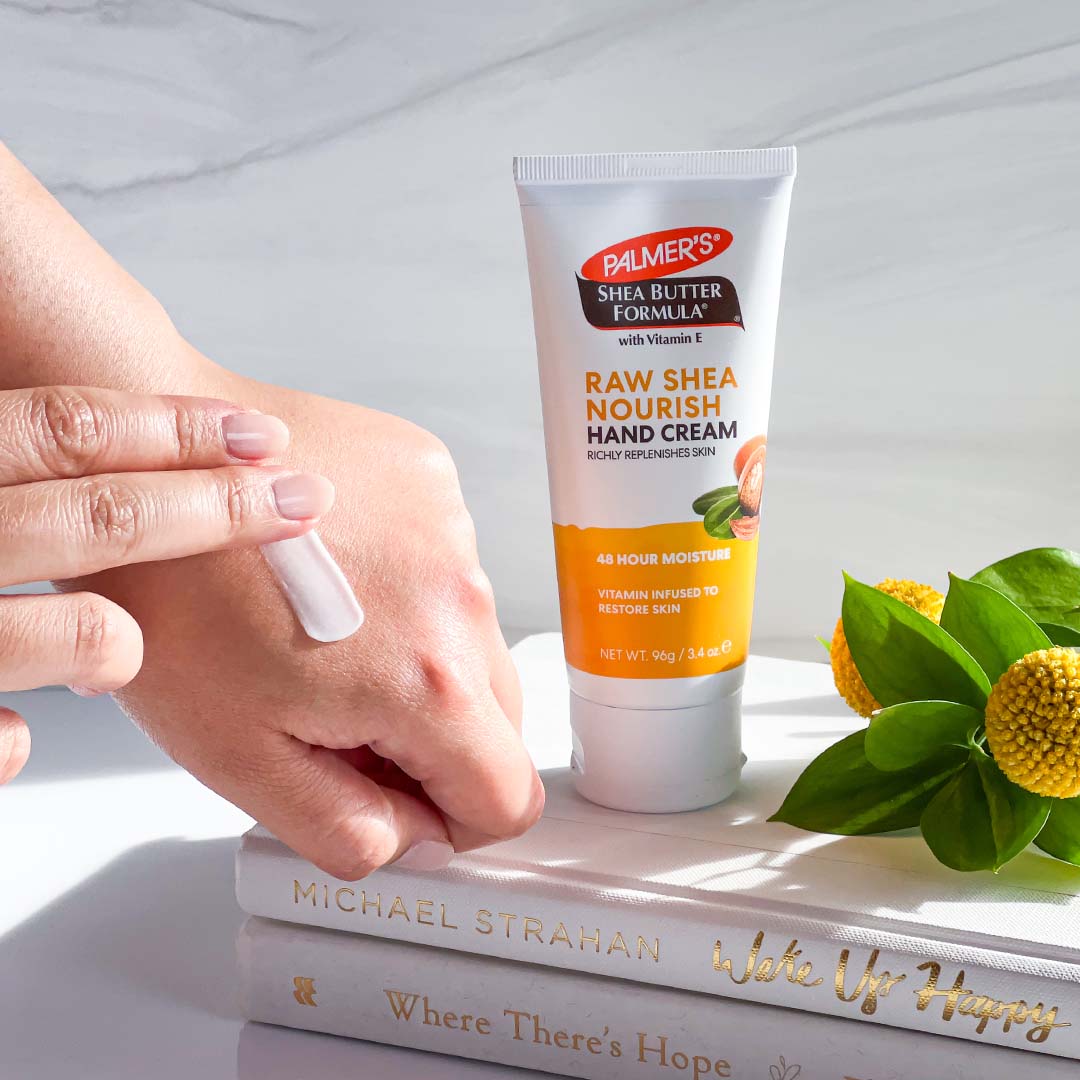 As part of a daily regimen, try incorporating Palmer's Raw Shea Nourish Body Lotion, which provides long-lasting moisture and is kind to sensitive skin from head-to-toe.
How to Heal Your Super Dry Hand in the Winter
An intensive relief cocoa butter hand cream solves how to heal your super dry hands in the winter by using a highly effective concentration of skin nurturing ingredients to care for very dry skin. Pro tip- Apply your hand cream just before applying your gloves when you head outside to help lock in moisture, so your hands stay soft and smooth when you take your gloves back off!
Give a show of hands if you're ready to ditch dry hands and enjoy the winter weather with soft, smooth skin! Check out Palmer's collection of Hand & Body Care products to discover how to keep your hands smooth in the winter.
Products link
---