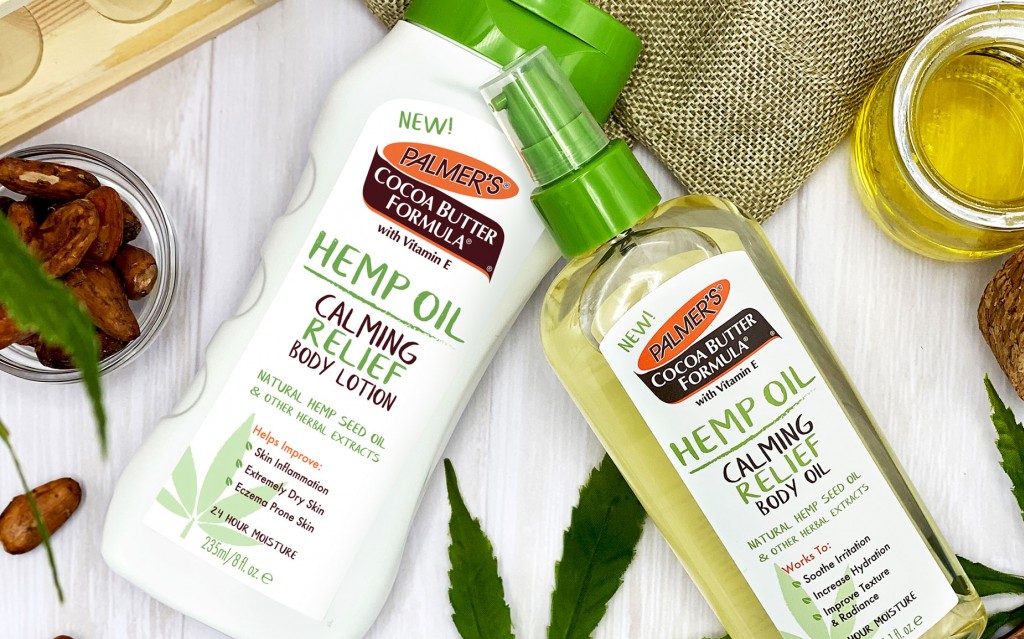 Hemp Oil & Lotion Benefits for Skin
Hemp Oil is one of the hottest trending ingredients right now and you may have seen it taking over your beauty care aisles. Since the passing of the 2018 Farm Bill Act, hemp has gained popularity and can now be found in skin care, hair care, deodorant, makeup and even toothpaste. Rich in essential vitamins, fatty acids and nutrients, this natural ingredient derived from cold-pressed hemp seeds, is incredibly effective, especially for calming irritation and hydrating sensitive skin. Hemp Oil benefits for skin care range from deeply moisturizing dry, dehydrated skin to caring for more intensive skin care conditions such as eczema-prone skin. While available in various delivery formats, those looking to incorporate hemp into their daily skin care routine should opt for a hydrating oil or rich lotion. Hemp lotion benefits the skin by being highly penetrative and nutrient-packed, often combined with other emollients such as cocoa butter or shea butter to deliver high performing results. 
Canni-curious? Read on to learn more about how hemp oil and lotion benefits your skin.
What is Hemp Lotion?
While ever-growing in popularity, there is still miseducation in the marketplace surrounding hemp that can lead to consumer confusion. While derived from the same plant, it's important to understand the differences between commercial Hemp Oil products and CBD products as they are not the same. When choosing a hemp lotion, look for reputable branded products that contain pure natural hemp oil, listed on the packaging as Hemp Seed Oil (Cannabis Sativa Oil). Hemp Seed Oil (Cannabis Sativa Oil) is the oil extracted from cold pressed hemp seeds of a non-psychoactive breed of cannabis plant. It therefore is free of any THC or CBD.  Products with Cannabidiol (more commonly known as CBD) contain CBD Oil which is derived from the cannabis flower and contains less than .3% THC. Hemp Oil has a naturally high occurring level of fatty acids that when combined with other effective natural ingredients, enhance hemp lotion benefits for the skin. Particularly effective on sensitive or irritation-prone skin, hemp oil works well to calm and soothe dry skin.
How Does Hemp Lotion Work?
Hemp Oil is not only rich in nutrients and skin-loving emollients but it's also highly penetrative, and when used in a lotion with other natural skin conditioners helps balance skin's moisture and calm irritation. Hemp lotion helps nourish and moisturize skin, but if you are looking for an added boost of hydration and glow try applying a Hemp Oil Body Oil on legs and arms either after shower or during your morning routine. When combined with other oil-based ingredients such as Coconut Oil or Moringa Oil, Hemp Oil Body Oil will revitalize your skin and restore your skin's healthy-looking appearance.
If these hemp oil benefits for skin appeal to you or if you are curious to see for yourself what hemp lotion does, try combining a lotion and oil, such as Palmer's Hemp Oil Calming Relief Body Lotion & Body Oil, and apply all over body for deep skin conditioning routine.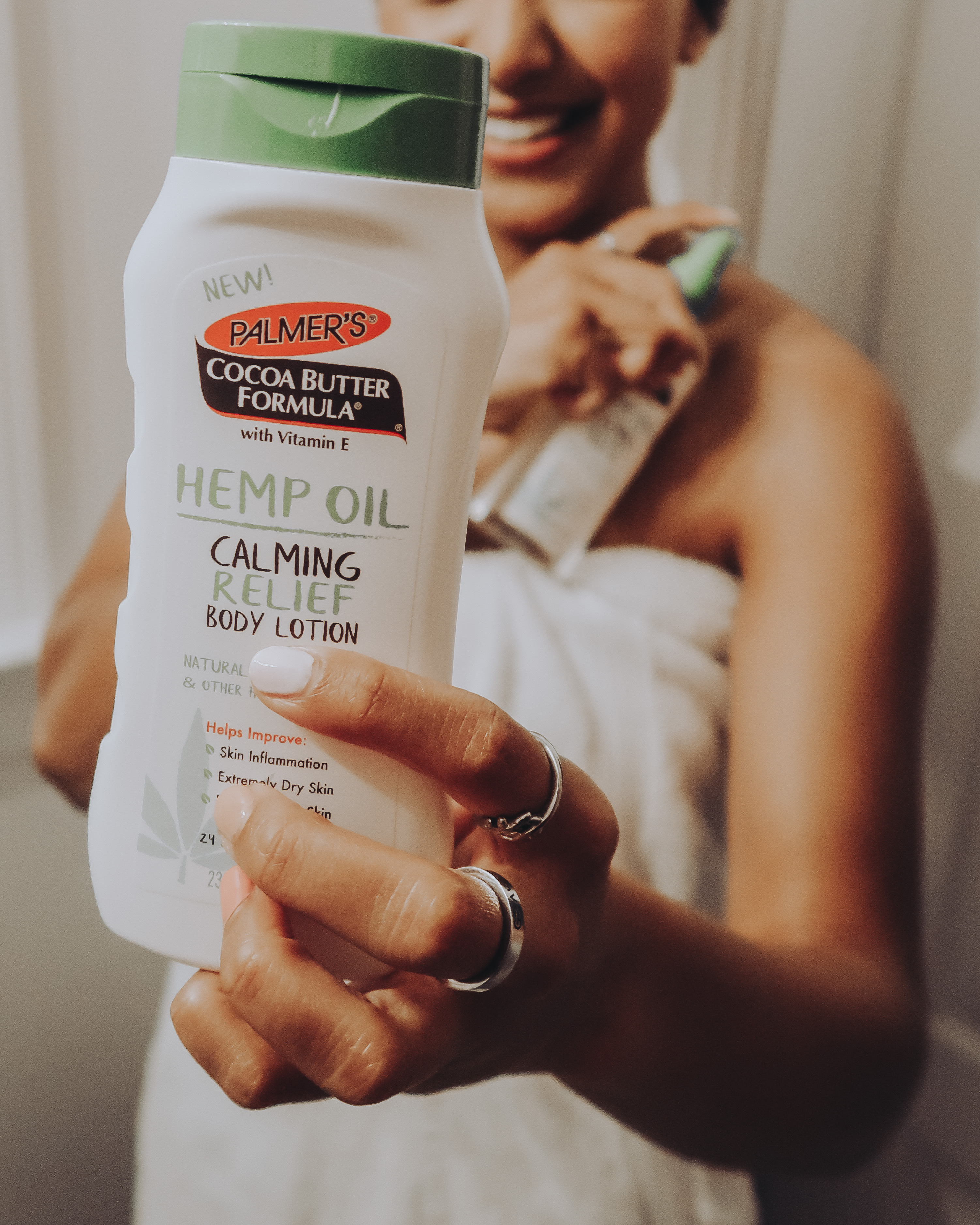 Hemp Lotion Benefits: What is Hemp Lotion Good For?
The most common perceived benefits associate with Hemp include calming, soothing, healing and moisturizing. These hemp lotion benefits are particularly appealing to those with extremely dry skin conditions such as eczema or dermatitis. When you are more prone to irritation, it's important to select products that have been clinically validated to be suitable for those skin types. For example, in a 4-week dermatologic clinical trial with 30 subjects, Palmer's Cocoa Butter Formula Hemp Oil Calming Relief Lotion demonstrated a high efficacy amongst sensitive and eczema-prone skin types with a:
92% reduction in irritation
91% reduction in dryness
91% reduction in itching
What is Hemp Lotion Used For?
Hemp oil benefits for your skin not only include increased hydration but can also improve irritation and calm extremely dry skin. Maintaining a properly balanced moisture barrier is the key to healthy looking, radiant skin. When used consistently and in combination with a Hemp Oil Body Oil, you can improve skin's overall texture and boost hydration for up to 48 hours each use.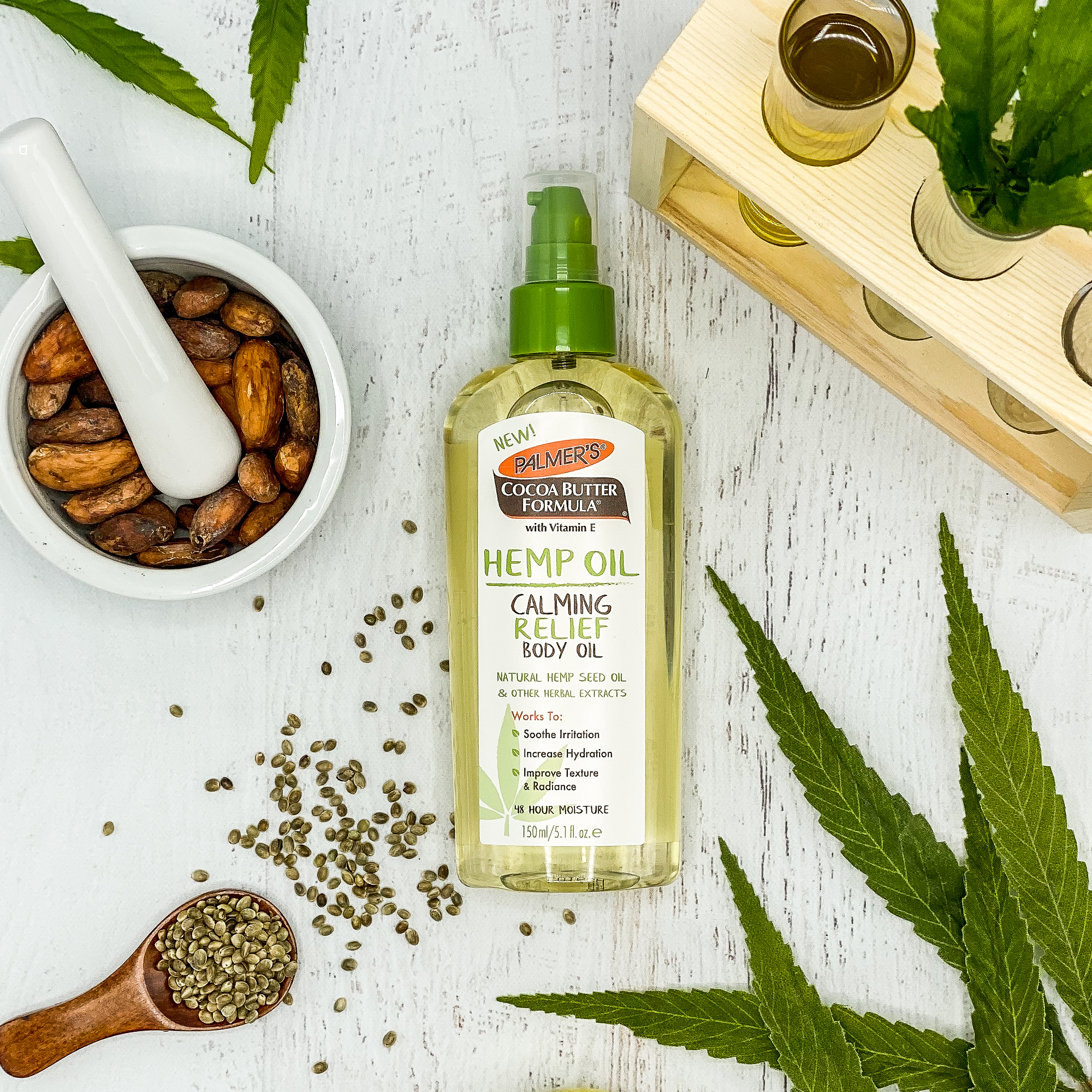 For more tips on skincare or hemp oil products, check out  Palmer's natural ingredient skin care collections
---