You've heard of using creams and lotions to help your skin stay hydrated or heal dry, damaged skin, but have you considered moisturizing body oils? Some of the best body oils for glowing skin have naturally-derived ingredients, including cocoa butter, coconut oil and argan oil.
However, everyone's skin is different, so what may be the best body oil for your best friend, may not be the best oil for your skin care needs, whether it is the best oil for soft skin or the best natural oil for dry skin.
Read on for more information on the best body oil for glowing skin any time of day or year.
The Best Body Oil for Glowing Skin
As your skin becomes dry, build up of dead skin cells can make your skin appear dull. Adding a moisturizing body oil to your skin care regimen can help you reclaim your skin's glow and leave skin looking and feeling healthier.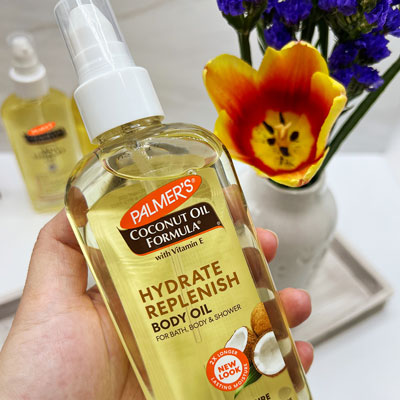 The best oil for dry skin all year is one that provides long-lasting hydration. Try a coconut body oil that replenishes moisture for 48 hours for youthfully radiant skin from morning to night. Made with an antioxidant boosting cocktail of Extra Virgin Coconut Oil and Green Coffee Extract, Palmer's Coconut Hydrate Body Oil leaves skin looking sexy, radiant and youthful, making it the best natural oil for dry skin. Even better, this product can be used on dry skin or in the shower. You may have just discovered the best body oil for glowing skin!
Moisturizing Body Oil for Damaged Skin
Those in the market for body care products to care for scars and stretch marks, have to look no further than Palmer's Skin Therapy Oil. Beyond being the best body oil for glowing skin, this skin perfecting all-purpose oil is concentrated with high performance skin care ingredients to help improve the look of stretch marks, scars and aging skin. Perfect for use during and post-pregnancy to keep skin looking healthy and glowing.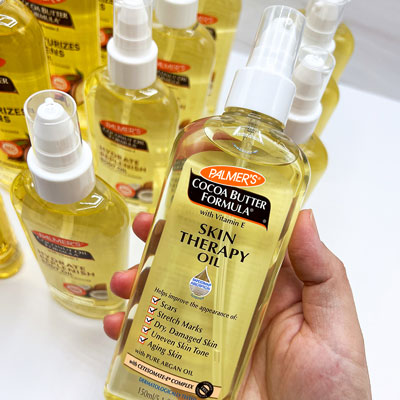 Palmer's Skin Therapy Oil is dermatologist approved and in a clinical study 93% of women saw an improvement in the appearance of stretch marks and 92% saw an improvement in the appearance of scars after 8 weeks of use. With powerful ingredients like Cocoa Butter, Vitamin E and Argan Oil, Palmer's Skin Therapy Oil is not only a must-have as the best oil as a skin moisturizer but will be your new secret weapon against everything from marks, imperfections, discoloration, and aging skin.
Furthermore, this all-purpose oil is mineral oil free and light enough for use on the face!
Best Oil for Soft Skin
When you choose a moisturizing body oil or lotion, look for one that lasts all day—or longer. The best body oil for glowing skin should contain the highest quality ingredients to lock in moisture and keep skin looking radiant all day long. For intensive dry skin, opt for moisturizing oils for skin with natural ingredients high in emollient content such as Shea Butter and Cocoa Butter. This deeply moisturizing oil repairs and replenishes rough, dry skin with natural Cocoa Butter and Vitamin E. Dermatologist approved and tested as suitable for eczema prone skin, Palmer's Cocoa Butter Body Oil give you an instant healthy-looking radiance while imparting deep nourishing moisture for up to 48 hours.  The best oil for body moisturizing indeed!.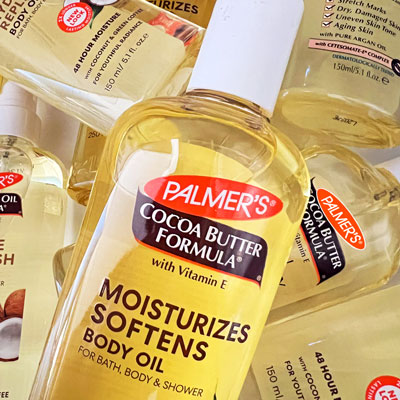 Whether looking for the best oils for soft skin or to keep your skin perfectly hydrated, relieve dryness, or improve the look of skin damage, look no further than Palmer's Body Oils collection for a solution to finding the best body oil for glowing skin that is healthier-looking and feeling.