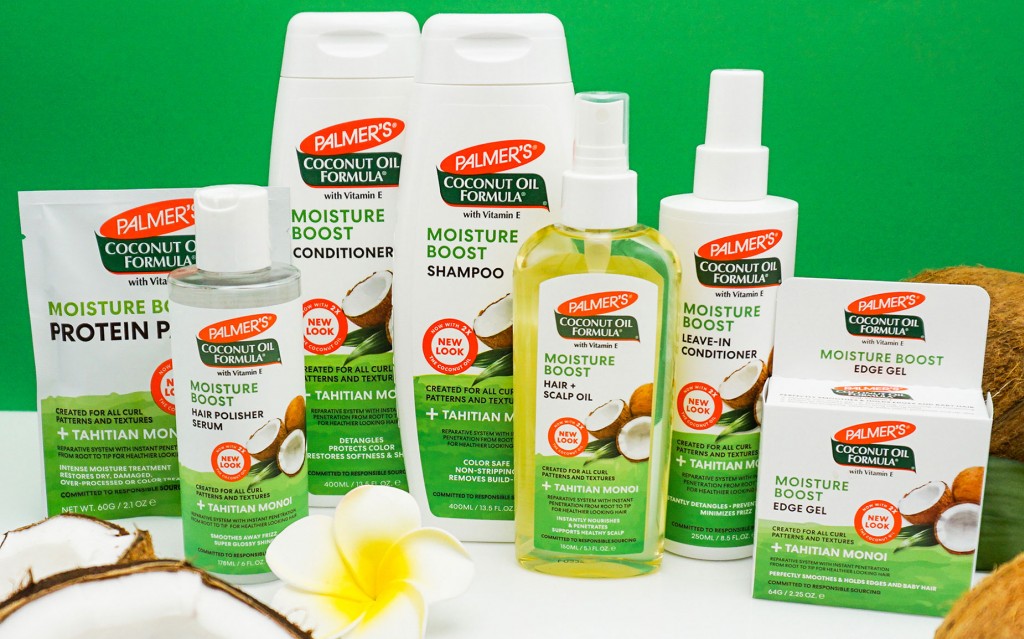 Coconut Oil Hair Care Routine for Soft, Healthy Hair
Determining the best treatment for your damaged hair can be overwhelming when standing in the hair care aisle or shopping online due to the vast number of choices. If you're seeking the best hair treatment for damaged hair and you prefer using natural products without harsh chemicals and ingredients you've never heard of, Palmer's Coconut Oil Moisture Boost system fits the bill.
Whether your strands are damaged, dry, brittle or dull, there are natural ways to repair hair that you can use to customize a coconut oil hair care routine for your specific strand situation.
Discover why using coconut oil for damaged hair is the solution to your healthy hair care needs whether you're maintaining healthy hair, repairing damaged locks, or restoring color treated- dried out tresses. You've likely heard of women using coconut oil hair repair products specifically for dry and damaged locks. So, can coconut oil help repair damaged hair? The answer is "yes!" How does it work?
Healthy Hair Regimen Featuring a Coconut Oil Hair Routine
Implementing a coconut oil hair care routine for healthy hair offers a bevy of attractive benefits. Products like Palmer's Coconut Oil Formula Moisture Boost Shampoo and Conditioner offer a one-two punch to combat hair that's hurting for moisture and repair. Coconut oil naturally contains fatty acids that add and seal in moisture, leaving hair shiny and manageable. Start with shampoo and conditioner and continue a dry, damaged hair treatment regimen including  Coconut Oil Formula Leave-In Conditioner and Coconut Oil Formula Deep Conditioner.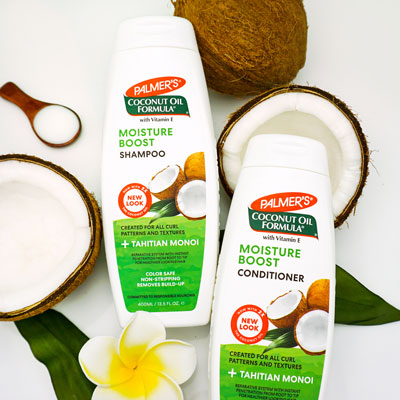 These products for damaged hair combine coconut oil's natural hydration with ancient Polynesian secret Tahitian Monoi Oil to increase moisture and restore hair's elasticity – all with a delicious tropical coconut fragrance that will take you straight paradise.
A Coconut Oil Hair Care Routine for Damaged Hair
You might have damage from over the years thanks to coloring, heat styling, and exposure to the sun. This can lead to split ends, frizzy strands, and hair that doesn't seem to grow past a certain point. Luckily, coconut oil is one of the best treatments for hair brittleness and breakage. It's time to pamper your hair and give it the care it deserves, restoring your mane to its former glory.
A coconut oil hair routine for healthy hair includes our best treatment for damaged hair. Some products to consider adding to your beauty regimen that can undo years of damage include Palmer's Coconut Oil Moisture Boost Leave-In Conditioner. This dry, damaged hair treatment zeroes in on hair that's been fried by your hairdryer, curling iron, and flat iron to restore shine, add moisture, and repair breakage.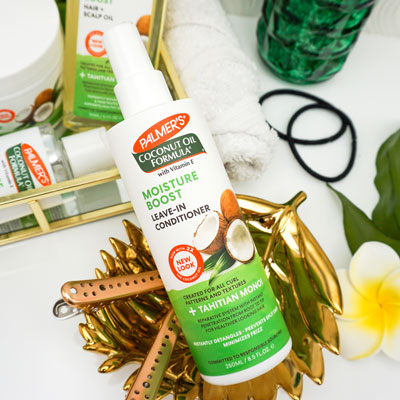 Coconut oil helps prevent your color from fading, protect hair from future heat damage, and create healthier-looking and feeling hair. Your hair will look and feel noticeably different after just one use, and repeated use will seal your split ends and reverse the damage done by heat. Palmer's Coconut Oil hair repair locks in moisture from root to tip, leaving your hair's conditioner looking and feeling healthier after each use.
Coconut Oil Hair Care Routine for Bleached Hair
For special situations, you may not know if a coconut oil hair care routine for healthy hair is right for you. For instance, is coconut oil good for damaged, bleached hair? What about issues such as dandruff? Is coconut for itchy scalp recommended? Yes, Palmer's Coconut Oil Moisture Boost hair treatments for damaged hair can also be used on these conditions! Soothe an itchy scalp with the Strong Roots Spray while nourishing strands and supporting a healthy scalp with the Moisture Boost Hair + Scalp Oil.  Anyone can use Palmer's coconut oil hair care and reap the rewards of all-natural ingredients.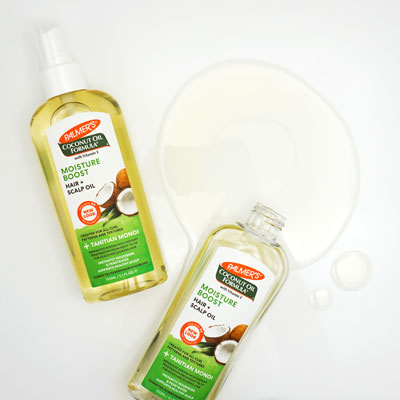 For hair dried out or brittle from coloring or a dry scalp, coconut oil hair repair comes to the rescue. After shampooing with Moisture Boost Shampoo, the Moisture Boost Deep Conditioner, a intense dry, damaged hair treatment, quickly penetrates the hair follicle to hydrate  and restore strands, detangling and locking in moisture while improving hair's resilience and shine. Coconut oil can even soothe itchy flakey scalp and has detoxifying properties.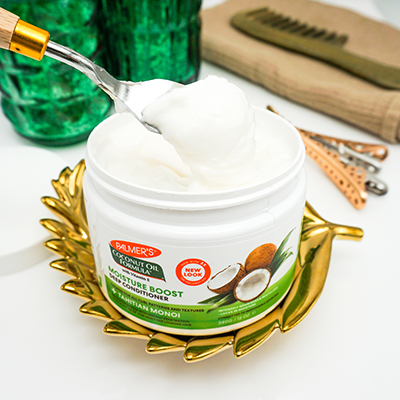 What does your hair say about you? Make sure your hair tells the world you're strong, you shine, and you never break with a coconut oil hair care routine for healthy hair. Try Palmer's Coconut Oil Formula Moisture Boost system products for strong, healthy hair...naturally.
Products link
---