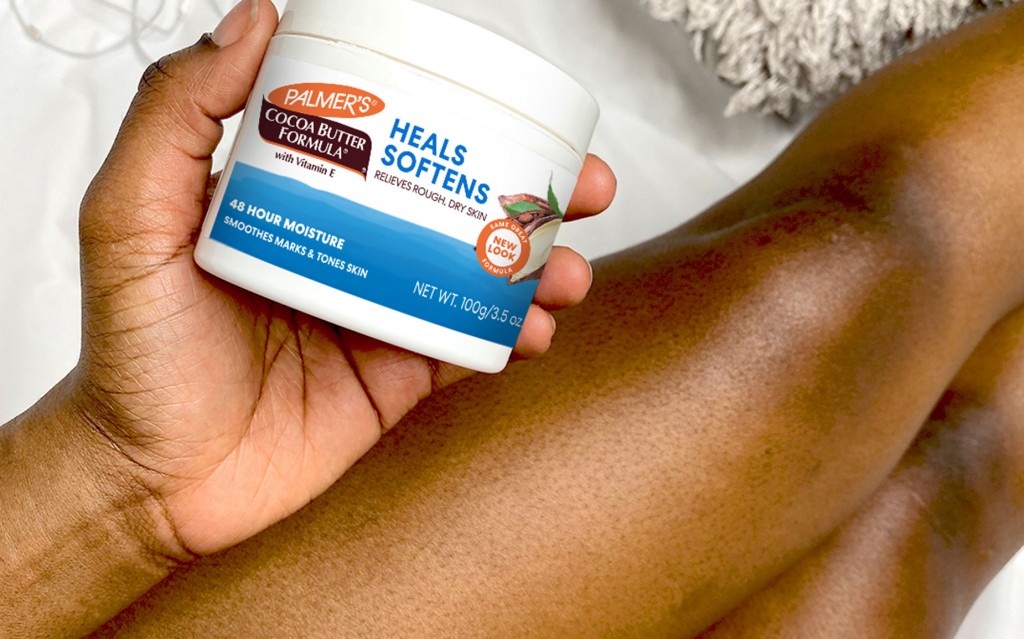 Cocoa Butter Benefits for Your Skin
You've probably heard of using cocoa butter for dry skin before, but did you know that there are many uses for this super ingredient? More than 101 by our count!
Used by Mayans and Aztecs for medicinal purposes (and currency!) more than 3,000 years ago, cocoa butter continues to be an important ingredient in today's beauty products. Here are more cocoa butter benefits, making it a must-have for your beauty regimen.
Using
Cocoa Butter for Skin
You've probably heard of applying cocoa butter for dry skin, but did you know that you can use the Original Solid Jar as much more than just a simple moisturizer? This solid cocoa butter balm is a must have, not only for softening and healing dry skin. Here are some of our favorite cocoa butter for skin uses:
Apply to dry, chapped hands when the temps drop. Not only will your hands stay hydrated, but the cocoa butter will keep your cuticles moisturized.
Heels feel rougher than sandpaper? Slather the 

Original Solid Jar

on your feet at night and cover with cotton socks. Wake up in the morning softer, smoother feet!
Face masks can be rough on your skin. Apply to the cocoa butter solid to the areas where your mask rubs to prevent chafing
Mix the 

Original Solid Jar

and the

Moisturizing Body Oil

for a mega moisture treatment
Get deeply moisturized AND glowing skin by mixing with a mineral pigment to create a hydrating body shimmer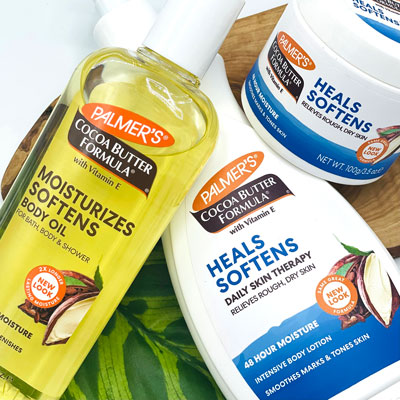 Cocoa Butter for Face
You may have wondered "Can you use cocoa butter on your face?" The answer is yes! Cocoa butter is naturally antioxidant-rich and helps fight free radical damage that can cause aging and dullness. To keep your skin soft, hydrated, and younger-looking, you can use cocoa butter as a facial moisturizer.
Pro Tip: Apply a layer of our Original Solid Jar before spending time out in cold weather, such as when skiing or snowboarding, to help protect against windburn.
Cocoa butter is often recommended for sensitive skin because it's natural and doesn't contain harmful chemicals such as parabens that can irritate the skin.
Cocoa butter for your face keeps skin supple, but did you know that it's also a secret weapon against aging? 
Cocoa butter forms a protective barrier on your skin, locking in moisture and improving skin's natural elasticity. The loss of this elasticity is why wrinkles happen, so keeping skin glowing and hydrated can help it retain its suppleness and avoid wrinkles. Cocoa butter is known to slow down premature aging, helping to improve the appearance of fine lines and wrinkles.
Cocoa Butter for Scars
You may have known women who swore by using cocoa butter for stretch marks during pregnancy or to lighten the appearance of scars. There is validity to these cocoa butter benefits. Cocoa butter is a popular treatment for smoothing marks, blemishes and scars.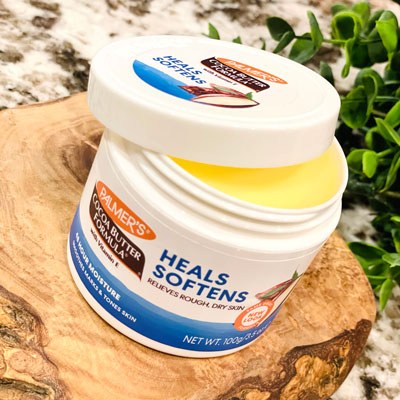 How do you use cocoa butter for scars, stretch marks, spots, lines, and other skin issues? And how does cocoa butter work for these skin problems? Cocoa butter penetrates deeply into the skin to help heal and smooth marks and scars.
Use cocoa butter for skin daily to minimize the appearance of lines and scars. Rub into these areas and allow the cocoa butter to sink in. Using cocoa butter daily can help reduce these problem areas and create glowing, softer and smoother skin.
Other Benefits of Cocoa Butter
You know that cocoa butter benefits dry skin, can help hair, and can even reduce wrinkles, marks, scars, and other spots. But did you know that solid cocoa butter can work in your makeup routine too? Use the Original Solid Jar to create a cream eye shadow or blush. Time to remove your makeup at the end of the day? Use the solid cocoa butter as a makeup remover and say goodbye to stubborn makeup.
Bonus: it softens the area around your eyes and hydrates delicate eye skin.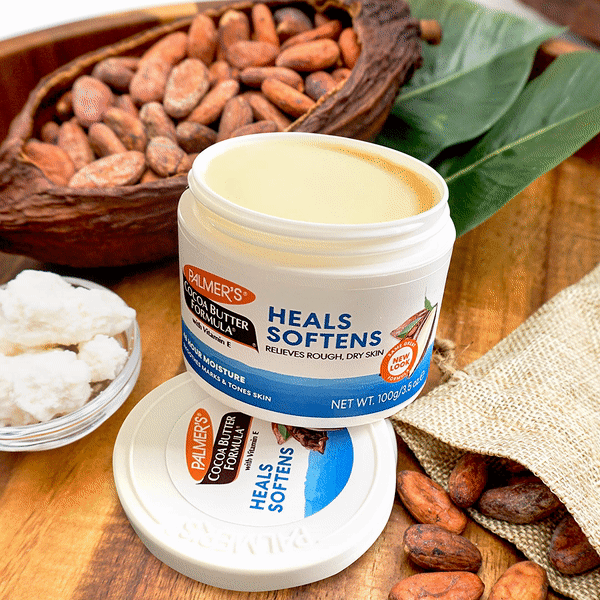 Don't forget to care for your lips too! Not only is cocoa butter a great natural lip balm, but you can also create a quick and easy lip scrub with just two ingredients – the Original Solid Jar and sugar! The sugar exfoliates while the cocoa butter and vitamin e leave your skin soft and smooth.
Check out all 101 ways that you can use the Original Solid Jar, and in the meantime, stock up your pantry with plenty of tried-and-true Palmer's cocoa butter for all of your beauty needs.
Products link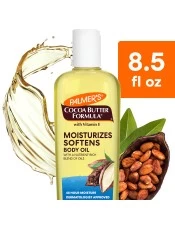 Moisturizing Body Oil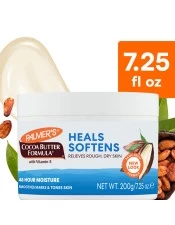 Original Solid Jar
---