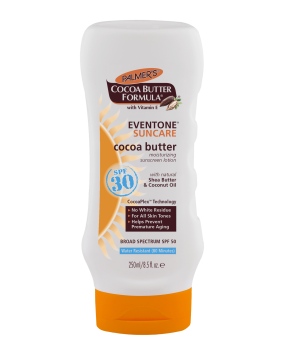 Maximize
Suncare
Eventone Suncare Cocoa Butter Moisturizing Sunscreen Lotion SPF 30
8.5 fl oz
Palmer's Cocoa Butter Formula Eventone Suncare contains active ingredients and natural moisturizers Cocoa Butter Shea Butter and Coconut Oil to protect your skin from the damaging effects of the sun and help you maintain a youthful even skin tone. CocoaPlex™ Technology helps to prevent dark spots, uneven skin tone and premature aging.
Eventone Suncare Cocoa Butter Moisturizing Sunscreen Lotion provides 80 minute water/sweat resistance and UVA/UVB Broad Spectrum protection while leaving skin with a natural, healthy glow without any white, pasty residue
PABA Free • Paraben Free • Phthalate Free
Learn more about Eventone Suncare here.
Cocoa Butter: a natural moisturizer that leaves skin soft and silky, transforming even the roughest, driest areas into buttery soft skin. Rich in Cocoa Mass Polyphenols which help to combat free radical damage- the main culprit of premature aging
Shea Butter: deeply moisturizers and soothes dry skin while acting as a moisture barrier to keep skin hydrated.
Coconut Oil: rich in lauric acid, as well as poly and mono saturated fats to hydrate deeply- giving skin a natural glow while helping to improve absorption and counteracting any white, pasty residue