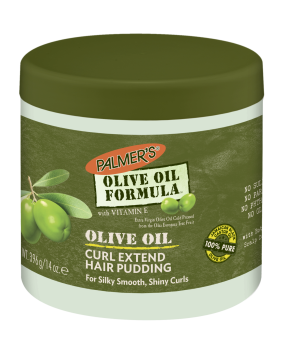 Maximize
Olive Oil Formula
Curl Extend Hair Pudding
14 oz.
Palmer's Olive Oil Formula Curl Extend Hair Pudding moisturizes, shines and holds the hair into perfectly smooth curls.  Ideal for styling natural hair, waves, curls, ponytails, twists and braids.  This frizz-eliminating emulsion contains no drying alcohols and maximizes curl definition, providing curly hair with the lost moisturie it needs for long lasting shine. Paraben and Alcohol Free.
No Sulfates • No Parabens • No Phthalates • No Mineral Oil • No Gluten • No Dyes
Item received may differ from item shown.
Extra Virgin Olive Oil: contains naturally occurring vitamins and minerals which act as antioxidants protecting hair and skin from damaging free radicals
Vitamin E: aides in hair's natural ability to repair damage, an essential step in the process of strengthening the follicle that allows hair to grow long and healthy
Jamaican Black Castor Oil: has a strong lipid content which helps relieve dry, itchy scalp while protecting hair from styling damage