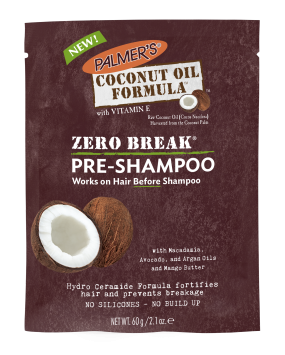 Maximize
Coconut Oil Formula Products
Zero Break Pre-Shampoo
2.1 oz
Benefits:
Pre-shampoo treatment that helps fortify the hair shaft
Moisturize and nourish hair to protect against damage
Formulated with ethically & sustainably sourced Fair Trade Certified Organic Extra Virgin Coconut Oil
Free of sulfates, parabens, phthalates, mineral oil, gluten and dyes
Palmer's Coconut Oil Formula Zero Break Pre-Shampoo is an intensive oil packed deep conditioning reconstructor that helps moisturize hair and seals damaged ends to prevent breakage. Deeply penetrating to fortify the hair shaft, protecting from heat damage, manipulation, chemicals and overly dry cleanser.
Breakage-Prone Hair: Healthy, virgin hair has a high presence of ceramides that help support the structure of the hair cuticle. As hair is processed, over-styled or damaged, ceramides are depleted resulting in coarse, dry hair
Zero Break Ceramides: Palmer's Zero Break Hydro-Ceramides create a lipid barrier, improving the strength of hair and reducing damage breakage or splitting. 
Coconut Oil: Strengthens hair and adds shine
Avocado Oil: Seals cuticle to fortify growth