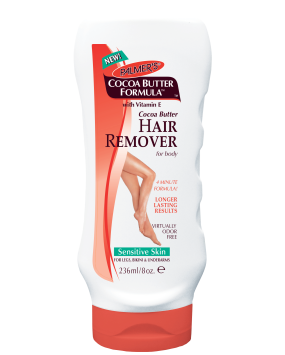 Maximize
Cocoa Butter Formula
Cocoa Butter Hair Remover for Body
8 fl. oz.
This virtually odorless hair remover cream dissolves away unwanted hair quickly and painlessly for soft, smooth skin that lasts days longer than shaving. Deeply moisturizing Cocoa Butter and soothing Vitamin E replenish skin's moisture while gentle hair removers dissolve unwanted body hair in as little as 4 minutes. Use on legs, arms, underarms and bikini area.
Dermatologist Tested - Safe for Sensitive Skin
Cocoa Butter: a rich natural moisturizer that leaves skin soft and silky, tranforming even the roughest, driest areas into buttery soft skin.
Vitamin E: a powerful antioxidant that helps improve the appearance of scars, stretch marks and imperfections on the skin, giving a more even and toned appearance.