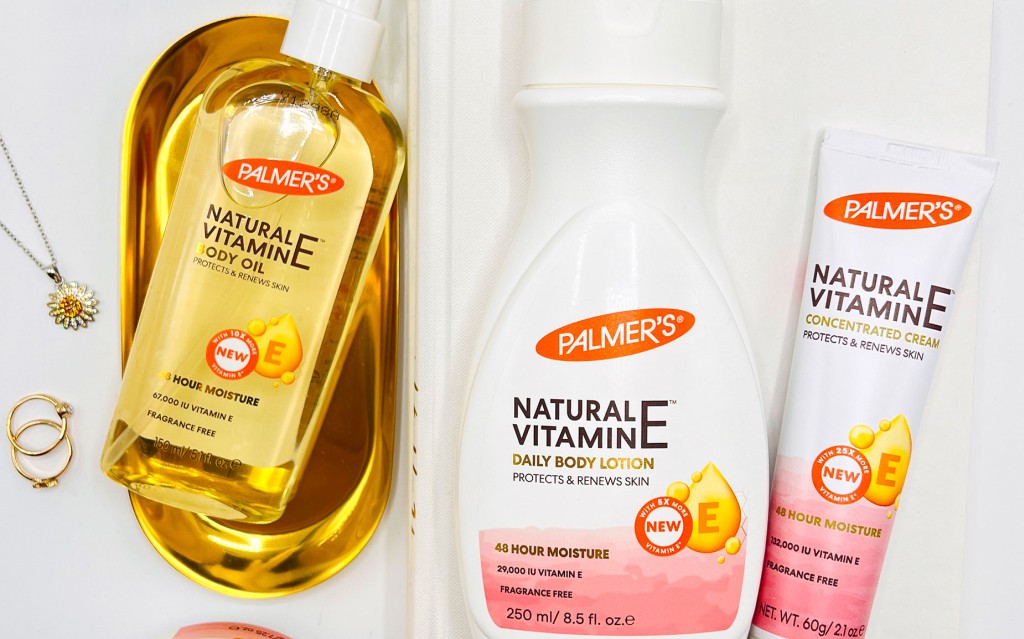 Your Guide to Skincare with Natural Vitamin E Products
You may have heard about vitamin E for dry skin, but what is natural vitamin E good for? It acts as an antioxidant that helps protect your skin. When applied topically, it acts as a barrier and natural healer for some skin conditions such as eczema and scarring. Natural Vitamin E is found in many foods, including almonds, pumpkins, sunflowers, and peanut butter.
Read on to learn more about the benefits of adding vitamin E skincare products to your routine to help protect and heal your skin.
Skincare with Natural Vitamin E Oil
Many traditional natural vitamin E oil products are thicker and are best applied at night, so they can fully absorb into the skin. However, Palmer's Vitamin E collection harnesses the power of vitamin E in lotions, creams and oils that can be used day or night to repair and renew your skin, from head to toe. Here are a few to consider: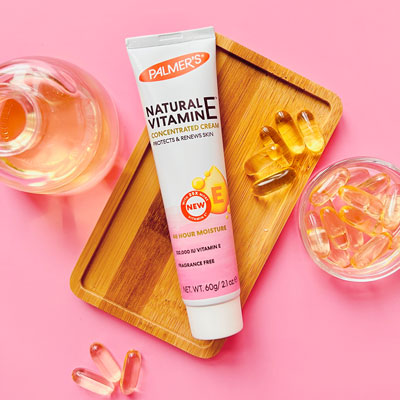 Concentrated healing treatment: Vitamin E concentrated cream is ideal for healing dry patches, marks and scars with 25x more IUs than the average Vitamin E capsule.
Full body products: A rich, body butter nourishes to protect and renew dry skin. For quick absorption and long lasting moisture, try a pure vitamin e oil for skin that helps boost skin's healthy appearance. For daily, all-over use consider a body lotion with vitamin E for visibly revitalized skin.
Consider the time of day and your apparel when applying thicker creams and oils. Wearing cotton clothing can help keep the product on your skin rather than seep into the fabric.
Vitamin E for Eczema and Skin Conditions
Natural vitamin E acts as an anti-inflammatory agent. People that have eczema often have dry, itchy, or bumpy skin. It is common and affects up to 20 percent of the population at some point in their lives. It isn't contagious, but people that have it often want to minimize its appearance because it can be uncomfortable.
Vitamin E skin care products can be applied all over the body or just in the affected areas. For skin that is extra dry, try layering your Body Oil over your Lotion or Body Butter to lock in moisture, while repairing skin. For additional benefits, consider an oral vitamin E supplement so you can reap the benefits from the inside out and outside in.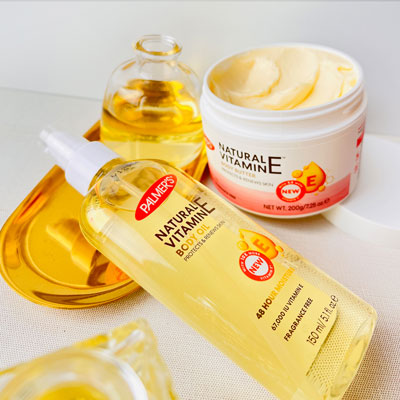 Overall Benefits of Palmer's Vitamin E Skincare Products
Using products with natural vitamin e for skin is an easy way to apply this super ingredient to your dry or damaged skin. Some products contain vitamin E in conjunction with other vitamins and skincare ingredients, too.
Palmer's Vitamin E skin care products are 95% naturally derived and blend vegan Vitamin E with other natural super ingredients including Cocoa Butter, Avocado Oil, Argan Oil and Sweet Almond Oil to provide skin with 48 hours of moisture and healthier-looking skin.
Wondering what the benefit of blending the already powerful Vitamin E with other natural ingredients instead of using it alone? Here are some benefits of the other great ingredients in the Vitamin E collection:
Cocoa Butter: this super ingredient is a rich, nutrient-packed moisturizer that heals and repairs skin
Argan Oil: this deeply hydrating oil is rich in essential fatty acids, vitamins and minerals to help improve imperfections and keep skin looking radiant
Avocado Oil: well known as a superfood, this oil is loaded with essential lipids that help keep skin buttery smooth
Sweet Almond Oil: helps keep skin supple, more visibly youthful and rejuvenated
Natural vitamin E products can be used consistently without any potential damage or harm to your skin, unlike some retinoids and retinol. Similarly, there is no potential for sun-activated harm when using daytime vitamin E products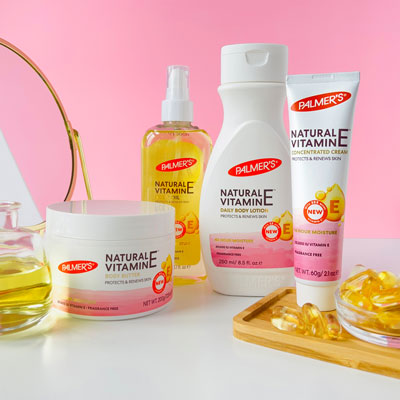 Learn more about Palmer's Vitamin E skin care collection and how it can help you repair and renew your dry, damaged skin now.
Products link
---