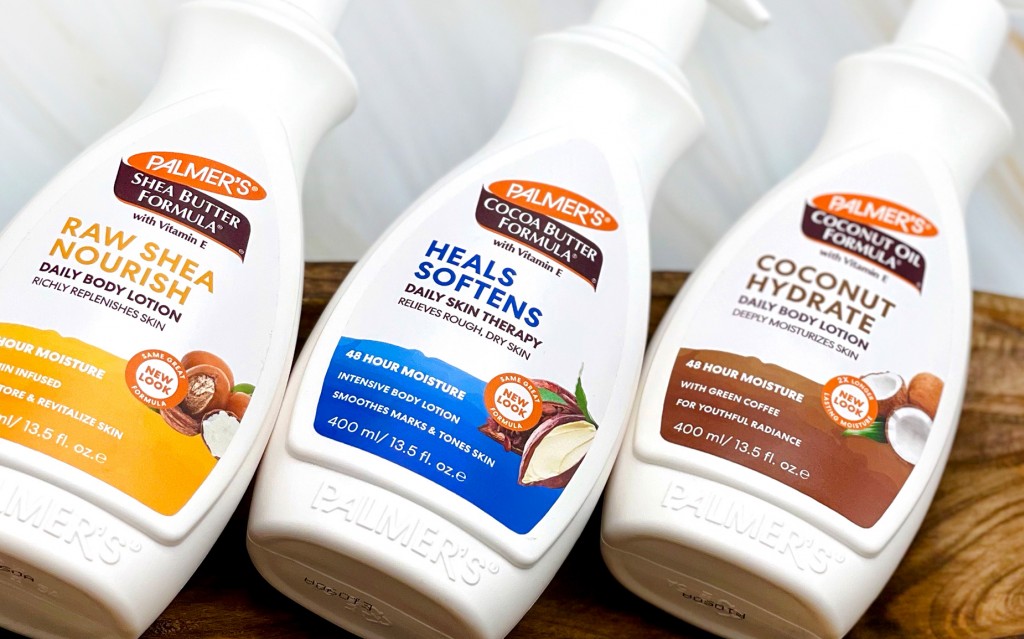 What are the best moisturizers for all skin types?
Caring for your skin properly means that it's imperative you know which of the skin types you are to use the correct products to hydrate and protect your skin. Each of us falls into one of the different skin type categories and figuring out which skin type you are is key to choosing the best ingredients for your skin.
Since there are different ingredients and moisturizers that work best for each skin type, it's simple to tailor your skincare routine to meet your individual skin type's needs. Read on to discover more about which of the different skin types you may be, the best moisturizer for all skin types, and how best to care for your unique and different type of skin texture.
What is the best moisturizer for all skin types?
How do you determine which of the different skin types you are to choose the best moisturizer for all skin types? Here are a few things to look for that will help you discover which of the different skin types you fall into so you can pick products accordingly.
Women with dry skin types often have flakes that peel from the skin. Your skin may be rough, flaky, and easily irritated. There are different types of dry skin, such as extremely dry skin (dermatitis), that experiences flare ups with certain products, and eczema, which is rough, red patches that occur on the skin.
If you are dealing with a combination skin type, you may find yourself with oily skin in some spots but dry, flaky, and tight skin in others.
Finding the right products to hydrate sensitive skin types without irritation is a challenge for women that become irritated easily and require non-comedogenic products. If you have sensitive skin that reacts quickly to external agents, including makeup, allergens such as fragrances, or other skin stressors, you want to stick to more natural products that won't aggravate your skin.
Moisturizing Dry Skin Type
There's nothing more uncomfortable than dry, itchy skin. Fortunately, products made with cocoa butter can alleviate dry, itchy skin and are considered the best moisturizers for all skin types. No matter which of the different types of dry skin you have, nourishing and moisturizing dry skin types is essential to keeping frustrating flakes at bay.
Some of the best products for dry skin types include a hydrating body lotion made with creamy Cocoa Butter and Vitamin E. Cocoa butter heals the skin and leaves it moisturized for 48 hours. Need serious moisturization? Try the Cocoa Butter Formula Concentrated Cream, which melts into skin like butter to heal and soothe dry, rough skin and is perfect size for travel so you can keep your dry skin type deeply moisturized on-the-go with one of the best moisturizers for all skin types!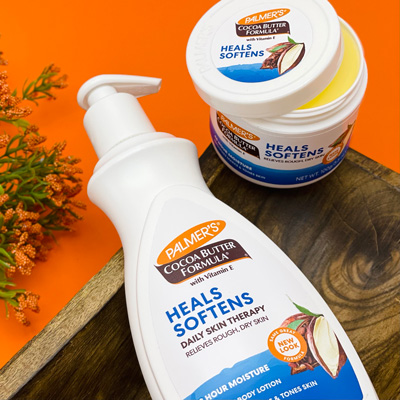 Sometimes your hands, elbows, and knees are still chafed no matter how much lotion you apply. Let the luxuriously rich Cocoa Butter Formula Original Solid Jar heal your skin when it's dry outside. For tight facial skin, combat aging while maintaining moisture with Skin Therapy Facial Oil. This minimizes the appearance of wrinkles while soothing dry skin.
Hydrating Combination Skin Type
Combination skin type sounds tricky but taking care of it doesn't have to be. A deeply hydrating Coconut Oil Body Lotion soaks into the skin without any residue left behind, healing rough patches and leaving skin radiant and glowing. The addition of Green Coffee Extract provides a boost of antioxidants that reduce the damaging effects of free radicals while helping balance oily skin for skin youthful, hydrated skin.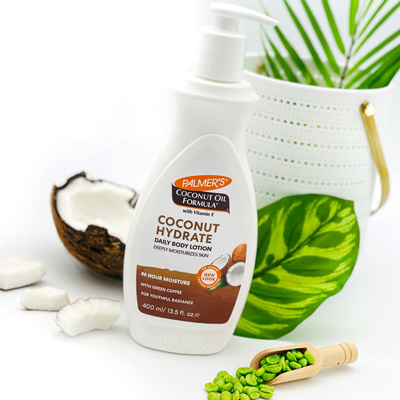 Take it to-go with a convenient jar of Coconut Oil Formula Body Balm. For combination skin type, it's a win due to the multi-tasking nature — you can use it everywhere. It's also made from pure, raw coconut oil, which provides antioxidants and is perfect for your combination skin type and works on dry and oily skin with ease.
Stay head-to-toe hydrated from cuticles to calves with this mess-free formula that locks in moisture for a staggering 48 hours.
Nourishing Sensitive Skin Type
Having a sensitive skin type can feel like an uphill battle when products consistently irritate or inflame your tender skin. Naturally gentle and nourishing ingredients are key to keeping sensitive skin types nourished and soothed and shea butter is one of the best ingredients to hydrate without irritation.
Look to products like the Raw Shea Nourish Body Lotion which features the soothing properties of shea butter without harsh chemicals. This lightweight formula keeps your skin soft and smooth for 48 hours.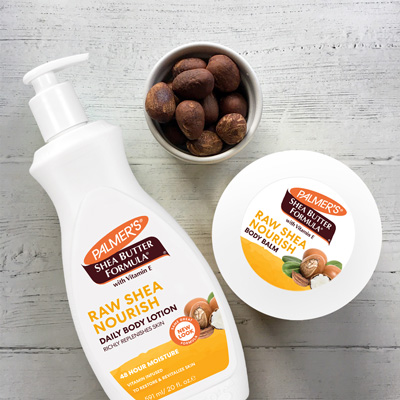 After you step out of the shower, protect your sensitive skin type from the elements with the deeply nourishing Raw Shea Balm. Crafted with skin-nourishing African Shea Butter, and Vitamin E, this soothing balm instantly softens and smoothes extra dry, sensitive skin types – and is one of the best moisturizers for all skin types!
Once you figure out which of the different  skin types you fall into, tailoring a daily skincare routine to your custom needs is a breeze and check out Palmer's Hand & Body Care to find  the best moisturizer for all skin types to make you look and feel your best.
Products link
---