A winter hair care regimen is just as important as a summer skin care regimen.  When it starts to get cold outside, it is important that the products you are using can combat the cold, dry winter air. A winter hair care products arsenal loaded with heavy hitting oils, conditioners and treatments will fight away your hair's winter blues by adding back moisture, improving manageability and creating a brilliant shine.
The 2 biggest factors contributing to dry winter hair are exposure to moisture zapping indoor heat and dry air due to frigid temperatures.  These winter enemies can leave hair dry, brittle and frizzy.  To take care of your hair during this brutal season, here are the best hair treatment tips for winter.
Coconut Oil for Natural Hair in Winter
Dry winter hair can be just as damaging as heat styling and chemical treatments.  That is why it is extremely important to take care of your hair during winter and keep it drenched in moisture. For this reason, coconut oil for dry winter hair is the cozy solution.  This specialty oil instantly restores damaged strands, drenching them in all-natural moisture. It also improves hair manageability, increases shine, and eliminates tangles. Moisture rich yet lightweight, coconut oil instantly penetrates making it one of the best ingredients to look for when shopping for winter curly hair products.  Using coconut oil in your hair during the winter months instantly penetrates for stronger strands, more manageable curls and visibly healthier looking hair. Add Palmer's Coconut Oil Formula Moisture Boost collection to your winter hair curly hair stash to replenish parched winter hair. This hydrating collection includes the Moisture Boost sulfate free Shampoo and Conditioner – the foundation for a winter natural hair careroutine that deeply hydrates to restore damage.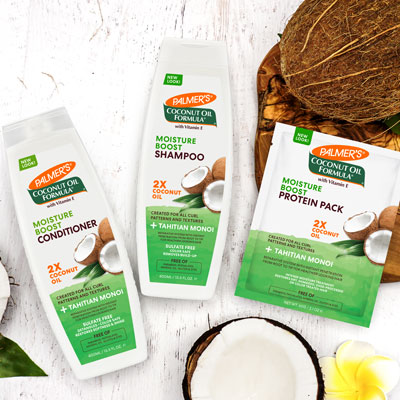 One of the best hair treatment tips for winter to avoid moisture loss is to keep hair extra conditioned with deep treatments and leave-ins.  Show your strands some love on your next wash day by adding Palmer's Coconut Oil Formula Moisture Boost Protein Pack, an extra concentrated dose of moisture plus protein, to your winter curly hair routine.  This pampering treatment visibly smoothes and rejuvenates winter damaged or over-processed hair.
Now that you have added coconut oil to your winter hair care regimen, locking it in is one of the best hair treatment tips for winter.   Avoid further moisture loss by using a hydrating leave-in conditioner, like Palmer's Coconut Oil Formula Moisture Boost Leave in Conditioner.  To finish the look, perfect your style and texture with Palmer's Moisture Bost Curl Cream Whip.  This lightweight moisturizing cream defines curls and protects when wintery weather hits. Complete the look and add glossy finish with Palmer's Coconut Oil Formula Moisture Boost Hair & Scalp Oil.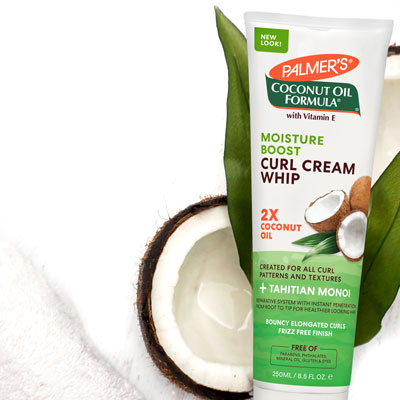 The Best Hair Treatment Tips for Winter
Winter hair doesn't have to mean damaged hair.  Including the right natural products in your winter curly hair routineto alleviate possible damage from the cold weather is the first step in protecting your strands during this crucial season, however also practicing the best hair treatment tips for winter will further improve your hairs' health and resilience against the elements: 
Shampoo and condition less frequently
Avoid washing your hair in super-hot water
Skip heat-styling when possible
Add leave-ins and oils
Don't skip the scalp
Don't leave the house with wet hair — ever!
Wear a hat or scarf
Choose protective styles
Layer products
Deep condition
Use a humidifier
Sleep with a silk pillowcase or satin lined bonnet
Using the best hair treatment tips for winter will help you and your hair survive the cold winter months looking and feeling your best. Palmer's Coconut Oil Formula Moisture Boost collection has all the winter curly hair products you need this season!