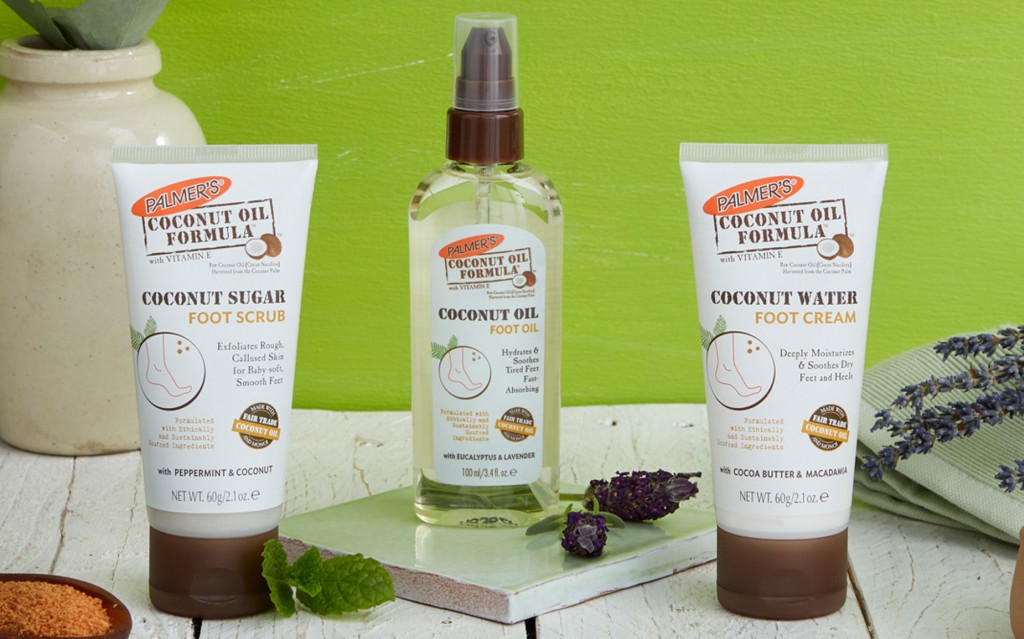 How do I use coconut oil for feet?
Coconut oil is good for your whole body, but how do you use it on your feet? Determining the right time to use the right product does not have to be a challenge. Using coconut oil for feet treatments during the day or night is a good way to create a routine that leaves you with softer feet that are ready to show off. 
Read on for more information about using coconut oil and products for your feet and body.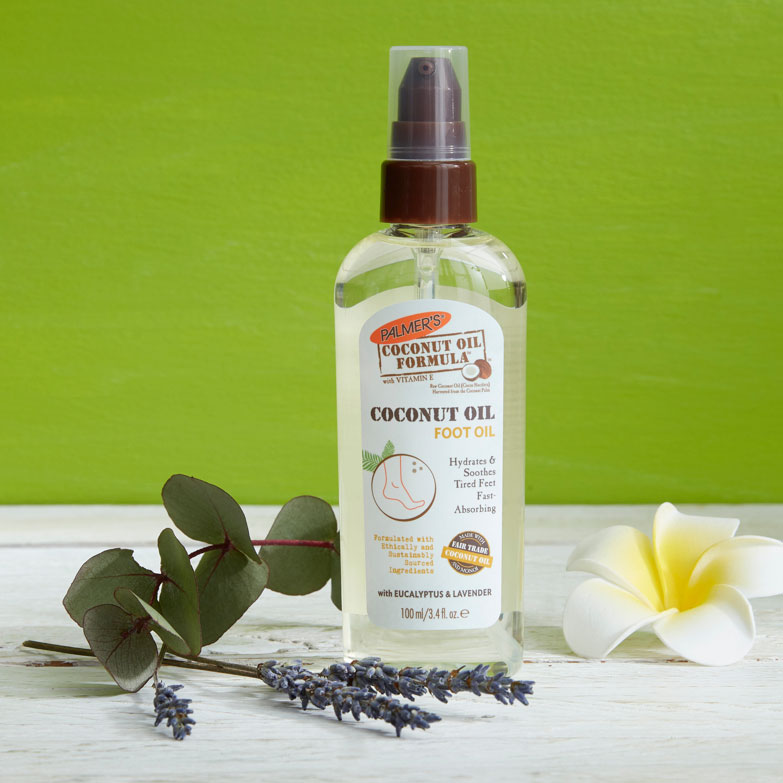 Coconut Oil for Your Feet: Coconut Oil Benefits
Coconut oil is an amazing ingredient for many reasons – from deeply hydrating extra dry skin to keeping hair soft and shiny, but did you know that it is also terrific for an often-overlooked area, feet? Whether it be at-home pampering, DIY pedicures or tackling dry winter skin there is nothing that does the trick better than coconut oil for feet! Are your feet rough, dry or cracked? Do you have tough heels or callused skin on your feet? Using coconut oil for your feet can help deeply restore, replenish and soften tired, worn out feet, helping to make them baby smooth.
Coconut Oil for Your Feet: An Overnight Foot Moisturizer
There are many benefits of applying coconut oil on feet at night. Nighttime is not only great for restoring energy but also for repairing skin making it the perfect time for intensive care. Coconut oil is naturally rich in fatty acids that make it a superior skin moisturizer, and when using a rich formula, like Palmer's Coconut Oil Balm, treating cracked heels overnight with coconut oil has never been easier! Try adopting a new routine like applying a coconut balm to your heels and dry or cracked feet and covering with socks to lock in moisture while you sleep. With continued care and a little TLC to feet, you will see your calluses soften and feet become smoother after a few days.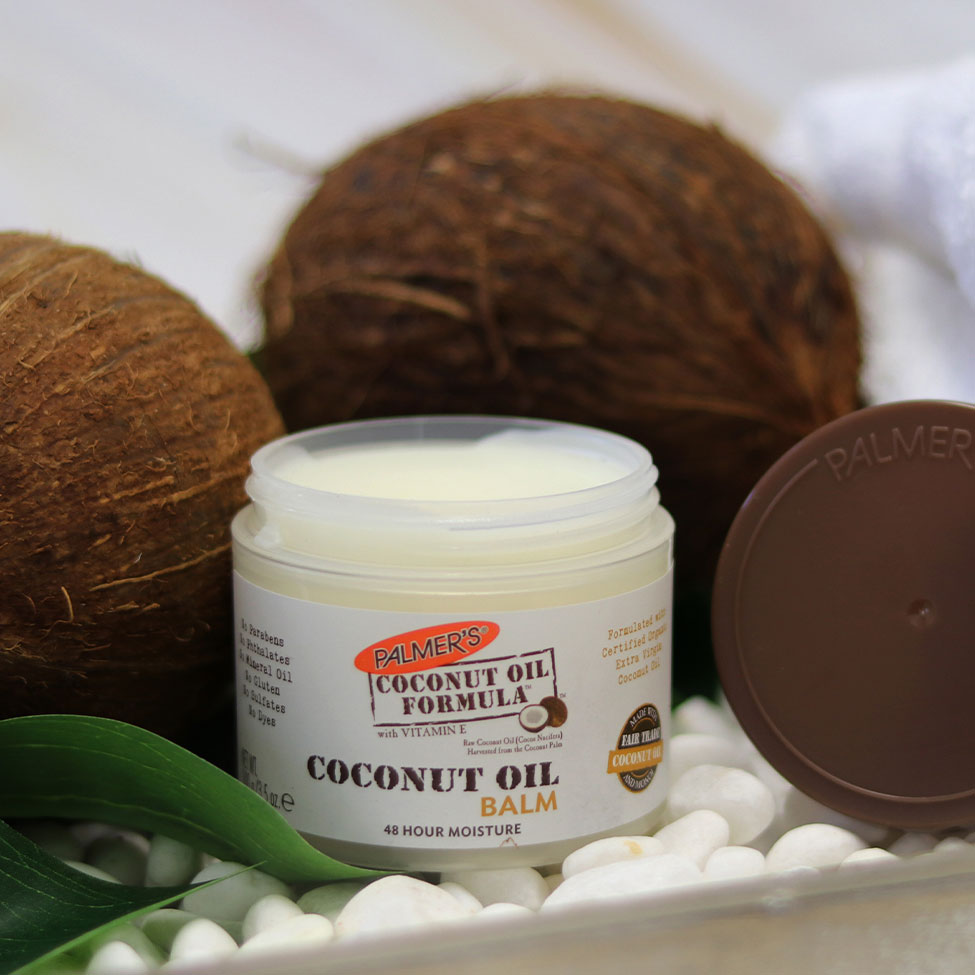 Calluses usually develop on the soles of your feet, especially under the heels or balls and can be the result of ill-fitting shoes, going sockless or extra friction put on feet. Using coconut oil for your feet after strenuous activities can help as a preventative step before they form or can soften existing calluses so they don't crack or bleed. Coconut Oil helps create a protective moisture-retaining barrier and acts as a natural salve so apply it as often needed.
Coconut Oil for Your Feet: What To Use
There are many coconut oil foot care products on the market that are perfect for a little at-home pampering and creating a self-care routine. Establishing a moisturizing foot care regimen is key to keeping your feet soft, smooth and hydrated and is easy to incorporate every day with a few quick steps! At the end of your shower when your feet are nice and soaked, apply a coconut oil scrub 2-3 times a week to buff off dead skin cells and smooth tough skin. Once dried off, apply a rich nourishing coconut oil cream to lock in hydration. For a more pampering experience warm some coconut oil or use a coconut foot oil for a nice foot massage or apply to heels and wrap with plastic wrap. Leave on for 20-30 minutes to allow oil to soften and penetrate skin.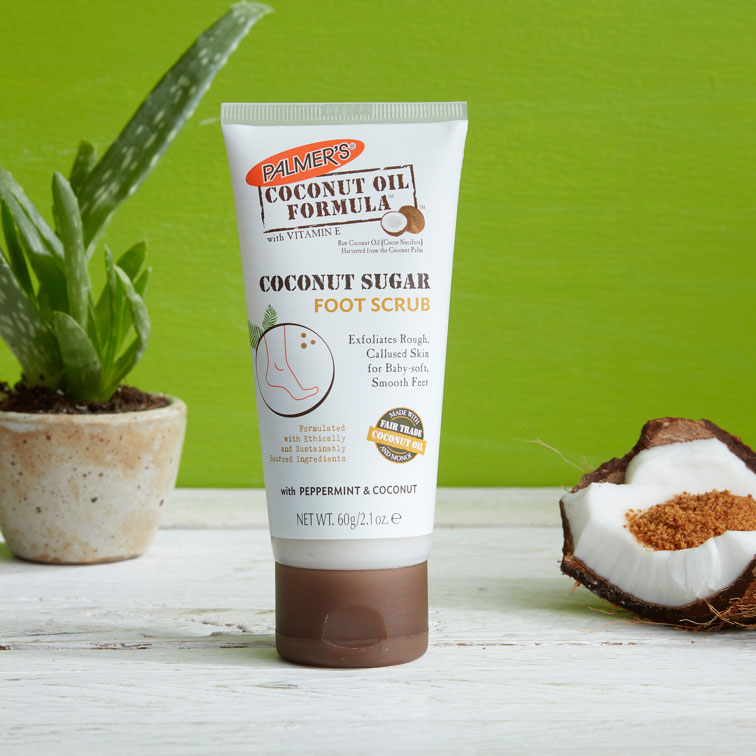 Movie night? Perfect time for a pedicure session! Getting sandal worthy feet is easy:
Soak feet in warm water for about ten minutes. Try adding Epsom salts or soothing fragrances to increase the relaxing mood
Buff heels and balls of feet with a coconut oil foot scrub like

Palmer's Coconut Sugar Foot Scrub

to remove dead skin from your feet with a natural exfoliant such as coconut sugar.
Soften cuticles and pamper feet with a hydrating oil such as

Palmer's Coconut Oil Foot Oil

with a luxurious blend of coconut, eucalyptus, tea tree and lavender oils
Finally apply a nutrient-rich moisturizer like Palmer's indulgently creamy

Coconut Water Foot Cream

for baby soft, smooth feet. Think of it as a coconut oil foot mask!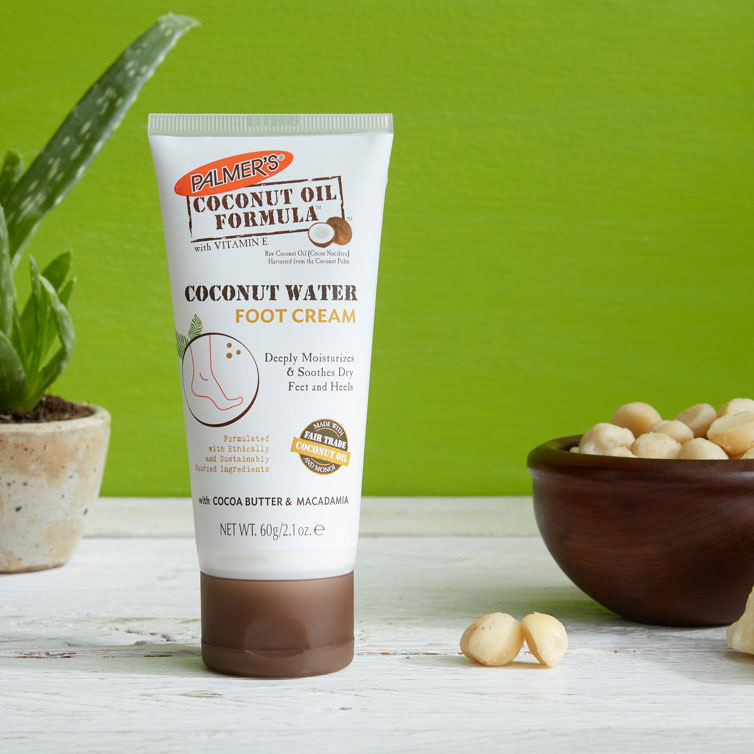 Click here for more Palmer's Coconut Oil Formula products for everything from your feet to your hair.
Products link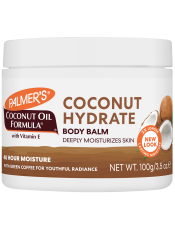 Coconut Hydrate Body Balm
---