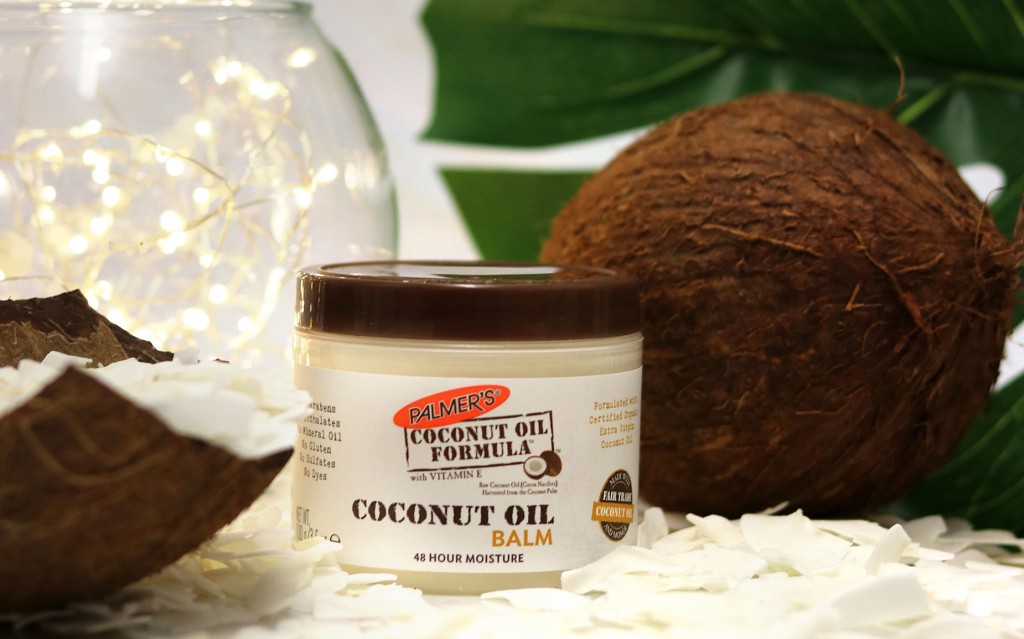 10 Ways to Use Coconut Oil Balm to Relieve Dry Skin
Your skin goes through a lot of stress when the weather and seasons change. Fortunately, Palmer's has developed a moisturizing multi-purpose balm that uses a more concentrated formula than other body treatments.
Palmer's Coconut balm is crafted with moisturizing and hydrating Fair Trade Organic Coconut Oil that can relieve cracked and dry skin without the greasiness other skin care treatments leave behind. Plus this solid balm is specially formulated to not mely or get messy in the heat, so you can bring it with you anywhere you might need moisture.
Here are just a few of the multitude of ways that you can find dry skin relief with the best body balm for dry skin.
1. Treat Cracked Cuticles with Coconut Balm
When dealing with dry and cracked cuticles, coconut balmmay not be the first remedy that comes to mind; however, Palmer's Coconut Oil Balm is one of the best cuticle balms on the market. How can natural skin balm help your cuticles and nails?
As it turns out, gently massaging your cuticles and nail beds with coconut balm once or twice a day can keep your cuticles and the skin around your nails moisturized—so they don't become dry, rough, and cracked. It only takes a little bit, and your nails will look and feel the best they ever have (plus, a nail massage feels like a treat, especially if your hands are tired).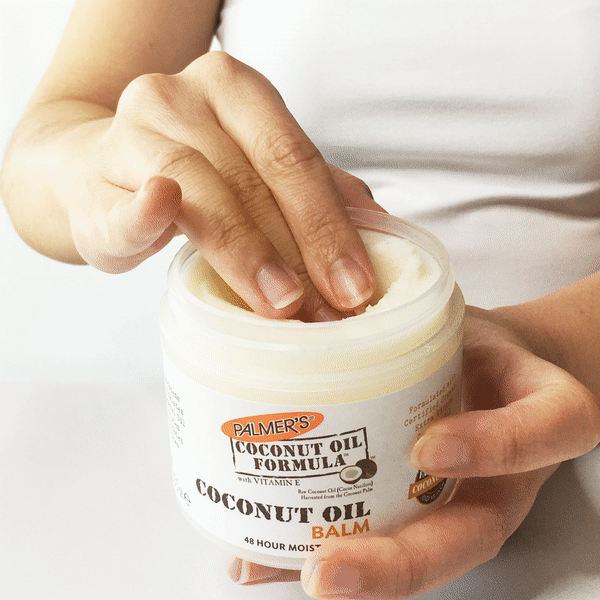 Trick: do this before polishing and it will keep polish from sticking to your skin. Just make sure to clean any residue off nails before applying your polish.
2. Heal Cracked Heels
One of the worst things about winter or summer is how hard the extreme cold or hot weather is on your feet.
Dry and cracked heels require a moisturizing body balm that locks in hydration for 48 hours of moisture for feet that feel relief, even when you have to put on a pair of pumps.
A favorite trick of Palmer's balm for cracked heels is to treat your feet to a healing massage with coconut balm before bedtime. Slather its skin-replenishing body balm all over your feet, paying special attention to the heels, then slide on a pair of soft socks. In the morning, you'll see the difference coconut oil makes.
3. Love Your Lips
Most people don't consider lotion for a lip balm. However, most lotions aren't one of the best dry skin balms on the market. Palmer's products are multipurpose, and the Coconut Oil Balm is no exception. Dry lips in the winter or summer can be grueling. They can crack, bleed, and peel.
To use Palmer's natural skin balm to treat chapped lips, you can use one of two methods. You can use a lip scrub first to exfoliate and prep your lips, then add the coconut balm, or you can add a small amount of dry skin balm to your lips to achieve relief and alleviate chapped and sore lips. Use it daily as needed, and you'll see why this natural skin balm is so popular for its many uses.
Trick: mix the Coconut Oil Balm with a small amount of granulated sugar to create a hydrating lip scrub.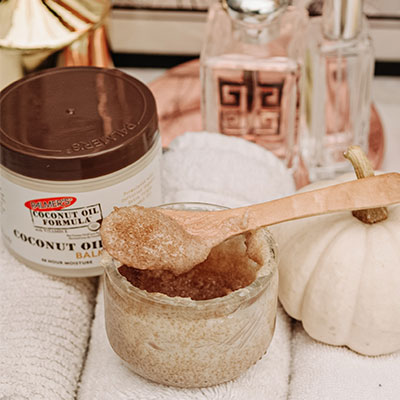 4. Hydrate Strands
Again, some coconut balm hacks are tips and tricks that most women don't immediately think of, but once they've been tried, there's no turning back! Another one of these hints is to use a balm to help reduce hair flyaways. You know that static feeling you get when you take your sweater off and it produces static cling? Settle your strands with balm, too.
When it comes to dry hair, remember that less is more. Put a tiny amount of coconut balm into your palms and rub them together. Then, run your fingers through frizzy flyaways or static hair to achieve smooth, shiny hair. This is a trick you can use every day to set your style before you head out, especially on chilly days when static is a possibility. Tip: coconut oil repels water, so it's perfect for a rainy or snowy day!


5. Lotion Up Legs
Dry skin is a beauty issue that many deal with. You may have certain dry spots on your legs, particularly rougher areas like knees, that no lotion can conquer, so it's time to bring in the reinforcements — the best body balm for dry skin.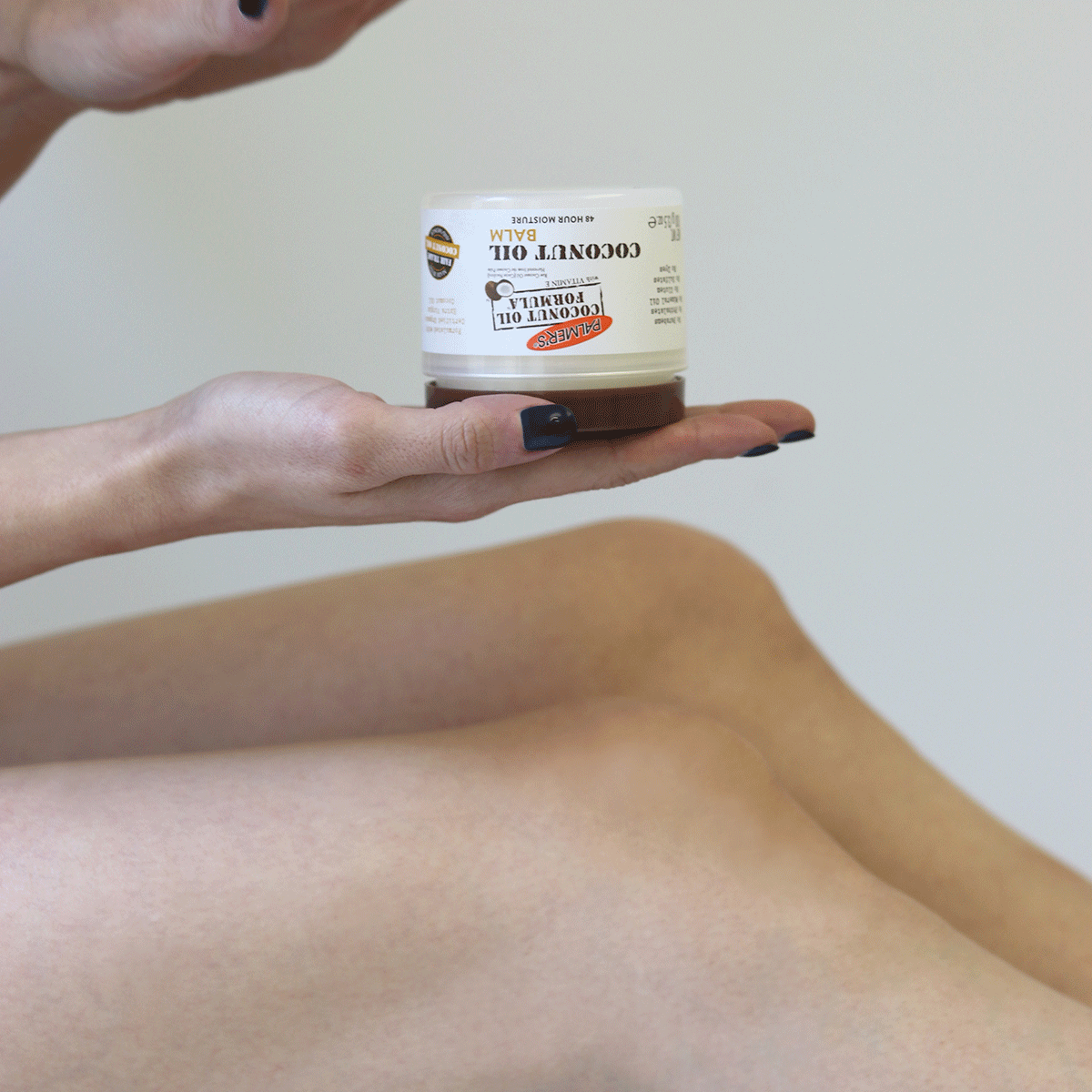 When you use coconut balm on your legs, you'll want to pay extra attention to rough, dry areas like your knees. Using Palmer's as a rough knees treatment is a good first step. Dry knees can become itchy, red, and inflamed. Avoid this pain by using a scoop of balm on your legs right after you shower to lock in moisture. Then, layer it with a lighter lotion to keep your legs and knees protected.


6. Freshen Your Face
Since coconut balm seems heavy, it may not have crossed your mind to use it as a facial moisturizer. However, this natural skin balm has benefits when you use it as a skin cream. As with other body balm uses, a little bit goes a long way, so scoop out a small amount with two fingers and rub it into a clean, dry face.
Palmer's coconut balm relieves dry, patchy areas of your face, leaving soft, supple skin that looks fresh, young, and vibrant. It works great as a nighttime cream during the winter season. You can also create an exfoliating scrub by mixing sugar with coconut balm—works wonders for dry patches on your face (and it smells amazing).


7. Treatment for Rough Elbows
If you have dry knees, chances are, dry elbows come along for the ride. Not to worry! You have natural body balm on your side. To ensure your elbows aren't peeling, dry, itchy, and red during the coldest months of the year, use dry skin balm to create soft, touchable elbows.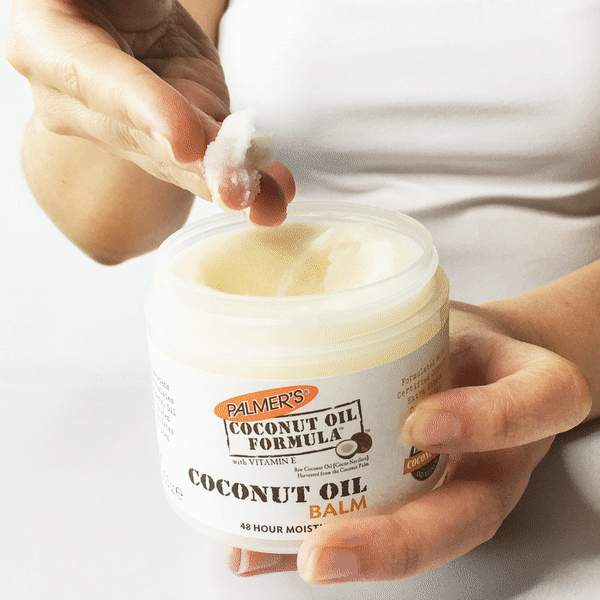 Use a fair amount of coconut balm on areas that require the most attention. The best time to apply body balm is after a hot bath or shower.
Don't worry; the balm will sink in and won't leave your elbows greasy—there's no mineral oil to sit on your skin. Rub the nourishing balm into your arms, giving your elbows a bit of special care, and you'll begin to see results quickly once you make this a daily winter practice.


8. Gently Remove Eye Makeup
Has your eye makeup remover given you the runaround? Not only is coconut balm a great hydrator for your gentle eye area, but it's an amazing and natural makeup remover.
If you use waterproof mascara or eyeliner, coconut oil can remove it in a pinch. Use a bit of body balm around your eyes to remove makeup and gently pat the area as makeup comes off. The upside of this is you won't have to use chemical removers around your sensitive eyes, and the skin around your eyes will be hydrated and healthy-looking.


9. Skip Your Old Shaving Routine
Run out of shaving cream, and you don't have time to grab more? Turn to coconut oil balm. Use moisturizing body balm to shave your legs as you normally would a shaving cream or gel. You'll find your razor will easily glide up and down your legs and you may be surprised that you'll find yourself with zero nicks or cuts when you're done.
After you're finished, you're left with soft, supple legs. You can then add another layer of body balm to lock in hydration after you step out of the shower. You may never go back to your old shaving cream.


10. Hydrate Hands
Hands are one of the most common parts of the body that become dry and irritated in the winter. It's not much of a surprise why. Washing our hands often strips them of necessary moisture. That's where coconut balm is useful.
It only takes a little bit of balm to restore your dry, scaly hands to their former softness. Use coconut balm as needed when your hands feel like they require hydration. The balm will soak into your skin and heal your hands where you need it the most. Keep a tub of Palmer's in your purse, office, or gym bag, so you always have it when you need it the most – it is formulated to not melt or get messy so it is perfect to take with you on the go.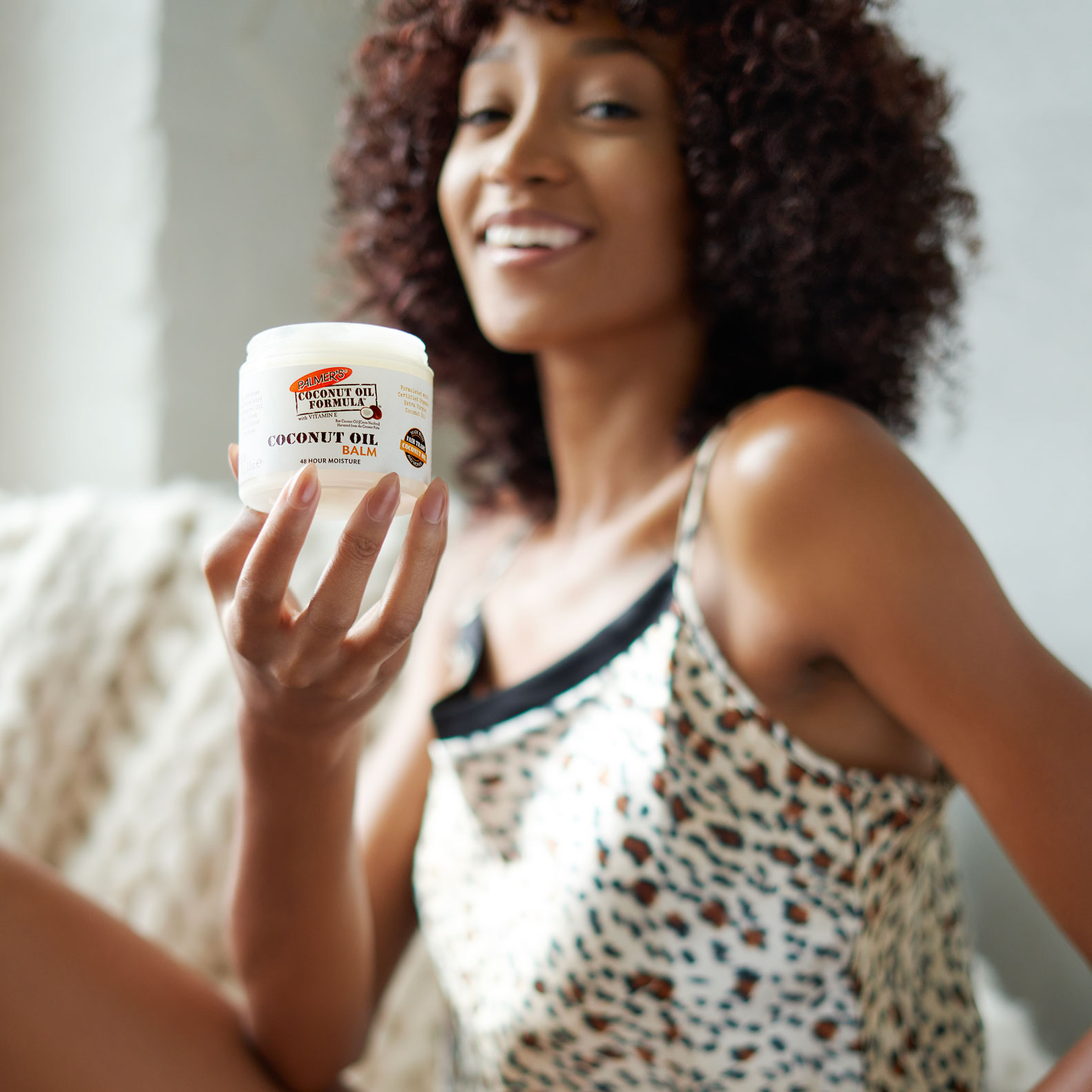 Now that you know the myriad of ways that Palmer's Coconut Oil Balm can help your skin, why wait? Give it a try so you won't go another day without the soft, hydrated, moisturized feeling that this skin-replenishing body balm offers.
Products link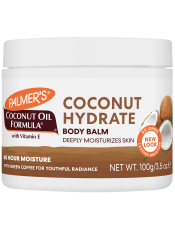 Coconut Hydrate Body Balm
---