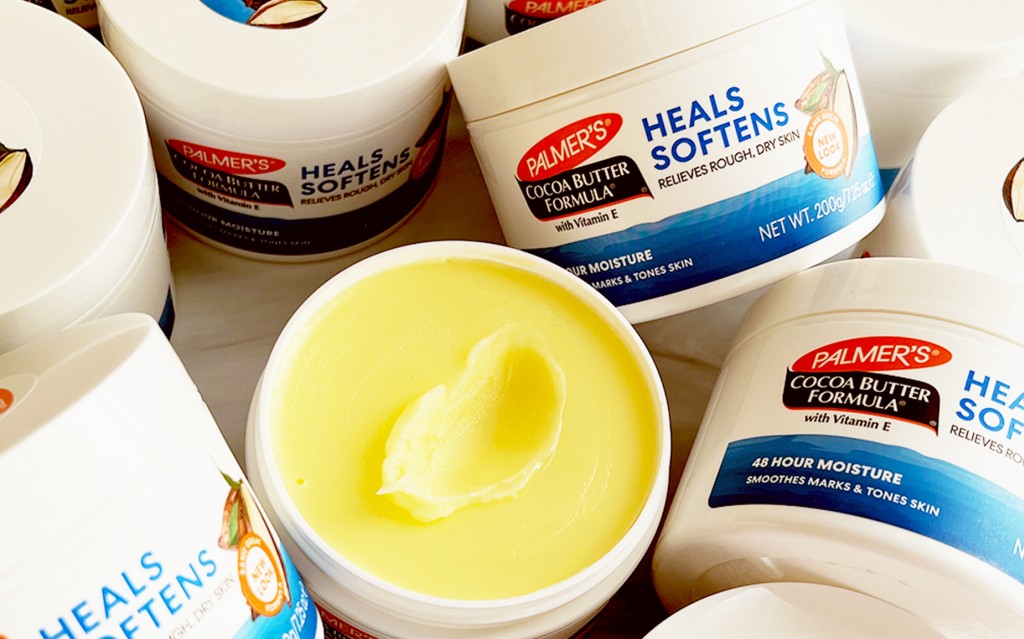 10 Dry Skin Solutions with the Original Solid Jar
When it comes to dry skin solutions, cocoa butter is the answer to any dry skin problem. This multipurpose moisturizer does it all. When you seek the best solution for dry skin, no matter your skin type, cocoa butter harnesses its natural power to heal, protect, soothe, and soften rough, dry skin.
Palmer's Original Solid Jar is the perfect dry skin solution for the body and cocoa butter is also useful for many other skin situations, so having a jar of this skin-safe, natural, luxurious balm on hand at all times is a great idea during any season.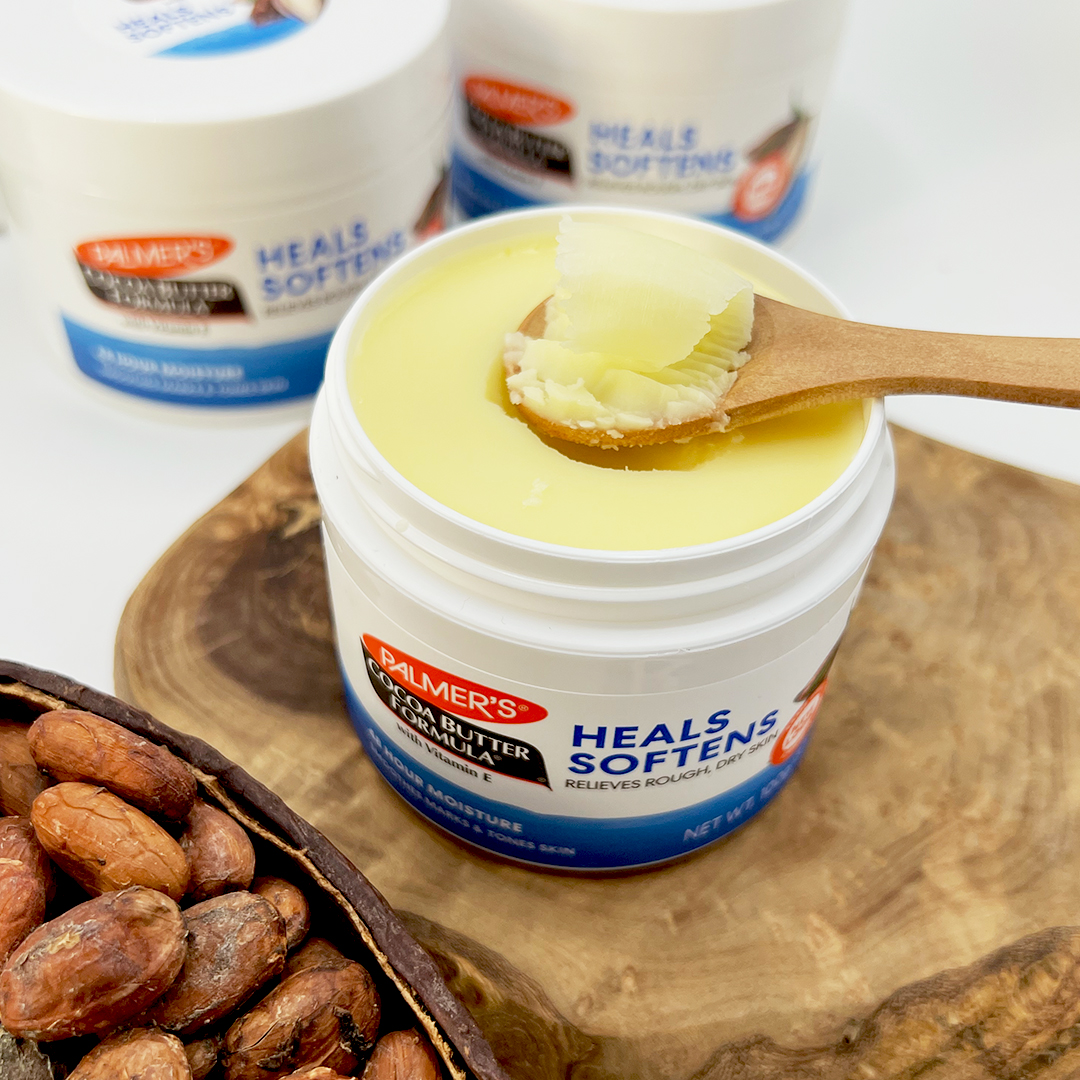 Hydrate Feet and Hands
Looking for the perfect solution for extremely dry skin on your extremities? Look no further than skin-softening original cocoa butter. Sometimes, you may notice your feet and hands becoming dry, flaky, and even itchy, particularly in cold weather. Red, raw, dry hands can also occur from too much hand-washing and hand sanitizer, as well as being dried out from the cold, arid air.
For dry skin solutions that zero in on cracked, thirsty skin on the hands and feet, try cocoa butter. When used as an overnight hand or foot mask, you'll notice a difference quickly. Combined with the benefits of Vitamin E, cocoa butter tames tender toes and gives flaky hands the heave-ho.
Before bed, apply a thick layer of Palmer's Original Solid Jar to your feet and cover with cotton socks. When you awake, your feet will be noticeably smoother. Over time, you'll see dryness replaced with soft, smooth skin. For hands, do the same - only use spa gloves to cover cocoa butter till morning. The perfect solution for extremely dry skin on hands and feet!
Shaving Lotion and Moisturizer
Don't you hate it when you run out of shaving cream? Instead of skipping your shave, grab your jar of cocoa butter instead. Yes, this dry legs solution is a multi-tasker that works as shaving lotion and an after-shaving emollient.
Apply a thin layer of cocoa butter to legs and shave as normal, making sure to rinse the blade while shaving. Once you're done, apply another layer of the creamy cocoa butter balm to freshly-shaved legs to prevent razor burn and leave legs soft, smooth, and touchable.
Soften Knees and Elbows
Even when the rest of you feels soft and smooth, you may notice your knees and elbows feeling a little rough. Smooth out scuffed knees and elbows by applying highly concentrated cocoa butter to these areas.
Not only is this a perfect solution for dry skin on legs and knees, but it can also improve the way your elbows and knees look, lightening dark spots where dryness occurs. So, eliminate ashiness and give your elbows and knees a new lease on life!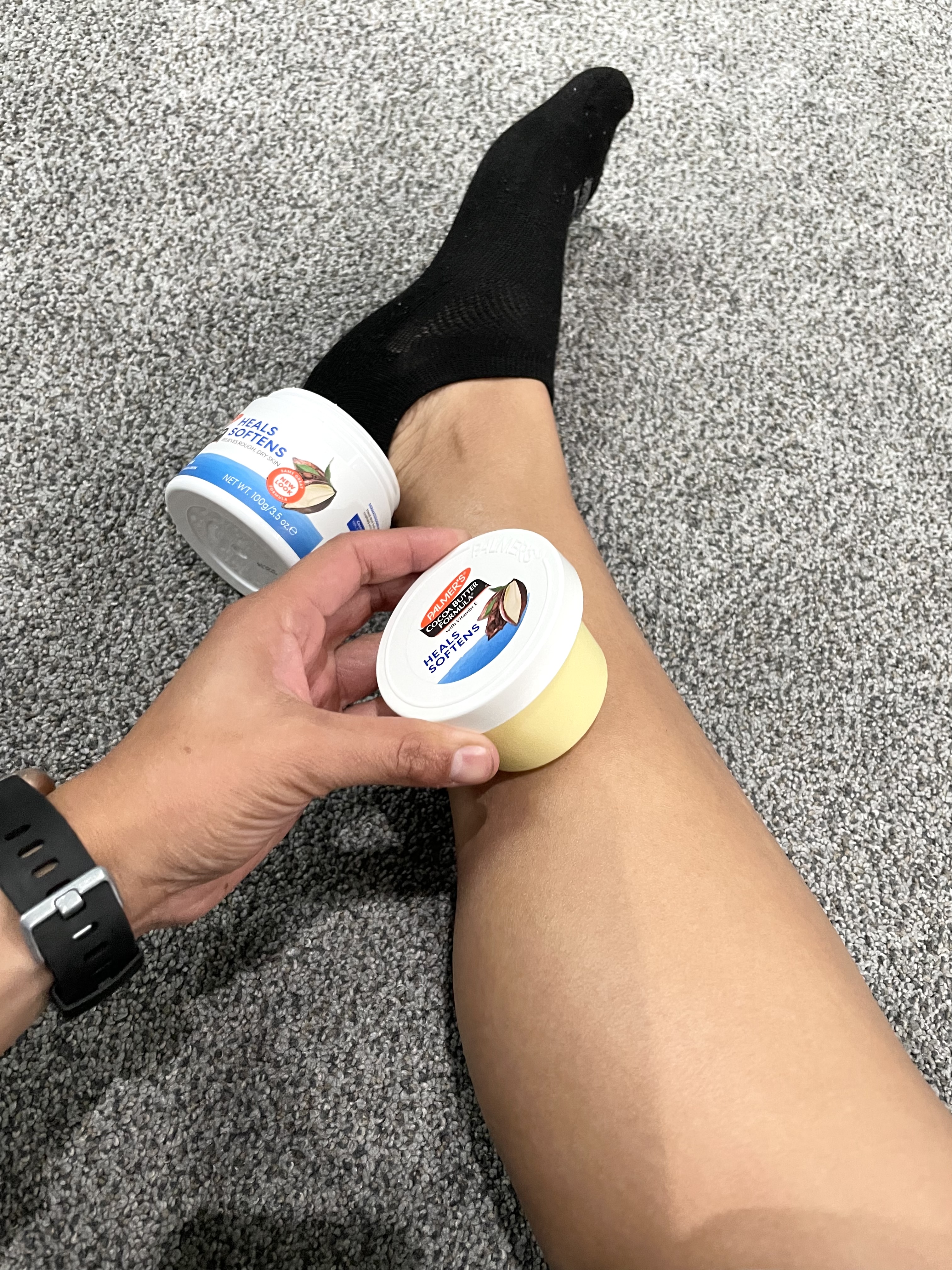 Soothes Windburned Skin
Windburn occurs when chilly winds lash at your skin, causing dryness, cracking, bleeding, and a rash. The result can feel much like a sunburn - painful, red, and irritated. Avoid the havoc the wind can wreak by applying cocoa butter as the best dry skin solution for this issue.
Cocoa butter can soothe windburned skin and applying a protective layer on exposed skin before heading outdoors in windy, cold conditions can help protect your skin. Prevention is the first dry skin solution and preparing your skin for the elements with cocoa butter can help keep dry skin at bay.
Give Lips Love
Dry, chapped lips are not only uncomfortable but aggravating. You've tried numerous lip balms and none really fix your peeling, cracked, raw winter kisser. What now? Opt for a fast face dryness solution and moisturize your mouth with cocoa butter.
First, mix a small amount of cocoa butter with sugar to create a scrub. Once you've exfoliated your lips, rinse gently and pat with a dry towel. Then, add a layer of cocoa butter to lock your lips with protection from the elements. Pucker up!
Want to carry your cocoa butter with you when you leave home, but can't take the jar? Check out the Swivel Stick – this portable balm takes all the dry skin solutions you love from the Original Solid Jar and brings them into an easy-to-carry, multipurpose stick.
Protect Skin From the Elements
When you head outside in hot, cold, windy, or rainy weather, you're exposing your most sensitive organ to the ravages of the outdoors. You always wear a jacket when it's cold and sunscreen when it's hot, so why not a dry skin solution for the face that soothes and protects?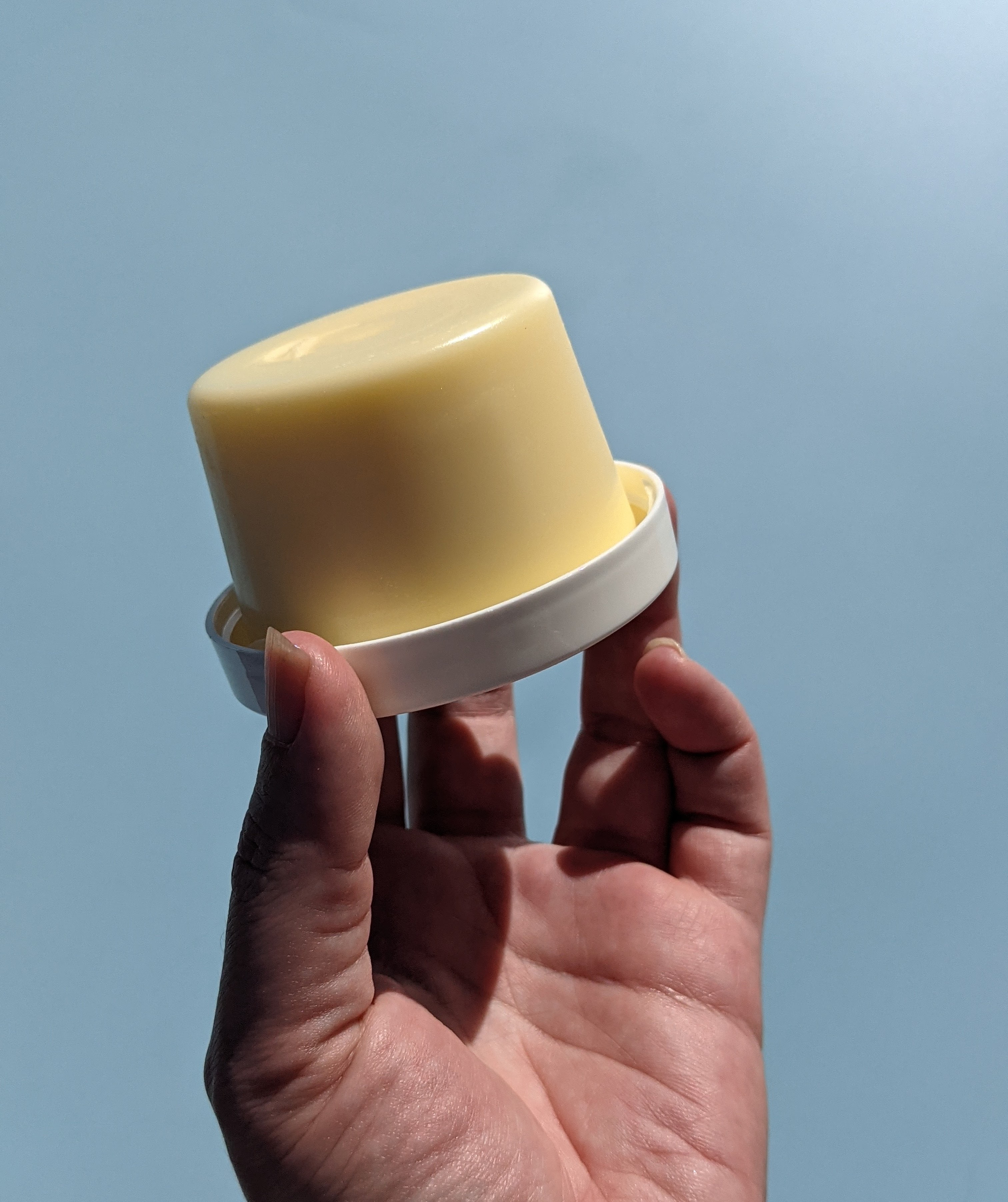 Cocoa butter forms a barrier between your skin and the elements as it seals in all-day moisture, keeping your skin hydrated no matter what it's like outside. By sealing your skin with this all-natural powerhouse dry skin solution, you're ensuring that Mother Nature won't strip your skin of necessary moisture, contributing to dry, chapped, cracked, and irritated skin.
Treat Rashes and Chafing
You may not think of dry skin solutions when you're dealing with chafing, but chafing is a form of dry skin that affects millions of people. Chafing occurs in spots where your skin creates friction, such as legs rubbing together or warm areas, including your armpits.
Say goodbye to redness and chafing when you start a skin routine that includes concentrated cocoa butter. Apply it anywhere you're feeling chafed and raw, then continue to use it as a protectant to help prevent chafing from occurring in the future.
Smooth Stretch Marks and Scars
Skin stretched or scarred can be successfully smoothed with cocoa butter. Not only is cocoa butter the best solution for dry skin, but it also naturally helps smooth stretch marks and scars when used consistently over weeks.
Cocoa butter also keeps scars and marks moisturized and hydrated. This keeps skin soft and supple and keeps these areas from further dryness and damage.
Everyday Dry Skin Solution
You may think that a cocoa butter balm is best for problem areas, but it's also great for everyday use! While it is one of the best solutions for dry skin, the Original Solid Jar can be used all-over-body daily to keep skin moisturized for 48 hours.
Apply cocoa butter after stepping out of the shower or bath to lock in all-day hydration. Need some additional moisture in just certain areas? Try the cocoa butter balm layered over your every day lotion for an extra hit of moisture to help heal and soften that rough, dry skin. This easy solution for extremely dry skin increases your protection and allows you to enjoy soft, smooth skin every day.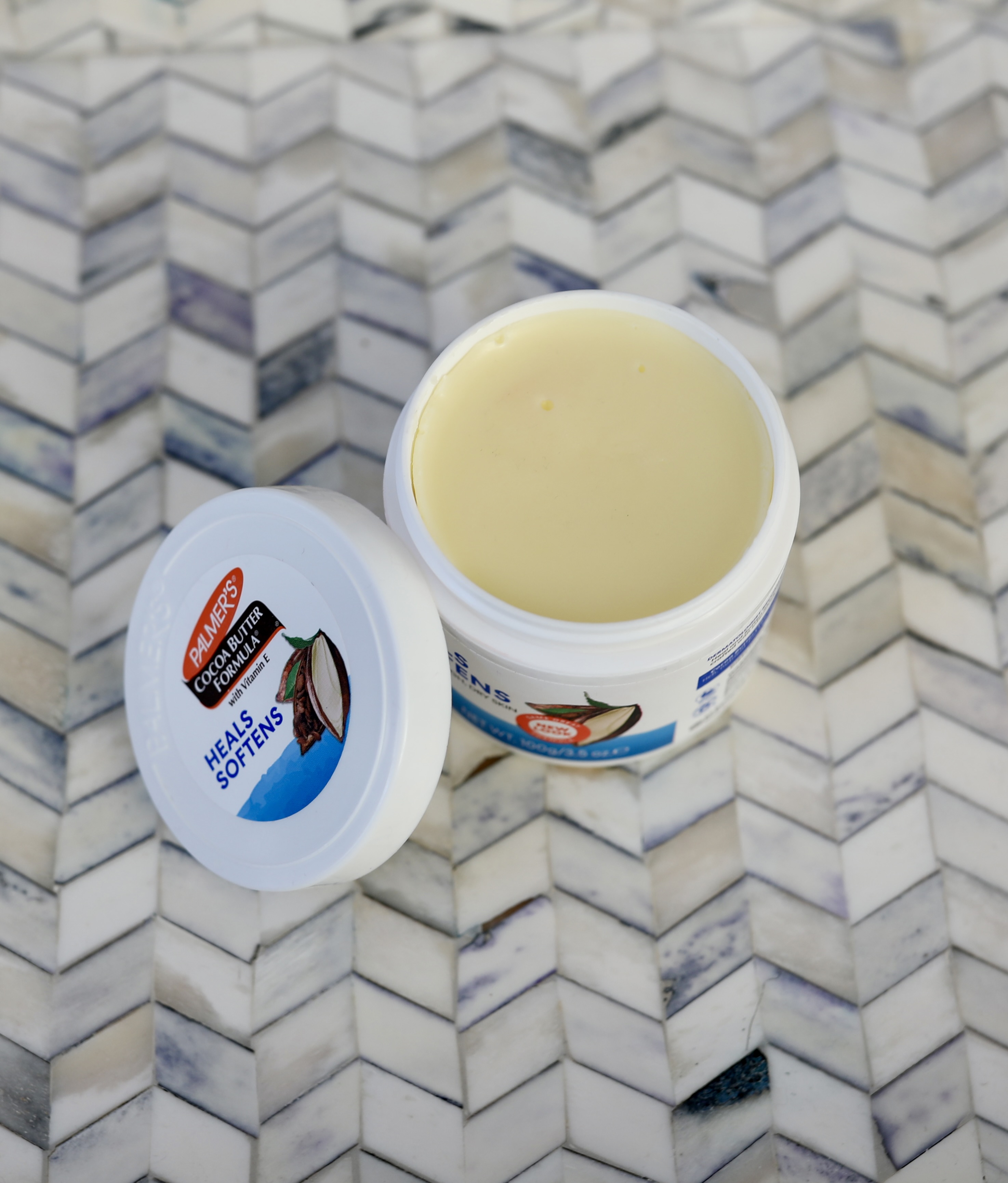 Full-Body Treatment
Having a spa day at home? Don't forget to invite your girlfriends…and your cocoa butter! To maximize moisturization, use cocoa butter as a special skin-softening treatment.
Combine cocoa butter with sea salt for a moisturizing body exfoliator. Once you've scrubbed skin and rinsed, apply cocoa butter alone to sink into skin, drenching dry skin with long-lasting hydration. Added bonus - it is a great solution for dry skin on legs, arms and all-over-body!
From head-to-toe there are so many ways that you can use the Original Solid Jar making it the best solution for dry skin. Check out all 101 uses for the Original Solid Jar and say goodbye to dry skin today.
Products link

Swivel Stick

Cocoa Butter Body Care Bundle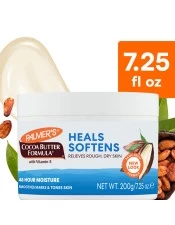 Original Solid Jar
---